Back to school season is nearly here! We know you're excited to get the whole family back into your routine but with that comes jam-packed schedules, busy weeknights, and a lot of prepping. This is why quick and easy dinners are essential! We rounded up some of the best easy weeknight meals for back to school that will make your transition from summer to routine easy and stress-free. Let's dive in!
1. Dump And Bake Chicken Alfredo Casserole
Casseroles are one of the easiest dinners to prepare and this recipe does not disappoint! You simply toss the ingredients in the dish and bake it in the oven — perfect for busy school nights. Better yet, this recipe is also budget-friendly. All you need is some dried pasta, a jar of alfredo sauce, chicken stock, diced rotisserie chicken (leftover chicken would work great too), and cheese!
https://www.theseasonedmom.com/dump-and-bake-chicken-alfredo-pasta-casserole/ PHOTOS AND RECIPE HERE: THE SEASONED MOM
2. Easy Instant Pot Steak Fajitas
Fajitas are a crowd pleaser and now they can be effortlessly prepared with the help of an Instant Pot. Our Steak fajitas recipe combines simple and fresh ingredients to make flavorful fajitas that the whole family will enjoy. If you want even more flavor we do recommend marinating the steak up to 48 hours before cooking but of course, this is totally optional. Finally, serve the fajitas with tortillas of your choice, salsa, sour cream, cheese, and any other toppings you and your family like!
https://www.forkly.com/recipes/easy-instant-pot-steak-fajitas/ PHOTO AND RECIPE HERE: FORKLY
3. Gnocchi and Veggies One Pan Dinner
If you haven't had gnocchi stop what you're doing and make this recipe! Gnocchi is a type of Italian pasta that feels like pillowy dough balls and they literally melt in your mouth. They're so darn delicious no matter what type of sauce you pair them with. Our gnocchi and veggies one-pan dinner recipe combines that delicious soft pasta with fresh veggies and loads of seasonings to make one delicious (and of course easy) meal the whole family will love! The best part is this meal will come together in 20 minutes or less! Since you're cooking on one pan, the cleanup will be a breeze too.
https://www.forkly.com/recipes/gnocchi-and-veggies-one-pan-dinner/ PHOTO AND RECIPE HERE: FORKLY
4. Queso Chicken
You can never go wrong with a chicken dinner. They're often crowd-pleasers, especially when cooked with loads of ooey-gooey cheese like this recipe! This queso chicken is seasoned with taco seasoning and cooked with queso sauce, tomatoes, and shredded cheese. There are many great side dishes you can pair with chicken but the recipe recommends serving queso chicken over rice or with a baked potato.
https://www.butterandbaggage.com/queso-chicken/?utm_medium=social&utm_source=pinterest&utm_campaign=tailwind_tribes&utm_content=tribes&utm_term=848957162_36084198_681150 PHOTOS AND RECIPE HERE: BUTTER AND BAGGAGE
5. Easy Copycat Big Mac bites
You might be tempted to hit up the drive-thru when you know you have a busy night ahead but we highly recommend giving this recipe a try! Our copycat Big Mac bites deliver on flavor, are quite easy to make, and offer you a healthier alternative to fast food. Simply season ground beef with minced garlic and chopped onion and pan-fry the patties in a skillet! If you don't want to make sliders, you could always make larger burger patties for a full-size burger! Be sure to pair the burgers with our easy copycat Big Mac sauce to achieve that authentic copycat flavor!
https://www.forkly.com/recipes/insanely-delicious-copycat-big-mac-bites/ PHOTO AND RECIPE HERE: FORKLY
6. Instant Pot Pulled Pork Tacos
Looking for unique recipes for Taco Tuesday? Give our pulled pork tacos recipe a try! This is another delicious meal that comes together effortlessly with the help of an Instant Pot. The tender shredded pork is slathered in a delicious BBQ sauce of your choice and served in tortillas. To make these tacos even better we highly recommend serving them with a scoop of coleslaw on top!
https://www.forkly.com/recipes/instant-pot-pulled-pork-bbq-tacos/ PHOTO AND RECIPE HERE: FORKLY
7. Crockpot Beef and Broccoli
The next time you're craving takeout from your favorite Asian restaurant try this easy beef and broccoli recipe! This meal comes together effortlessly with the help of a slow cooker. There is no better feeling coming home from work knowing that dinner has already been cooking away! For this recipe, you'll need stewing beef, beef broth, and a few seasonings. You can cook this meal low and slow for about eight to nine hours but remember, don't add the broccoli until the last 20-30 minutes of cooking! Finally, serve this savory dish with a bowl of fluffy rice.
https://centslessdeals.com/crockpot-beef-and-broccoli/ PHOTOS AND RECIPE HERE: CENTLESS MEALS
8. Leftover Spaghetti Nests
When dealing with picky eaters, pasta and sauce is always a safe choice! That said, we've all been there and have made way too much pasta but don't let those leftovers go to waste. Turn your spaghetti dinner into an exciting meal the next day with these leftover spaghetti nests! Simply combine your leftover spaghetti pasta and sauce with a couple of eggs and then scoop the mixture into a muffin tin! Not only is this a quick, easy, and fun dinner but these can also be sent to school for lunches. It's the meal that keeps on giving!
https://www.forkly.com/recipes/leftover-spaghetti-nests/ PHOTOS AND RECIPE HERE: FORKLY
9. Italian Sausage And Veggie Foil Packets
Foil packs are so easy to throw together and can effortlessly feed the whole family! Our Italian sausage and veggie foil packets feature everything you need for a wholesome meal from protein to fresh veggies, and of course, delicious flavor! The best part is you can customize a foil packet to feature the foods you love. Don't love peppers? Simply swap them out for something you do like! These foil packets serve well on their own but they would also pair wonderfully with a side of rice too — your choice!
https://www.forkly.com/recipes/low-carb-keto-italian-sausage-and-veggie-foil-packets/ PHOTO AND RECIPE HERE: FORKLY
10. Broccoli Chicken Casserole
You can never go wrong with a casserole! They're easy to make, are often budget-friendly and a great contender for busy weeknights! This casserole recipe combines tender pieces of chicken with pasta, broccoli, mushrooms, and a creamy sauce to create one unforgettable dish! The best part is you can have this meal prepped and ready to bake in just 15 minutes which leaves you more time to help with homework or to catch up on some much needed me time!
https://www.gimmesomeoven.com/healthier-broccoli-chicken-casserole/ PHOTOS AND RECIPE HERE: GIMME SOME OVEN
11. French Bread Pizza
Pizza is another fool-proof meal that will please both adults and kids alike! But before you order pizza try making our French bread pizza recipe! It's so easy and only requires a few simple ingredients. Instead of making pizza dough from scratch, you'll use a loaf of French Bread. Top the bread with pizza sauce loads of shredded cheese and your favorite pizza toppings. This meal is so easy that your kids could make it themselves!
https://www.forkly.com/recipes/french-bread-pizza/ PHOTO AND RECIPE HERE: FORKLY
12. Muffin Lasagna Cups
Lasagna doesn't exactly scream "easy weeknight dinner" but these muffin lasagna cups sure do! This recipe puts a simpler spin on a traditional lasagna and creates the perfect single portions with the help of a muffin tray. From prep to table this meal comes together in just 30 minutes or less! Just like the spaghetti nests, you can send these lasagna cups to school the next day… if you're lucky enough to have leftovers, that is!
https://thestayathomechef.com/mini-lasagna-cups/ PHOTOS AND RECIPE HERE: THE STAY AT HOME CHEF
13. Crock Pot Honey Garlic Chicken
This is another great recipe that puts your slow cooker to work! Our crockpot honey garlic chicken recipe turns budget-friendly chicken thighs into a flavorful meal! Better yet, you'll likely have the rest of the ingredients already in your pantry and fridge. Simply toss the ingredients into your slow cooker and let it do all the work for you. If you're not sure what sides to pair with this meal check out the best side dishes to pair with chicken!
https://www.forkly.com/recipes/crock-pot-honey-garlic-chicken/ PHOTO AND RECIPE HERE: FORKLY
14. Sheet Pan Cashew Chicken & Veggies
Chicken is one of the most versatile ingredients and can be used in a variety of dishes! Here, we're combining it with cashews and veggies to make an at-home version of your favorite takeout dish. Even better, our cashew chicken & veggies recipe is effortlessly prepared on a sheet pan which means easy prep and cleanup too! This recipe may be easy but it certainly does not lack flavor thanks to ingredients like hoisin sauce, ginger, and honey. Finally, serve this meal with a side of rice or quinoa.
https://www.forkly.com/recipes/sheet-pan-cashew-chicken-veggies/ PHOTO AND RECIPE HERE: FORKLY
15. Oven-Baked Ravioli Dippers
Oven-baked ravioli dippers may be unlike any dinner you've ever had before. They're perfectly crispy on the outside and bursting with flavor in the middle. The best part is you can pick whatever type of ravioli you like best whether that is meat-filled, cheese-filled, or veggie-filled. You'll also enjoy that this meal comes together in 30 minutes or less! Finally, serve the ravioli dippers with pizza sauce and enjoy!
https://www.forkly.com/recipes/oven-baked-ravioli-dippers/ PHOTO AND RECIPE HERE: FORKLY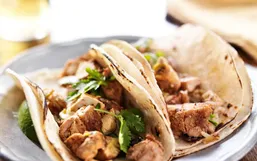 One of the hardest things about cooking for little people is trying to plan great meal options the kids in your life will actually...
Back to school can be a very stressful time for parents. There are daily battles with getting your children showered, dressed, and...
With cooler weather just around the corner, oatmeal will once again be a staple breakfast food.
Packing lunches can be a rushed chore for parents and unhealthy items might get mixed in.
It's getting chilly and the leaves are turning colors. That can only mean one thing- Halloween is coming!
Being a parent can be super fun, but it also has it's challenges.
I can't believe I'm even saying this...but...it's getting to that time of year where back to school shopping begins.
Back to school is coming up soon and parents are searching for great ideas for after school snacks.
Many schools have a morning snack break to help keep the children's energy levels up.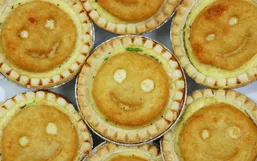 My brain has been in "back to school" mode for a while now. It's not my first rodeo, but it's always my biggest struggle (for...
Making the transition from living at home to living in a dorm can be both exciting and nerve-racking.
Most parents love back to school season because that means you can finally get the kids out of the house and give yourself a...