As a mother of 3, making dinners are often made with the intention of leftovers. Why? Well…lunches the next day! Pasta however, seems to be one of the messiest things to pack in a lunch, and subsequently makes for a disastrous lunch box when my littles empty their lunch sacks. So those pasta night leftovers often just sit in the fridge until they finally get tossed, and I'm saddened by the waste.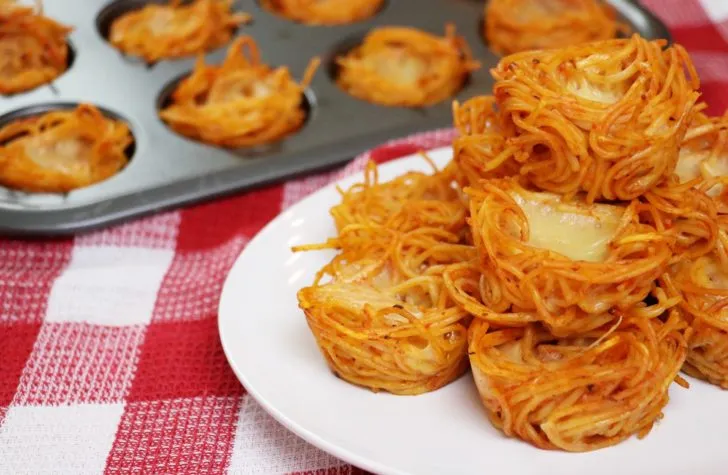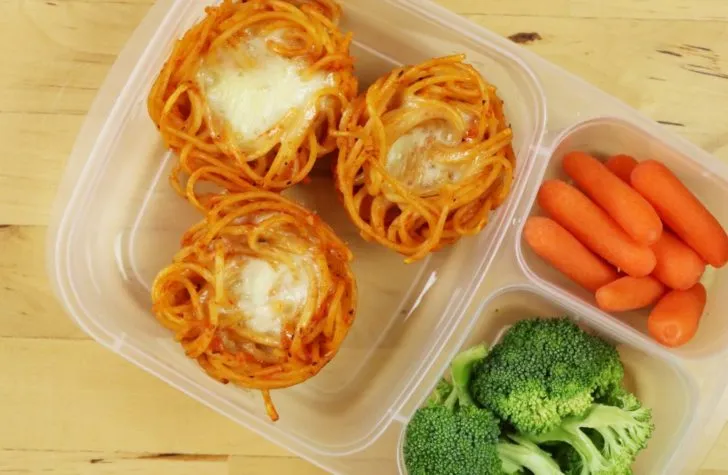 Seeking more ways to easily use up leftovers, while still creating a NEW and EXCITING meal option for everyone in the house – these spaghetti nests seemed like the perfect solution. I have a feeling we will be using this recipe a whole lot once the school year is in full swing again.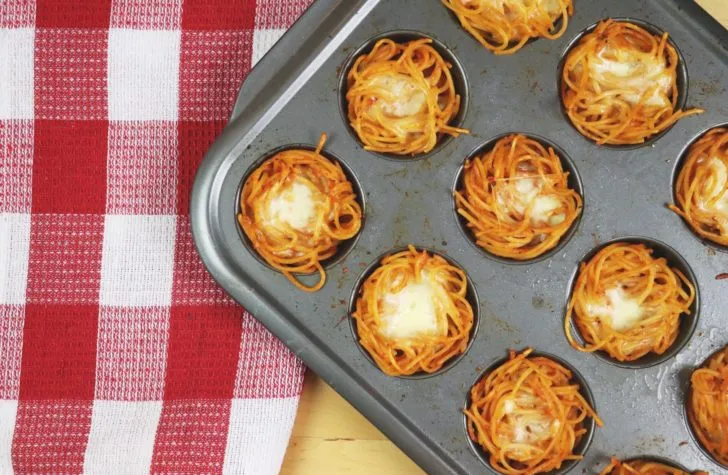 This is a basic recipe, but it can easily be "dolled up" with the addition of veggies and meat, should you choose it! They are deliciously enjoyed warm, or cold in a lunch. They're perfectly portioned so you can distribute exactly the amount everyone needs (maybe dad needs 4, and your little kindergartener just 1!). Let's not forget to mention again, the lack of cleanup or need for utensils to enjoy!
So go ahead, make that whole box of spaghetti tonite, because you're in for some great leftovers 😉
Ingredients
6 cups leftover spaghetti
1 cup Marinara sauce (or enough to coat, if not already in sauce)
2 eggs, beaten
1 cup shredded Parmesan cheese
12 cubes of fresh mozzarella cheese (can sub for shredded)
Dried basil, for garnish
Non-Stick Cooking Spray
Method
Preheat oven to 350 degrees F, and spray your muffin tin with non-stick cooking spray (we used olive oil). Set aside.
Take your leftover pasta (coated in marinara sauce), and add in your beaten eggs and parmesan cheese. Mix well.
Divide your spaghetti evenly into the 12 muffin tins, swirling slightly as you go to create a "nest".
To the centre of each spaghetti nest, place a cube of fresh mozzarella cheese.
Bake for 12-15 minutes or until all the cheese is melted and the spaghetti is slightly browned on the edges. Let cool.
Remove each carefully. Garnish with basil, and serve warm or chill for later.
Our spring celebration continues today with 13 amazing pasta dishes using fresh fruits and  vegetables that will keep your family...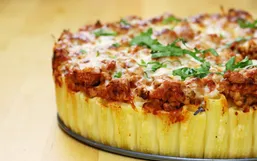 Forget traditional pasta casseroles! With the noodles standing upright, the sauce and cheese bake down into the pasta making each...
Chicken is a family favorite for dinner. It has a pleasant mild flavor that even picky children love.
Vegetarian dishes can be boring. It seems that all recipes are made for meat eaters.
We've all been there. You've had a long day, and you want a simple dinner idea that isn't going to leave you in the kitchen...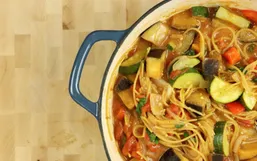 This was actually my first recipe attempt at making a pasta dinner, completely in one pot.
Pasta is a family favorite meal. You can create infinite number of unique dishes with pasta.
Busy weeknight dinner can be hectic. Instead of ordering takeaway food, why not try one of these pasta dinners?
Garlic bread has long time been a best friend of pasta dinners.
Carb-filled foods are hard to give up. For many of us, they act as comfort foods.
Noodle dishes make for some of the most comforting meals. The awesome thing about them is that they can come in many shapes,...
Planning a special gathering this spring or summer? The prettier the food it, the more delicious it tastes.