This was actually my first recipe attempt at making a pasta dinner, completely in one pot. No draining or straining necessary, letting the liquids work to cook the pasta, and create a perfectly balanced sauce as a result. By everything cooking together, it also makes it incredibly flavorful! This recipe is naturally vegan, but we used chickpea spaghetti to add more protein to the dish, and make it gluten-free. The chickpea spaghetti was found at the local grocery store, but you can use any type of gluten free or regular pasta as well. With all the classic ratatouille ingredients like eggplant, zucchini and tomato, along with some new twists to make this recipe a new favorite for the whole family.
Ingredients
1 tbsp olive oil
1/2 white onion, diced
1 tbsp minced garlic
1 zucchini, diced
1/2 eggplant, diced
1 red pepper, diced
1 can diced tomatoes (400gr)
2 cups water
1 tsp balsamic vinegar
1 box of spaghetti (8oz), we used gluten-free chickpea spaghetti
1 tbsp chopped basil
Salt & pepper, to taste
2 tbsp nutritional yeast
Method
In a large pot, heat your olive oil and add the onions, zucchini, eggplant, peppers and garlic. Cook on a high heat until lightly browned. This takes only a few minutes.
Add in the diced tomatoes (not drained!), water, vinegar and spaghetti. Bring to a boil, then cover and let simmer for 10 minutes, stirring occasionally. Continue cooking until the pasta is fully cooked through, and the sauce has thickened.
Garnish with extra basil on top, and serve!
Chicken is a family favorite for dinner. It has a pleasant mild flavor that even picky children love.
Ravioli is a great weeknight meal idea. Not only is it filling and delicious but the leftovers are great for work or dinner the...
Vegetarian dishes can be boring. It seems that all recipes are made for meat eaters.
We've all been there. You've had a long day, and you want a simple dinner idea that isn't going to leave you in the kitchen...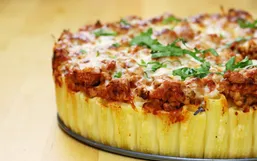 Forget traditional pasta casseroles! With the noodles standing upright, the sauce and cheese bake down into the pasta making each...
Planning a special gathering this spring or summer? The prettier the food it, the more delicious it tastes.
Macaroni noodles are often not the greatest food for your body. However, recently, healthier options have come onto the market...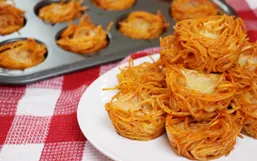 As a mother of 3, making dinners are often made with the intention of leftovers. Why? Well...lunches the next day!
I love lasagna almost as much as Garfield does. But who really loves lasagna as much as him? I have an issue though.
Pasta is a family favorite meal. You can create infinite number of unique dishes with pasta.
Busy weeknight dinner can be hectic. Instead of ordering takeaway food, why not try one of these pasta dinners?
Garlic bread has long time been a best friend of pasta dinners.