Busy weeknight dinner can be hectic. Instead of ordering takeaway food, why not try one of these pasta dinners? While the pasta is cooking, you can make a simple sauce and be done making dinner in less time than pizza delivery. Pasta is high in carbohydrates, so the key to a nutritious pasta meal is in the sauce. A tomato based pasta sauce can quickly get you a lot of fiber and nutrients. If you're serving picky children who don't like to eat vegetables, try hiding them in a tomato sauce. Finely grate carrots and zucchini and cook them with the tomato sauce. The vegetables will break down and be unrecognizable Your kids will eat it and you'll know they're getting some great nutrition.
Take a look at our recipes and then leave a comment with your go-to weeknight pasta meal.
1. Margherita Pasta
With only a handful of ingredients and only about 15 minutes of cooking time, this pasta couldn't be a more perfect weeknight meal. The tomato, garlic, and basil taste so delicious together in this light sauce.
http://carlsbadcravings.com/margherita-pasta-recipe/?utm_source=feedburner&utm_medium=feed&utm_campaign=Feed:+CarlsbadCravings+(Carlsbad+Cravings) Photos and Recipe By: Carl's Bad Cravings
2. Creamy Tomato and Spinach Pasta
This unconventional pasta salad has a nutritious and delicious cream sauce. Serve this dish piping hot with a little parmesan cheese on top.
https://www.budgetbytes.com/2013/07/creamy-tomato-spinach-pasta/ Photos and Recipe By: Budget Bytes
3. Asparagus Pasta
Go simple and delicious with this recipe. The sauce is a classic olive oil dressing, with Parmesan to make it tasty. You can use any vegetable that's in season.
http://fattaincasa.tumblr.com/post/51142673832/orecchiette-con-broccoli-serves-2-as-a-first Photos and Recipe By: Fattaincasa
4. Orecchiette Con Cime Di Rape
This is the signature dish of the Puglia region of southern Italy. Orecchiette literally translates as "little ears". They look like little bowl shaped discs that are ideal for catching the wonderful sauce they are to be tossed with. This classic dish features cime di rape, also known as broccoli rabe in English, or sometimes referred to as turnip greens.
http://fattaincasa.tumblr.com/post/51142673832/orecchiette-con-broccoli-serves-2-as-a-first Photos and Recipe By: Fattaincasa
5. Greek Pasta Salad
This light and simple meal is a great way to use up old items in your refrigerator. The pasta is cooked and then drained and cooled with a light salad dressing. Add in your extras, like chopped ham or left over chicken. Feta works great in this dish.
https://www.gimmesomeoven.com/mediterranean-pasta-salad/ Photos and Recipe By: Gimme Some Oven
6. Bacon and Broccoli Mac And Cheese
In this stove-top version of macaroni and cheese, bacon and broccoli are stirred in for added texture and flavor. You can use any vegetable(s) you like for this recipe. Add in as many as you can; stirring them in macaroni and cheese is a great way to get kids to eat their veggies!
https://www.budgetbytes.com/2017/05/one-pot-bacon-broccoli-mac-cheese/ Photos and Recipe By: Budget Bytes
7. Penne Pasta with Lemon and Rosemary
This refreshing pasta dish is a breeze to make. Use a store cooked chicken to quickly add more protein to this dinner. Pre-cooked chicken can actually be cheaper than buying a raw chicken, so check your grocery store for prices.
https://foodnessgracious.com/penne-pasta-lemon-rosemary/ Photos and Recipe By: Foodness Gracious
8. Mexican Ravioli Bake
It's not very often that ravioli is used in non-Italian dishes, but in this recipe, it's given a Mexican make-over. It's cooked with salsa, beans, corn and cheese for a dish that will transport you South of the Border. It's so simple, and so delicious!
http://www.chewoutloud.com/2017/02/28/mexican-style-cheesy-ravioli-bake/ Photos and Recipe By: Chew Out Loud
9. Mediterranean Orzo
Orzo is a unique ingredient. It's pasta in the shape of long grain rice! It works great for pasta salads and side dishes. This recipe is for a hot pasta salad side dish. It would be perfect beside some roasted pork, or grilled chicken.
https://www.jocooks.com/recipes/mediterranean-orzo-salad/ Photos and Recipe By: Jo Cooks
10. 5 Ingredient Sun Dried Tomato Fettuccine
When you're running low on ingredients around the house, this pasta only requires five ingredients! Toss it together and enjoy!
https://www.girlgonegourmet.com/5-ingredient-sun-dried-tomato-alfredo/ Photos and Recipe By: Girl Gone Gourmet
Chicken is a family favorite for dinner. It has a pleasant mild flavor that even picky children love.
Ravioli is a great weeknight meal idea. Not only is it filling and delicious but the leftovers are great for work or dinner the...
Vegetarian dishes can be boring. It seems that all recipes are made for meat eaters.
We've all been there. You've had a long day, and you want a simple dinner idea that isn't going to leave you in the kitchen...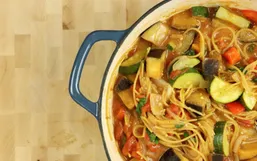 This was actually my first recipe attempt at making a pasta dinner, completely in one pot.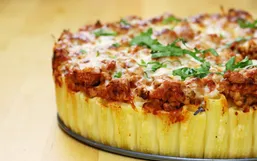 Forget traditional pasta casseroles! With the noodles standing upright, the sauce and cheese bake down into the pasta making each...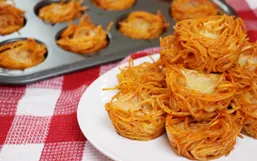 As a mother of 3, making dinners are often made with the intention of leftovers. Why? Well...lunches the next day!
Pasta is a family favorite meal. You can create infinite number of unique dishes with pasta.
Garlic bread has long time been a best friend of pasta dinners.
Carb-filled foods are hard to give up. For many of us, they act as comfort foods.
Noodle dishes make for some of the most comforting meals. The awesome thing about them is that they can come in many shapes,...
Planning a special gathering this spring or summer? The prettier the food it, the more delicious it tastes.