Thanksgiving preparation is hard enough, add in dietary restrictions and then the level of complications keeps rising. Holiday dinners can be stressful on their own without having to cook duplicate dishes, one regular, one low carb. Throw that thought in the trash and make delicious recipes that you and your non-keto guests will love. We've compiled some great ideas that range from intriguing appetizers to the perfect side dishes and even an outstanding turkey main course. Dive in and check out how you can throw an unforgettable, keto-friendly and tasty Thanksgiving dinner.
Related Topics (Ads):
1. Bacon-Wrapped Brussels Sprouts With Balsamic Mayo Dip
There will be no passing on brussels sprouts this holiday season if you follow this Savory Tooth recipe. With each sprout individually wrapped in bacon and paired with a balsamic mayo dip, this mouthwatering appetizer will have you question why anyone could ever hate brussels sprouts.
You only need four ingredients and 10 minutes of hands-on prep to whip up this recipe. Cook the bacon until it's crispy and not overcooked. That way, you don't have a hard time wrapping the pieces around the brussels sprouts. Secure each brussels sprout with a toothpick, serve alongside the two-ingredient dip, and enjoy!
2. Instant Pot Low-Carb Unstuffed Cabbage Roll Soup
Is there anything more convenient than owning an Instant Pot? These savvy pressure cookers can save you time, energy, and cleanup during the holidays. All you have to do is throw the ingredients in with the proper setting for a low-maintenance meal.
That being said, you can put your Instant Pot to good use by following this Forkly unstuffed cabbage roll soup recipe. This soup is loaded with seasoning that will have you swoon with every bite. The ground beef, cabbage, and rice also make it a lot more filling. With minimal preparation and an hour of your time your dinner guests will love indulging in this tasty comfort food.
3. Low-Carb Keto Tuna Pickles Boats
Pickles are tasty enough to eat straight from the jar, but can taste even better with this Forkly recipe! It's a dairy-free, gluten-free, and low-carb snack that will be way too easy to whip up on Thanksgiving Day. This recipe yields two to four servings and takes just five minutes to prepare.
To get started, split the pickles in half lengthwise. You can then seed all of the pickles and toss them in the garbage. Drain the tuna and mix it in a bowl with the mayo, dill, salt and pepper. Scoop the tuna mix into each of the pickles and you're done! Just make sure to garnish with some extra dill.
4. Keto Cornbread Stuffing
You shouldn't have to avoid carbs, especially on Thanksgiving Day. Stuffing is one of the most classic dishes to enjoy this holiday and for good reason. It's a mix of bread crumbs, veggies, and seasoning to make it delectable with each bite. Keep your keto diet in check this year by following this keto cornbread stuffing recipe!
The recipe offers different variations of the stuffing in case you're short on time. Some important ingredients you will need include keto bread, chopped veggies, chicken broth, and melted butter. It takes just 10 minutes to prepare, 10 minutes to cook, and yields four servings. Enjoy!
5. Creamy Cauliflower Mash & Keto Gravy
Would it truly be a Thanksgiving dinner without having mashed potatoes on the table? This fan favorite is a must-have for any holiday meal, but it's not always too keto-friendly. Luckily, this creamy cauliflower mash makes for an excellent substitute that just might be favored over the real thing!
This recipe calls for five cups of chopped cauliflower and seasoning ingredients like garlic minced, dried rosemary, and pink Himalayan salt. Top the mash off with some homemade keto gravy, that can also be used alongside other foods. It's made up of just five ingredients and takes 10 minutes to prepare.
6. Loaded Cauliflower Mashed Potatoes
Looking for a way to take your mashed potato dish to the next level? This loaded cauliflower mashed potato recipe will deliver the wow-factor you're looking for! It's packed with butter, cheese, bacon, sour cream, and green onions that will have guests craving it again next year.
Using cauliflower makes it a healthier alternative to potatoes, giving you more reason to go wild and enjoy the extra toppings. It takes only 10 minutes to prepare, 15 minutes to cook, and yields four servings. To make it vegan-friendly, simply switch out the bacon and cheese with vegan versions. You can also use vegan cream cheese instead of sour cream.
7. Low Carb Green Bean Casserole
You can't forget about the greens at a holiday meal. It's an essential side to help balance out all of the turkey, carb-heavy sides, and mouth watering dessert options. This green bean casserole recipe is low-carb and happens to be topped with pork rinds for a crunch surprise.
You can use either frozen or fresh green beans for this recipe. It yields three servings and takes just 35 minutes to make from preparation to serving. The writer recommends using a high quality bone broth, which will add more flavor with each bite. Another way to guarantee good taste is by opting for grass-fed butter.
8. Keto Dinner Rolls
There isn't a side that's more multi-purpose at the dinner table than a dinner roll. These side breads can be dipped into gravy, sandwiched with turkey, stacked with potatoes, and taste great with just about anything else being served. All this is why you should make time to whip up these homemade grain-free and low-carb dinner rolls.
This recipe is simple even for novice bakers since it requires zero kneading or yeast. All you have to do is measure your ingredients, combine the mixed bowls of dry and wet ingredients, and scoop out golf ball-sized servings onto a baking sheet. Bake until they appear golden brown and you're done!
9. Bacon-Wrapped Turkey
It may be obvious that turkey is allowed and encouraged on the keto diet but do you want your turkey to stand out from the rest? If you answered yes to this question, then you need to check out how to perfectly wrap your turkey in a bacon weave.
Not only does this easy to follow recipe happen to be keto-friendly, but you'll be providing guests with an unforgettable dinner. This recipe will walk you through a step-by-step process on how to achieve the bacon-wrapped turkey. One of the secrets is to create a butter "glue" that will help hold the bacon in place.
10. Keto Cranberry Sauce
The quintessential Thanksgiving Day side, no matter what diet you're on, has got to be cranberry sauce. This sweet topping is the perfect addition to every side dish and main course served at the dinner table. Consider skipping the canned cranberry sauce this year and make it completely from scratch instead.
It doesn't get much easier than this four-ingredient recipe. All you need are cranberries, Besti Powdered Erythritol, water, and vanilla extract — no sugar necessary! You can also add some orange zest for an extra hint of flavor. Feel free to make this the day before to save yourself time on Thanksgiving.
11. Crispy Baked Zucchini Fries
Is it a thing to serve French fries on Thanksgiving Day? Why not! It's something everyone loves and could even work as a finger food appetizer before you bring out the main course. Those looking for a keto-friendly alternative to fries can check out these crispy baked zucchini fries.
These fries are low in carbs since you're not cooking with actual potatoes. It's topped with a Paremsan cheese coating that will add lots of flavor and help crisp up the fries. This recipe yields four servings, and takes just 20 minutes to cook in the oven. You'll know they're ready once you place them in a darker golden color and crispy.
12. Spaghetti Squash Au Gratin
Spaghetti squash is awesome because firstly, it's low-carb and secondly it's string-like texture is the perfect substitution for pasta. This recipe is cheesy and delicious and would be a great addition to your Thanksgiving spread. Plus, it takes less than one hour to make!
To prepare you'll want to start by cooking the spaghetti squash and chicken pieces first. Then, once cooked the flesh of the spaghetti squash will turn to a noodle-like texture. By combining the squash with chicken, onion, yogurt and a baked cheesy top layer you will have a delicious side dish that everyone will surely enjoy.
Related Topics (Ads):
Switching to any new diet can be difficult. Often, you're forced to give up the foods you love but I believe the key to success is...
Starting a new diet isn't the hard part but being consistent and dedicated is!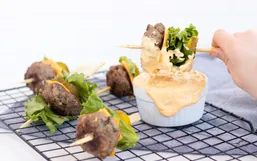 These Big Mac Bites are absolutely drool-worthy and the Copycat Big Mac Sauce is spot on - you wouldn't even know it didn't come...
Summer is in full swing and what better way to celebrate the warm weather than to dig into delicious food!
Diets can be so hard to follow especially when strong cravings hit.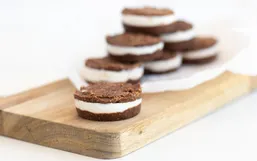 Fat bombs are an essential part of the Keto diet, allowing you to intake a large amount of healthy fats in just a couple of bites.
Starting a new diet can be daunting and difficult and staying committed to that diet can be even harder.
Following the keto diet means that you've committed to eating a diet that is high in fat, low in carbs and moderate in protein.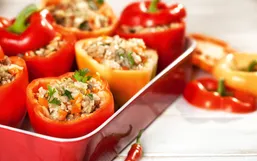 Committing to the keto diet requires hard work and dedication, especially if you want to remain in ketosis.
Following a diet is never easy -- it requires planning, motivation, and most of all, dedication.
Holidays are great because they generally mean you get to spend more quality time with friends and family and feast on delicious...
There is a lot to look forward to in fall. For starters, the crisp air brings on beautiful changing leaves, apples are ready to be...