Fat bombs are an essential part of the Keto diet, allowing you to intake a large amount of healthy fats in just a couple of bites. They're especially helpful during that afternoon slump when you're tired and snacky and most likely to fall off the ketosis train. These bites use coconut cream, heavy cream, and coconut oil to load up on fat. Plus, who doesn't love OREOs?!
Related Topics (Ads):
If these aren't really your thing, check out these other Fat Bomb Recipes To Fuel You On A Keto Diet. Looking for other keto snacks? Don't miss The Absolute Best Snacks To Try On The Keto Diet for some inspiration!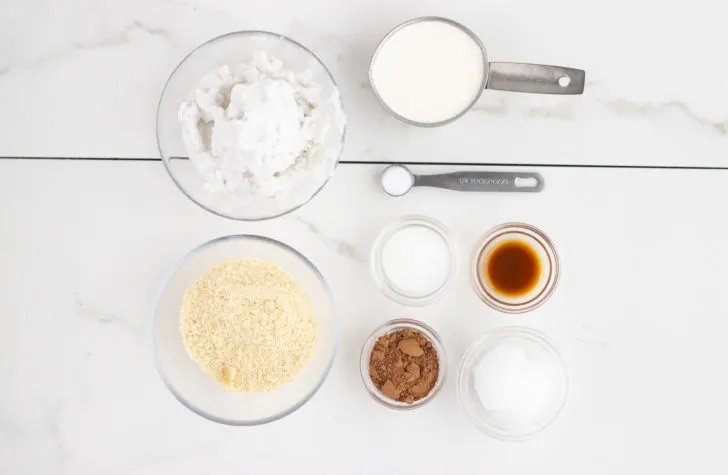 24 hours before you start this recipe, put the cans of coconut milk in the fridge. This will separate the cream from the water, making it easier to use just the cream later on.
Start by toasting the almond flour in a dry frying pan, moving it around constantly to avoid burning. You cannot skip this step, otherwise, you lose out on that toasty almond flavor! If you can find toasted almond flour in the store go ahead and use that instead, but it's often easier and less expensive to buy raw almond flour and toast it yourself. Once it's a golden brown, take it off the heat and immediately transfer it to a bowl so it doesn't burn.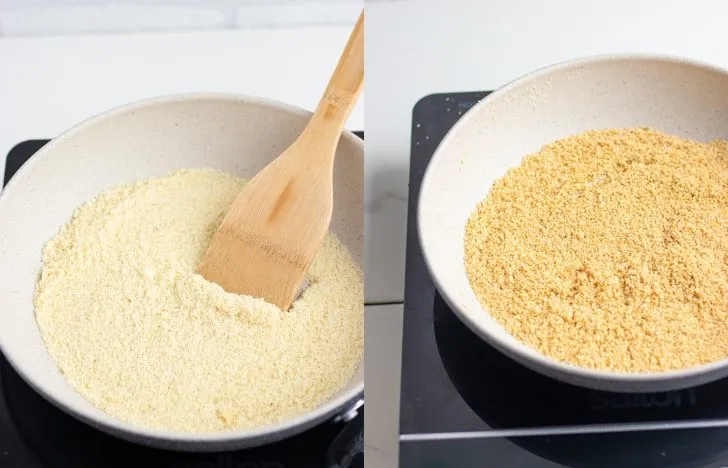 Then it's time to make the crust! Add the cocoa powder, salt, and 4-6 teaspoons of sweetener to the bowl of toasted almond flour. We used monkfruit sweetener because it's our favorite sugar substitute, but you can use whatever sweetener you've got on hand or is your fav!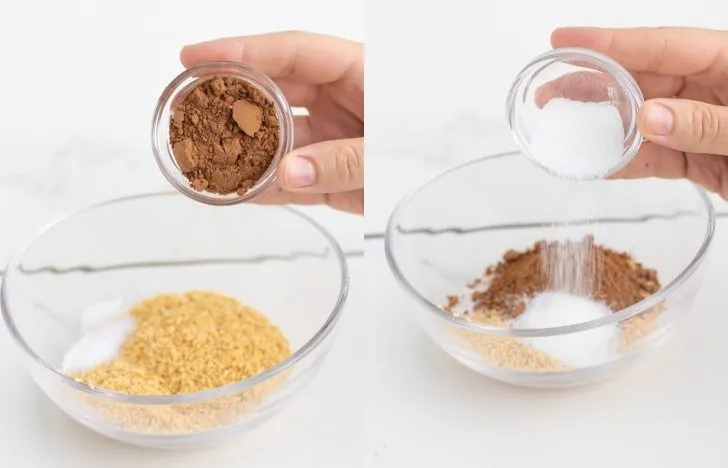 Melt the coconut oil and add it the crust mixture. Then use a fork to mix it well until it has a wet crumb texture. Be sure to scrape down the sides to make sure it's all combined.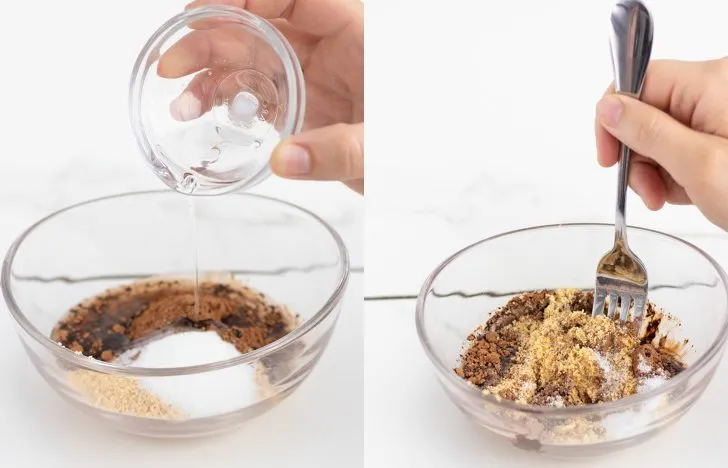 Add about a half teaspoon of the chocolate crust mixture to each mold and use the back of the measuring spoon to press the mixture down, paying particular attention to the corners. Transfer the mold to the freezer to set the chocolate OREO crust.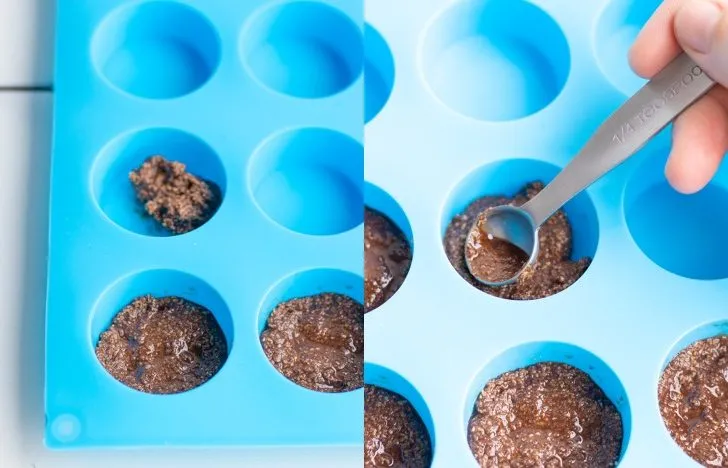 Time to make the OREO creme filling! Open the cans of coconut milk and use a spoon to scoop the cream out, which should have risen to the top leaving the coconut water on the bottom of the can. Discard the water or use it for another recipe. Add the cream to a small saucepan and add the heavy cream, vanilla, and 4-6 teaspoons of sweetener. Cook on medium heat, whisking constantly until the sweetener has dissolved and the coconut cream is no longer lumpy. Remove from heat and transfer to a container or bowl to help speed up the cooling process.
Once the creme mixture has cooled, remove the silicone mold from the freezer and add about one teaspoon of creme into each mold overtop the OREO crust. Be sure to leave some room at the top to add more crust later on! Once you've filled all the molds, return to the freezer to set. Finally, after the liquid creme has frozen, add another teaspoon of the chocolate crust mixture to each mold, pressing it down as you did the first time. Set in the freezer once again.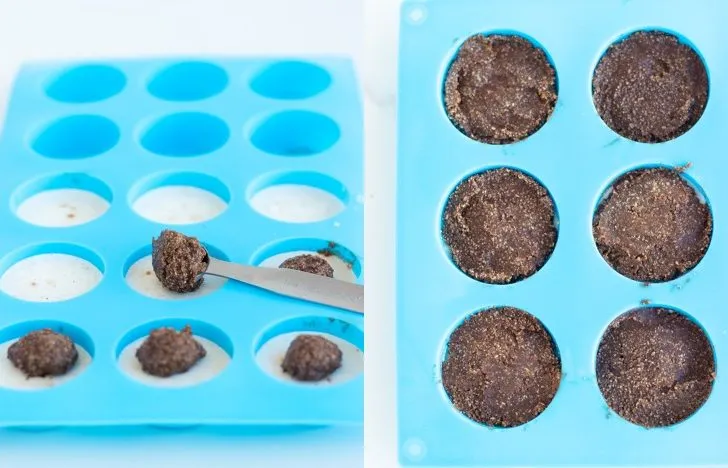 You're done! These little OREO keto fat bombs are delish and oh-so cute! Continue to store in the freezer, taking out the mold and popping one out when you're ready for a low carb snackaroo! Enjoy!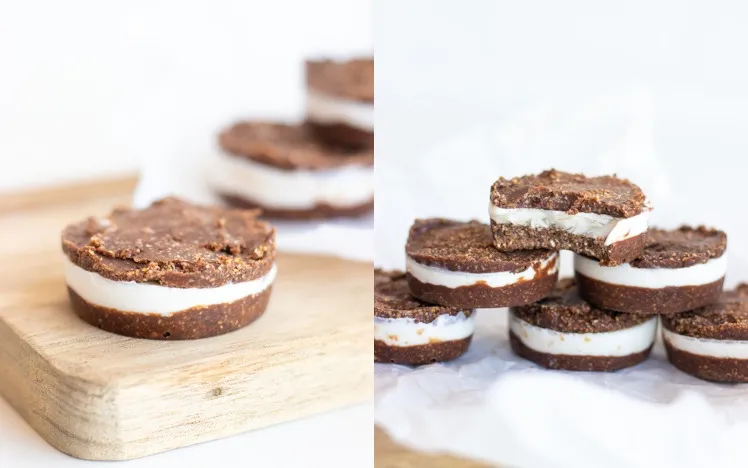 Ingredients
4 tbsp cocoa powder
2 cup almond flour
¼ tsp salt
8 tbsp coconut oil, melted
8-12 tsp monk fruit sweetener, divided
2 cans full-fat coconut milk, chilled and separated
2 tsp vanilla
1 cup heavy cream
Equipment
Circular silicone molds
Stove or hot plate
Frying pan
Small saucepan
Method
24 hours before starting this recipe, we suggest putting the cans of coconut milk in the fridge. This will separate the cream from the coconut water. When ready to use it, open up the can and use a spoon to skim out the cream. Discard the coconut water or use for another recipe.
Heat the frying pan on medium heat and add dry almond flour to toast, stirring constantly to avoid burning until it's browned, roughly 2 minutes.
To make the OREO cookie: Mix cocoa powder, toasted almond flour, salt, coconut oil, and 4-6 tsp of sweetener in a bowl and stir until well combined. It should resemble wet crumbs.
To make the creme filling: Add coconut cream, vanilla, 4-6 tsp sweetener, and heavy cream to a small saucepan and heat on medium-high heat, whisking until the sweetener is dissolved. Remove from heat and allow to cool.
Press about 1/2 tsp of chocolate cookie crumb into each of the mold, ensuring that it's compacted into the corners.
Pour about 2 tsp of the creme mixture into each mold, leaving about ¼ inch of room from the top.
Chill in freezer for about 30 minutes, then add another half teaspoon of chocolate cookie crumb into each mold, pressing it down to compact.
Return to freezer for another hour until completely set. Enjoy!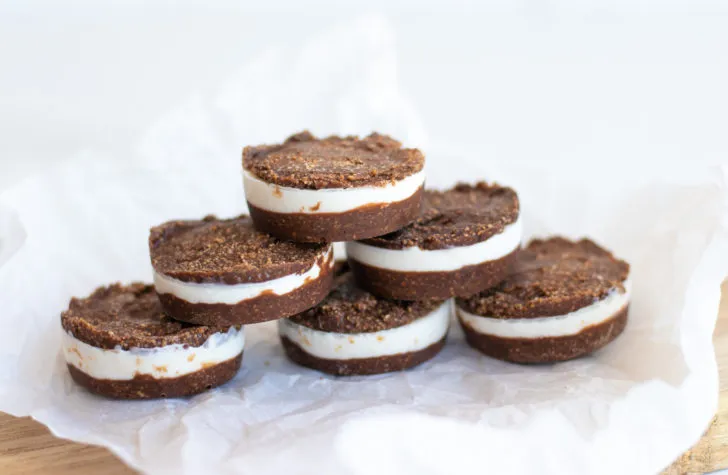 Related Topics (Ads):
Switching to any new diet can be difficult. Often, you're forced to give up the foods you love but I believe the key to success is...
Starting a new diet isn't the hard part but being consistent and dedicated is!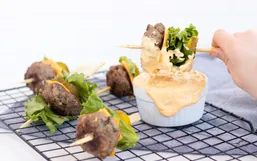 These Big Mac Bites are absolutely drool-worthy and the Copycat Big Mac Sauce is spot on - you wouldn't even know it didn't come...
Summer is in full swing and what better way to celebrate the warm weather than to dig into delicious food!
Diets can be so hard to follow especially when strong cravings hit.
Some may have been lured into the keto diet for weight loss, while others may have been attracted to the idea of indulging in...
Following the keto diet means that you've committed to eating a diet that is high in fat, low in carbs and moderate in protein.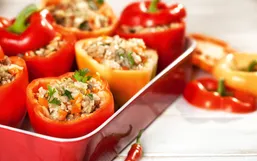 Committing to the keto diet requires hard work and dedication, especially if you want to remain in ketosis.
Nothing quite compares to a good ole homecooked meal but sometimes life gets busy. That's where fast-food comes in!
Holidays are great because they generally mean you get to spend more quality time with friends and family and feast on delicious...
There is a lot to look forward to in fall. For starters, the crisp air brings on beautiful changing leaves, apples are ready to be...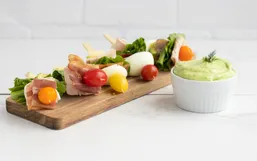 These little Cobb Salads on a Stick are all the deliciousness of a loaded cobb salad without the mess or need to sit down to enjoy...