Baking with all-purpose flour is one of the easiest and accessible types of flours to purchase. We have all become accustomed to baking with it because it is generally the most popular choice. Starting a new diet when we are used to our old ways of cooking and baking can seem like a frightening task. Don't be frightened as we are here to help you!
Related Topics (Ads):
The Keto diet as you probably know by now follows a low-carb, high-fat and a sufficient amount of protein regime. Using coconut flour in your baking and cooking is an excellent choice to help you stay on track with your Keto diet goals. Coconut flour is high in fiber (great for digestion) provides an excellent source of protein and healthy fats and is free from wheat and other grains. We have organized 15 exceptional recipes made with coconut flour that are Keto diet approved, you'll want to try these.
1. No Bake Chocolate Hazelnut Cookies
These cookies are so good they taste like Ferrero Rocher Chocolate. Following restrictive diets doesn't have to mean you miss out on tasty treats like that!
These delicious cookies are bound together with homemade Nutella. While buying store bought Nutella would be the easy way around this it won't stay within your diet restrictions so it's important to take the step to make the homemade Nutella for this recipe.
https://thebigmansworld.com/2018/02/01/no-bake-paleo-vegan-chocolate-hazelnut-cookies-keto-sugar-free-low-carb/ PHOTOS AND RECIPE HERE: THE BIG MANS WORLD
2. Coconut Flour Flat Bread
Finding suitable kinds of bread for a keto diet can be the mere foundation for a delicious meal. This flatbread recipe is so easy you'll want to make it in bulk to enjoy all week.
If you're seeking more ways to use egg whites try whipping up this flatbread recipe. Containing only 4grams of carbs and 2 grams of net carbs this bread is definitely a great contender when deciding what to make while on your diet. Keep in mind this flatbread has a slight coconut flavor so make sure to eat it with foods that compliment the taste.
https://divaliciousrecipes.com/coconut-flour-flat-bread/ PHOTOS AND RECIPE HERE: DIVALICIOUS RECIPES
3. Keto Peanut Butter Chocolate Mug Cake
There's nothing better than being able to make a cake in a single serving all for yourself, especially when it is suitable for your Keto diet. Don't miss out on your sweet tooth cravings while following the diet because you can make this mug cake.
This mug cake has delicious flavorings of rich peanut butter in a moist and fluffy cake. For anyone not on this diet, they'll be begging you to give you this recipe once you cook it up in the microwave.
http://www.forkly.com/food/keto-peanut-butter-chocolate-mug-cake/ PHOTOS AND RECIPE HERE: FORKLY
4. Low-Carb Bagels
These low carb bagels are so good you're going to want to have them every day of the week for breakfast. The coconut flour gives this recipe a light and airy texture.
Enjoy these bagels on their own or top them off with Keto-approved toppings for a wholesome breakfast.
https://lowcarbyum.com/low-carb-bagels-fat-head-dough/ PHOTOS AND RECIPE HERE: LOW CARB YUM
5. Keto Biscuits
Homemade biscuits have always been a favorite of mine. My mother was so good at getting the perfect texture of a fluffy biscuit and that savory buttery flavor. Keto dieters don't need to miss out on savory biscuits either!
This recipe is both savory and cheesy you'll definitely fall in love with them and bring back memories of Mama's baking.
http://kaseytrenum.com/keto-low-carb-biscuits/ PHOTOS AND RECIPE HERE: KASEY TRENUM
6. Low-Carb Pumpkin Pie
Another great dessert recipe is this low carb pumpkin pie. Pumpkin pie is generally the perfect dessert to kick-start the season of fall with its warm and spicy flavors. However, pumpkin pie we believe is perfect all year round.
Making desserts in a muffin tin is a superb idea because it allows you to have single sized portions. You'll have a delicious dessert for the whole family or for a party. You could even consider saving them for yourself by freezing them to have a single serving dessert.
http://thehealingspoon.com/recipe/low-carb-pumpkin-pie/ PHOTOS AND RECIPE HERE: THE HEALING SPOON
7. Cinnamon Walnut Flax Muffins
Muffins make an awesome grab and go snacks when you're on the run. They also make a great breakfast choice for those rushed mornings. However, most muffins contain loads of sugar and flour, both not acceptable on the Keto diet.
These cinnamon walnut muffins are Keto approved and delicious. These muffins have a light and airy texture from the coconut flour and have loads of warm flavor. Cinnamon also has a lot of health benefits such as being a great source of antioxidants and an anti-inflammatory. These muffins will help you stay on track with your diet and are good for you overall health as well.
http://www.forestandfauna.com/cinnamon-walnut-flax-muffins/ PHOTOS AND RECIPE HERE: FOREST AND FAUNA
8. Mini Ketogenic Strawberry Cheesecakes
If you're a true cheesecake lover you don't need to miss out on your favorite dessert while following the Keto diet. You'll be satisfied with these mini cheesecakes that have the creamy texture you love about cheesecake all the while still tasting sweet and tart.
The coconut flour mixed with almond flour is what makes up the base of the cheesecake providing a crumbly and tasty crust. Making mini cheesecakes is a great idea because you can again, freeze them and save them to have when a craving creeps up.
http://thehealingspoon.com/recipe/mini-ketogenic-strawberry-cheesecakes/ PHOTOS AND RECIPE HERE: THE HEALING SPOON
9. No-Bake Peanut Butter Protein Bars
Protein bars make a great afternoon pick-me-up snack as well as an excellent after workout snack. So many ingredients are available to us that we no longer need to buy certain things store bought-such as protein bars. Also, consider how expensive protein bars can be, I would really rather make my own with wholesome ingredients rather than spending up to 5 dollars on one protein bar.
Not only are these protein bars allowed on your Keto diet but they're tasty too. Think of Reese's pieces and protein bars mixed together. I'm a true peanut butter and chocolate fan and love any of the like that contain the combination. The coconut flour, protein powder, and peanut butter combination help give the protein bars center a fudgy texter. That's a melt in my mouth kind of snack I want to be a part of!
https://thebigmansworld.com/2018/01/08/no-bake-peanut-butter-protein-bars-keto-sugar-free-vegan/ PHOTOS AND RECIPE HERE: THE BIG MANS WORLD
10. Ketogenic Vanilla Cupcakes
As you can tell by now being on the keto diet doesn't mean you have to miss out on your favorites. It's simply more about making suitable substitutions. Whether you're looking for a keto diet approved dessert to share at a party or need a self-care sweet snack you'll definitely want to give these a try.
These vanilla cupcakes are also dairy-free which makes it a great dessert to share with anyone who has a lactose allergy. Everyone will surely be surprised at how similar they are to regular vanilla cupcakes and that means you get to enjoy dessert while on your diet too.
http://thehealingspoon.com/recipe/ketogenic-vanilla-cupcakes-dark-chocolate-frosting/ PHOTOS AND RECIPE HERE: THE HEALING SPOON
11. Cheesy Sausage Puffs
Are you tired of some of your repetitive Keto snacks like cheese slices and boiled eggs? Consider making these cheesy sausage puffs. If coconut flour isn't a staple in your cupboards especially being on the Keto diet then you'll definitely want to purchase to make delightful rounds like these.
You'll only need a couple of these tasty sausage puffs to satisfy your hunger and your taste buds. This makes an excellent breakfast item or for a quick snack to get you through until your next meal.
https://www.instrupix.com/cheesy-sausage-puffs-keto-low-carb/ PHOTOS AND RECIPE HERE: INSTRUPIX
12. Dairy-Free Ketogenic Pancakes
A lot of keto friendly pancakes contain loads of cream cheese which isn't always suitable for someone who has a dairy allergy and intolerance. If that sounds like you then you definitely want to try this recipe.
They're dairy-free but without sacrificing any fluffy and moist texture that regular pancakes contain. This makes the perfect weekend breakfast splurge or possibly make ahead of time to have during the week.
http://thehealingspoon.com/recipe/dairy-free-keto-pancakes-fresh-strawberry-sauce/ PHOTOS AND RECIPE HERE: THE HEALING SPOON
13. Low-Carb Coconut Chicken Tenders
Chicken fingers are a classic when it comes to dinner ideas. Unfortunately, most breaded chicken fingers are full of carbs and not suited for this diet. Considering most store-bought varieties are not suited for this diet it might be best to think about making them yourself.
These crispy keto-approved chicken fingers are battered in coconut flour and coconut flakes. Once they are baked the coating toasts up nicely giving you that satisfactory crunchy outer texture we love about chicken tenders.
https://www.wholesomeyum.com/recipes/baked-coconut-chicken-tenders-low-carb-paleo/ PHOTOS AND RECIPE HERE: WHOLESOME YUM
14. Fudge Fat Bites
Fat bites, or fat bombs whichever you call them are all the rage when it comes to snack choices on the keto diet. Consuming enough fats and protein while not sacrificing your carb intake is so important while on this diet.
These fat bites are sweet and rich in flavor with the perfect soft and fudgy texture. They're sweet enough to satisfy a sweet tooth and fulfilling enough to have a little dessert after dinner. You can even eat them for a snack during the day too.
https://realbalanced.com/fudge-fat-bombs/ PHOTOS AND RECIPE HERE: REAL BALANCED
15. Keto No-Bake Carrot Cake
No-bake recipes are not only great for those whole live busy lifestyles but they're also great alternatives for hot seasons when you don't want to heat up your house with your oven.
In this recipe, the coconut flour binds with the cashew butter and shredded carrot to give a tasty and chewy texture all the while being sweetened with a keto approved sweetener. This recipe also offers a delicious keto approved icing recipe to finish off your no-bake cake.
https://thebigmansworld.com/2018/03/12/healthy-paleo-vegan-no-bake-carrot-cake-keto-sugar-free/ PHOTOS AND RECIPE HERE: THE BIG MANS WORLD
Related Topics (Ads):
Switching to any new diet can be difficult. Often, you're forced to give up the foods you love but I believe the key to success is...
Starting a new diet isn't the hard part but being consistent and dedicated is!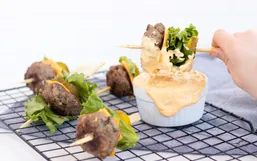 These Big Mac Bites are absolutely drool-worthy and the Copycat Big Mac Sauce is spot on - you wouldn't even know it didn't come...
Summer is in full swing and what better way to celebrate the warm weather than to dig into delicious food!
Diets can be so hard to follow especially when strong cravings hit.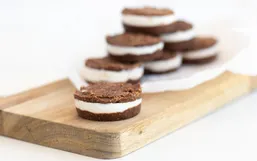 Fat bombs are an essential part of the Keto diet, allowing you to intake a large amount of healthy fats in just a couple of bites.
Starting a new diet can be daunting and difficult and staying committed to that diet can be even harder.
Following the keto diet means that you've committed to eating a diet that is high in fat, low in carbs and moderate in protein.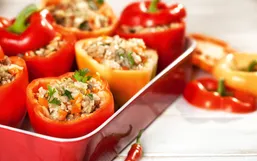 Committing to the keto diet requires hard work and dedication, especially if you want to remain in ketosis.
Following a diet is never easy -- it requires planning, motivation, and most of all, dedication.
Holidays are great because they generally mean you get to spend more quality time with friends and family and feast on delicious...
There is a lot to look forward to in fall. For starters, the crisp air brings on beautiful changing leaves, apples are ready to be...