Whether you're a seasoned Ketogenic dieter, or new to the game, you've likely struggled with one major thing – SNACKS.
Related Topics (Ads):
The spice of life, right?
We seem to have breakfast, lunch and dinners figured out. But what about snacks? What about those moments where you're sitting at your desk, or watching a movie, and your normal snacking is out the window with these low-carb dieting? Thankfully, Keto snacks are some of the best Keto-specific recipes out there. You'll not only squash your cravings, but you'll also be refueling with healthy fat snacks that will keep you going until dinner.
1. Pork Rinds
Pork skin that puffs up when fried is the perfect substitute for chips. These aren't very filling, but they're high in fat (helpful for keto) and the perfect snack when you need to do some mindless eating. You can keep a bag on you at all times to munch on whenever you're out and about.
They come in a variety of seasonings, but best stay away from the kinds of added MSG. You can always season them yourself too, make nachos, dip in cream-based dips and so on. They're usually found in most grocery stores, but if you're having trouble finding them, check out your local Asian food market!
2. Low-Carb Keto Tuna Pickle Boats
When you get hangry, you need a good snack, and quick. This Forkly recipe will save your diet, keep you from grabbing the wrong things, and it's low-calorie, low-carb, high-fat and everything you've dreamed of. An entire plate accounts to just 200 calories and it takes just five minutes to prepare. This snack is also free of gluten and dairy.
Don't shy away from the odd combination, it's actually a pretty amazing food fusion. The tanginess of the dill pickle is the perfect compliment to its tuna salad filling. If you don't like tuna, feel free to replace it with chicken or flaked salmon.
3. Guacamole
Ok so this is a dip, but one with endless opportunities that you could never get bored of it. Dip a cheese crisp, crispy bacon, flax seed crackers or veggies into this avocado-based dip (which if you haven't heard by now – is an essential "healthy" fat in your diet). Truly ambitious? Yes, you can just eat it off a spoon. Oh, the perks of the low-carb diet.
If you're up for the challenge, you could try making guacamole from scratch. There are plenty of keto-friendly guac recipes to choose from online. You can prep it in advance to have it on hand for the week ahead whenever you're in need of a snack pick-me-up.
4. Cheese Crisps
As I just mentioned for a suggestion to dip in guac, you may be wondering what the heck cheese crisps even are. Well, they're basically cheese, crisped. This easy-to-follow Forkly recipe walks you through the process step by step. It yields 16 servings, takes one minute to prepare, and up to five minutes of cook time in the oven.
This snack is literally just cheese in disguise of a chip. Made quickly in the oven by placing sliced cheddar cheese onto parchment, broiled and then left to cool, they bubble and harden into the perfect chip. Munch on them for a filling and tasty snack!
5. Canned Sardines
Listen, I get it. I was pretty hesitant about these too. But, as it turns out, they're not the gross, disgusting fish heads you may have envisioned them to be. Give it a chance and see for yourself!
Typically packed in oil with heads removed, these are easily forked and eaten for a perfect low-carb snack. If you're wondering what they taste like? They taste like a mild tuna, actually. They often come in flavors such as jalapeno and tomato sauces for some added delight. Don't knock it till you try it, and they're fairly inexpensive, so they're worth a shot.
6. Low-Carb Onion Rings
Made with while onion, coconut flour, eggs, whipping cream, pork rinds and parmesan cheese – these onion rings are the baked, keto-version of onion rings you never knew existed. This recipe from KetoConnect double coats the onion rings in the egg mixture and bread that results in a filling snack you won't be able to stop reaching for!
If you prefer to dip your onion rings in ketchup, try and swap for tomato paste, or a sugar-free at home version. Ranch dressing and sour cream and onion dip are some other tasty options. Or, instead – opt for a mayo-based dip or otherwise to keep those carbs low!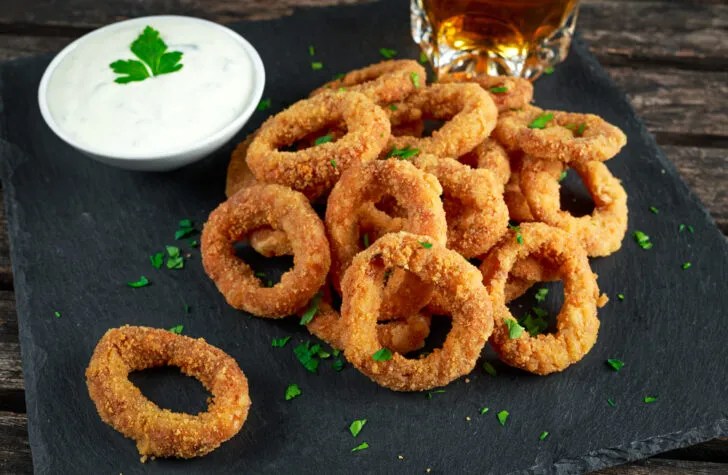 7. Peanut Butter
Peanut butter is one of the best spreads that can also be used in plenty of recipes. Now, it's important to note that you won't be able to eat just any kind of peanut butter. On the ketogenic diet, you're going to have to steer clear of anything with added sugars (meaning added carbs).
Opting for a healthier natural version, it's the perfect snack when paired with some celery (sorry, no raisins on this log!)…or a spoon. Always read your labels, and find the nut butter that's best for you. Almond is also a popular choice if you're looking to switch it up.
8. Low Carb Chocolate Peanut Butter Bark
Have a snacking sweet tooth that needs immediate attention? Then this delicious Forkly recipe is for you! With the use of coconut oil, natural peanut butter, sugar-free chocolate and some whole & crushed pecans, you have a freezer snack ready at all times. This recipe yields 24 servings that you can have on hand whenever you're aching for something sweet, but keto-friendly.
This recipe is super easy because it doesn't require any baking in the oven. Simply follow the steps and pop the tray in the freezer until it's set. Be warned though, if you make a tray of this – be prepared for how quickly it will disappear. It's good. Too good.
9. One-Minute Keto Mug Bread
So maybe not a snack, but if you're a carb-loving human, it sure is. With this bread, you can whip it up in one minute, in the microwave and slice and enjoy whenever you please.
Since it's fairly small and yields about 6 slices you can eat the whole loaf, guilt-free. It also toasts well, freezes for later, and is versatile for many different snack options. Cheese and meat? yup! Toasted with butter? sure! Spread with peanut butter? Oh heck yes you can!
10. Easy Low-Carb (Keto) Big Mac Bites
These Big Mac Bites are absolutely drool-worthy and the Copycat Big Mac Sauce is spot on – you wouldn't even know it didn't come out through the drive-thru! They're perfect for barbeque and patio season when hosting commitments, parties, and potlucks are in full swing.This Forkly recipe yields 10 servings and takes just six easy steps to complete.
Perhaps the best part? These perfect little snacks or appys are keto-friendly, which means you don't have to starve at the next potluck or party you attend! They'll be enjoyed by everyone – keto-dieters and carb-lovers alike – so no need to double up on the dishes you bring.
11. One-Minute Keto Cheesy Garlic Mug Bread
Most people on the Keto diet miss bread a lot. But the carbs in traditional wheat bread are just way too high and easily make you slip out of ketosis! This Forkly cheesy garlic mug bread recipe is low-carb, packed with flavor, and easy to whip up when the craving hits.
Whether you just need an afternoon snack or desperately want some garlic bread to go with dinner, we've got you covered with this easy microwave mug recipe. The ingredients are simple (you may even have them already!) and the instructions are straightforward, making this one of our favorite Keto snacks!
12. Hard Boiled Eggs
Make them in a large batch (heck, why not the whole dozen?) all at once, and have them ready for grabbing on the go as you need them throughout the week. There are some places that you can buy them pre-made, but if you've got a pot, some water, and some eggs – you can do this all on your own (we believe in you!).
Want to batch cook a whole bunch of eggs at the start of the week? Our favorite method is the 5-5-5 method using our Instant Pot! In 15 minutes you have eggs that peel so easily from the shells and you don't need baking soda or vinegar or salted water to achieve it. They're perfectly cooked every single time.
13. Creamy Keto OREO Cookies and Cream Fat Bombs
You thought you had to say goodbye to OREOs, but we've got you covered with these delicious fat bombs inspired by the famous cookie! They look unhealthy but are made with almond flour, coconut milk, coconut oil, and other ingredients that keep it keto friendly. This Forkly recipe yields about 16 to 20 servings and an hour and a half of freezer time.
To separate the cream from the coconut water, it's recommended that you put the cans of coconut milk in the fridge 24 hours before starting the recipe. Now you can enjoy decadently sweet oreos that will keep you full throughout the day!
14. Pepperettes
You'll want to pick up a package of pepperettes the next time you're at the grocery store. Easy, packable meat that doesn't require refrigeration. Perfect to store on your desk at work, your purse, car, jacket pocket, I mean… best to be prepared, yes? Wherever you go, pepperettes are a snack that can go with you.
These meat sticks are dry-cured, an instant hit of protein and salty enough to satisfy your snack cravings. They're inexpensive, don't expire for a long time, and definitely worth keeping on hand. They can also help keep you fuller for longer throughout the day compared to carbohydrate based snacks.
15. Pumpkin Seeds
There's no reason why pumpkin seeds should only be enjoyed after carving a pumpkin for Halloween. This tasty snack is perfect for keto-friendly snacking all year long! Also knows as "pepitas" these little seeds can be your best friend when you're needing a quick snack that will fit your dietary needs.
High in fat, they are incredibly filling and satisfying either raw or roasted, seasoned or not. When you look for them in stores, you'll be looking for a small green seed, since they're hulled out of their shells! try not to look for the in-shell variety, but the hulled kind (they'll be green and delicious!).
16. Keto Popcorn
Popcorn can be enjoyed on the keto diet but you have to stick to about only one cup. I don't know about you but 1 cup of popcorn won't fulfill my snacking needs! Instead, try making this keto popcorn from the website My Keto Kitchen.
This 1 ingredient substitute is probably not what you think it is! Surprisingly, this is actually cheese! This is a 2-step recipe that requires you to begin the process the day before you want to eat it. However, don't worry, it's easy and the pay off is worth it! With a little preparation, there's no reason why your next movie night shouldn't include popcorn.
17. Tuna Stuffed Avocados
You don't need a tuna sandwich when you can snack on these delicious tuna stuffed avocados instead! This snack is loaded with healthy fats, is a great source of protein and will surely satisfy your taste buds in a keto-friendly way. This recipe from Downshiftology takes just 15 minutes to prepare and yields four incredibly delicious servings.
To create this snack you'll first need to prepare the tuna salad. This is made with cans of tuna, mayo, dijon mustard and a few additional ingredients that add flavor. Scoop the tuna salad onto the avocado and they are ready to enjoy!
18. Keto Cookie Dough
I don't know about you but when I'm making cookies I'm always tempted to snack on the dough. However, it's not really healthy to do so. This recipe from That's Low Carb allows you to purposely snack on cookie dough guilt-free and safely!
This snack will surely hit the spot and comes in at only 1 net carb per serving – WOAH! Coconut flour makes this recipe low-carb and other ingredients such as liquid stevia, erythritol, heavy cream, and butter make it keto-approved. The recipe yields 32 cookie dough bites and takes just five minutes to prepare. Store them in the fridge to keep them fresh!
Related Topics (Ads):