Summer is in full swing and what better way to celebrate the warm weather than to dig into delicious food! However, summertime is often loaded with comforting and sweet dishes which will lead you down the road of sugar and carbs. This can be a nightmare for a keto dieter especially if you're determined to stick with your diet all summer long!
Related Topics (Ads):
Thankfully we've come to your rescue and have searched the internet to find you some of the most delicious recipes that will keep you satisfied all summer long! We're sharing some delicious summer party appetizers, tasty bbq recipes, and even a sweet refreshing treat too! Be sure to pair your delicious summer food with these Low-Carb, Keto-Friendly Alcoholic Beverages.
1. Easy Low-Carb (Keto) Big Mac Bites
Fighting cravings may be one of the hardest things to do when following the keto diet. The next time you're craving a juicy Big Mac from Mc Donald's whip up a batch of these delicious Keto Big Mac bites!
A mini seasoned ground beef patty is combined with cheese, lettuce, and a pickle slice and is paired with the most dreamy Copycat Big Mac Sauce. Eat these all for yourself or share them at your next summer party!
http://www.forkly.com/recipes/easy-low-carb-keto-big-mac-bites/ PHOTOS AND RECIPE HERE: FORKLY
2. Cauliflower Potato Salad
Potato salad is one of the most popular summer salads! After all, it's creamy, comforting, and exploding with flavor. Unfortunately, traditional potato salad is loaded with potatoes which are clearly not keto diet approved!
The perfect solution is to substitute potatoes with cauliflower florets! They have a similar texture and once combined with other traditional potato salad ingredients you won't even notice it doesn't have potatoes at all. Better yet those you share it with will be blown away by this low-carb version!
https://feelgoodfoodie.net/recipe/cauliflower-potato-salad/ PHOTOS AND RECIPE HERE: FEEL GOOD FOODIE
3. Charcuterie Kabobs
Charcuterie boards are so popular and for good reason! These awesome boards are loaded with an assortment of delicious foods that you and your friends can nibble at. So why not apply the same concept but turn it into a kabob! They're portioned perfectly for everyone and still offer the same assortment.
When creating your keto kabobs be sure to choose low-cab meats, cheeses, and any other charcuterie ingredients you please! These kabobs will be the talk of your next summer party!
http://www.forkly.com/recipes/quick-and-easy-party-pleasing-charcuterie-kabobs/ PHOTOS AND RECIPE HERE: FORKLY
4. Fully Loaded Burger Bowls
Experience a burger in a whole new way! Summer is the best time to indulge in delicious foods like burgers, hot dogs, and loads of other types of barbecued meats. However, for keto-dieters, it can be hard to avoid carbs this time of year, especially when those barbecued foods are often served on a bun!
Skip the bun because you don't need it! These delicious burger bowls are loaded with all the delicious toppings you love. However, instead of serving the toppings on top they're stuffed into the middle and are baked to perfection in the oven. Once cooked, serve with diced bacon, bbq sauce, ranch, and diced chives!
https://www.familyfreshmeals.com/2018/05/fully-loaded-burger-bowls.html PHOTOS AND RECIPE HERE: FAMILY FRESH MEALS
5. Low-Carb Keto Italian Sausage and Veggie Foil Packets
You definitely need to indulge this summer and what better way to do that than to enjoy delicious grilled food! Whether you're a grill master or not, these foil packs are so easy to prepare that they're basically fool-proof!
Combine Italian sausage with low-carb veggies and toss them in olive oil and a few seasonings. Then, simply wrap up the ingredients in foil and toss it on the grill. Before you know it you'll have a delicious and certainly satisfying meal ready to dig into.
http://www.forkly.com/recipes/low-carb-keto-italian-sausage-and-veggie-foil-packets/ PHOTOS AND RECIPE HERE: FORKLY
6. Herbed Butter Steak
Does the smell of food cooking on the bbq make you salivate as it does me? This herbed butter steak will surely have your palate dancing once you start cooking it.
This delicious steak requires a few simple ingredients. What sets these steaks apart from the rest is the most unreal homemade garlic butter! This recipe comes together in just a few minutes and is perfect for your next summer cookout!
https://seekinggoodeats.com/herbed-butter-steak/ PHOTOS AND RECIPE HERE: SEEKING GOOD EATS
7. Cajun Avocado Deviled Eggs
This party-pleasing appetizer takes on a fun keto twist and is surely going to blow your party guests away! The idea is simple but the flavors and secret ingredients with leave a lasting impact on your friends and family.
Avocado is added to the yolks along with a touch of mayo and together they create an unreal creamy texture. Plus, the avocado increase the overall fat of this delicious app – perfect for your keto diet! In addition to the avocado, these deviled eggs are blended with delicious cajun seasonings!
http://www.forkly.com/recipes/cajun-avocado-deviled-eggs/ PHOTOS AND RECIPE HERE: FORKLY
8. Steak Fajita Skewers With Cilantro Chimichurri
Transform your summer party into a fiesta by serving these insanely delicious steak fajita skewers! They come with a homemade cilantro chimichurri sauce recipe that really sets these skewers over the top.
The skewers require sirloin steak pieces, low-carb veggies such as red, yellow, and green bell peppers. The veggies and steak are seasoned with a simple blend of spices that pack a ton of flavor! Cook the skewers on the grill and then dig in!
https://reciperunner.com/steak-fajita-skewers-with-cilantro-chimichurri/ PHOTOS AND RECIPE HERE: RECIPE RUNNER
9. Low-Carb Buffalo Chicken Bites
These low-carb buffalo chicken bites are another excellent summer party appetizer idea! Buffalo chicken is a crowd favorite so your friends and family will undoubtedly love these delicious little bites.
Shredded chicken is combined with sugar-free mayo, buffalo wing sauce, and cheese and is loaded into a mini sweet pepper. This delicious app only requires 3-5 minutes in the oven so you'll love that you don't have to heat up your kitchen!
http://www.forkly.com/recipes/low-carb-buffalo-chicken-bites/ PHOTOS AND RECIPE HERE: FORKLY
10. Easy Low Carb Coleslaw
Much like potato salad, coleslaw is another summer favorite! This recipe transforms a traditional recipe into an easy keto-approved summer salad. You only need to substitute a few traditional ingredients such as sugar for erythritol. This will provide that lovely sweet flavor we know and love without sacrificing your diet!
In addition to erythritol, you'll also need a few other keto-friendly ingredients such as mayonnaise and heavy cream. This salad comes together in just 10 minutes and can even be prepared ahead of time!
https://www.thelittlepine.com/low-carb-coleslaw/ PHOTOS AND RECIPE HERE: THE LITTLE PINE
11. Low-Carb Keto Tuna Pickle Boats
Want to really knock it out of the park this summer? Whip up a platter of these insanely delicious keto tuna pickle boats and watch the plater disappear quickly.
Our simple recipe scoops tuna salad into a pickle cavity and is served with a sprinkle of fresh dill – it is that easy! You'll be shocked by how flavorful these are and you'll be impressed with how little time they require to prepare.
http://www.forkly.com/recipes/low-carb-keto-tuna-pickle-boats/ PHOTOS AND RECIPE HERE: FORKLY
12. No-Churn Mint Chip Ice Cream
It doesn't really feel like summer until you've indulged in delicious cold treats like ice cream! Unfortunately, traditional ice cream is loaded with sugar and will derail your keto-diet.
You don't have to give in to temptations when you have recipes like this! This easy no-churn mint chip ice cream recipe is so easy and requires just 6 ingredients. Confectioners erythritol and sugar-free chocolate chips provide a lovely sweet flavor while staying inline with the keto diet. Further, peppermint extract provides the authentic mint flavor and heavy whipping creamy creates that delicious creamy texture we know and love about ice cream.
https://www.thismomsmenu.com/mint-chip-ice-cream/ PHOTOS AND RECIPE HERE: THIS MOM'S MENU
Related Topics (Ads):
Switching to any new diet can be difficult. Often, you're forced to give up the foods you love but I believe the key to success is...
Starting a new diet isn't the hard part but being consistent and dedicated is!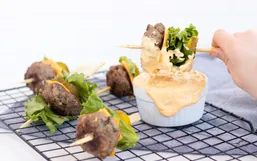 These Big Mac Bites are absolutely drool-worthy and the Copycat Big Mac Sauce is spot on - you wouldn't even know it didn't come...
Diets can be so hard to follow especially when strong cravings hit.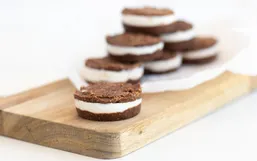 Fat bombs are an essential part of the Keto diet, allowing you to intake a large amount of healthy fats in just a couple of bites.
Some may have been lured into the keto diet for weight loss, while others may have been attracted to the idea of indulging in...
Following the keto diet means that you've committed to eating a diet that is high in fat, low in carbs and moderate in protein.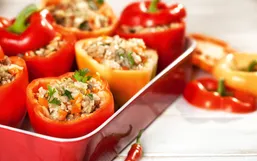 Committing to the keto diet requires hard work and dedication, especially if you want to remain in ketosis.
Nothing quite compares to a good ole homecooked meal but sometimes life gets busy. That's where fast-food comes in!
Holidays are great because they generally mean you get to spend more quality time with friends and family and feast on delicious...
There is a lot to look forward to in fall. For starters, the crisp air brings on beautiful changing leaves, apples are ready to be...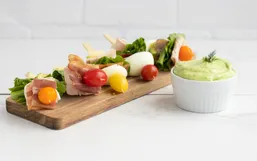 These little Cobb Salads on a Stick are all the deliciousness of a loaded cobb salad without the mess or need to sit down to enjoy...