Starting a new diet isn't the hard part but being consistent and dedicated is! While you may have your keto dinners figured out, have you mastered the snacking department yet? We're here to help you fulfill your snacking needs with delicious treats that are all keto-friendly.
Related Topics (Ads):
Making snacks from scratch sounds fun in theory, but let's face it, many of us live busy lives and when we want to snack we want it quick! Instead of reaching for the candy bar in the checkout line consider keeping these keto snacks on hand. You'll be pleased to learn that there is no baking, cooking or prepping required for these snacks!
1. High Key Keto Mini Cookies
Chocolate chip cookies are one of my weaknesses. While you may think one or two are innocent that can quickly derail your diet.
Instead, try these delicious mini chocolate chip cookies by High Key. In each box, you'll get 3 bags of cookies. They're made with several wholesome ingredients such as almond flour, coconut oil, collagen, and are naturally sweetened.
BUY IT HERE: https://amzn.to/2PSutQa
PHOTOS BY: AMAZON
2. Quest Nutrition Tortilla Style Protein Chips
The next time you're craving chips be sure to try these Quest Tortilla Style Protein chips! Each serving has 18 grams of protein and only 4 net carbs.
Many potato chips are fried and thankfully these are baked. Each box of these cheesy chips come with 8 bags. Stay on track with your keto diet and pair these with guacamole or your any of your favorite keto-approved dips.
BUY IT HERE: https://amzn.to/300rr0S
PHOTOS BY: AMAZON
3. Quest Nutrition Sour Cream & Onion Protein Chips
We all need variety in our life especially when it comes to snacking. Thankfully Quest Nutrition has several different flavors of chips to choose from.
Instead of the cheesy tortilla style chips perhaps you'd enjoy these sour cream and onion chips. They're still keto-friendly since each serving comes in at 5 net carbs per serving. Once again this box comes with 8 bags of chips.
BUY IT HERE: https://amzn.to/2LuCUCz
PHOTOS BY: AMAZON
4. Whisps Cheese Crisps
These delicious crips by Whisps are made solely from cheese! This delectable treat tastes wonderful on top of a salad, in a keto-friendly sandwich or makes an excellent on-the-go snack.
This is a variety pack that comes with 5 packets of cheese crisps. In the variety pack, you will get one of each flavor. These include Asiago & Pepper Jack Cheese Crisps, Cheddar Cheese Crisps, Parmesan Cheese Crisps, Tomato Basil Cheese Crisps, and Bacon BBQ Cheese Crisps.
BUY IT HERE: https://amzn.to/2VTQ14a
PHOTOS BY: AMAZON
5. Choc Zero Chocolate Keto Bark
I have to say, chocolate is my ultimate weakness. If you too consider yourself a serious chocoholic you'll truly appreciate this keto chocolate bark treats by Choc Zero.
You'll get two bags and in each bag is 6 servings. The bars contain 2 net carbs per serving and are sweetened without any artificial sweeteners or sugar alcohols!
BUY IT HERE: https://amzn.to/2ViNXn0
PHOTOS BY: AMAZON
6. Fbomb Salted Chocolate Macadamia Nut Butter Fat Bomb
It's important to ensure you're getting enough fat while following the keto diet. That is why keto fat bombs have become so popular! Instead of making your own, you can enjoy this salted chocolate macadamia nut butter fat bomb by FBomb.
This delicious snack is made in a peanut-free facility which is a great option for those with allergies. This box comes with 10 packets. Further, it's an excellent option to take with you on a busy day or when you're out hiking and camping!
BUY IT HERE: https://amzn.to/2Q09kUp
PHOTOS BY: AMAZON
7. Perfect Keto Bar
Are you missing your favorite granola bars? Instead of giving into your cravings try these keto bars by Perfect Keto.
You'll have your choice of almond butter brownie bars, chocolate chip cookie dough bars, and salted caramel bars. Each box comes with 12 bars and is an excellent snack that you can enjoy anywhere!
BUY IT HERE: https://amzn.to/2JmxQh3
PHOTOS BY: AMAZON
8. UTZ Pork Rinds
If you're craving chips be sure to try this keto-friendly snack! Pork rinds are pork skin that puffs up when fried. Their texture is what makes them the perfect substitute for chips!
This 8-ounce barrel of pork rinds by Utz comes in at 0 carbs per serving. They're lightly salted but feel free to sprinkle on your favorite keto-friendly seasoning for added flavor1!
BUY IT HERE: https://amzn.to/2VMSptM
PHOTOS BY: AMAZON
9. Just The Cheese Snack Bars
This is another excellent snack bar option! Just The Cheese created a snack bar that is exactly as it sounds and is made 100% from natural cheese!
These bars contain 1 gram of carbs per serving. You'll have 4 delicious flavors to choose from such as aged cheddar, grilled cheese, jalapeno, and mild cheddar.
BUY IT HERE: https://amzn.to/2ViE7l0
PHOTOS BY: AMAZON
10. BPI Health Keto Bomb Coffee Creamer
Instead of eating a snack for a mid-day pick me up why not pour yourself a cup of coffee and add this keto bomb coffee creamer! Ensuring that you get enough fat daily can be easy if you sneak in a snack like this!
This keto creamer by BPI Health is caramel macchiato flavored. Add this delicious creamer to coffee, tea or your favorite beverage! It doesn't contain any sugar but it surely has a wonderful flavor. Furthermore, it also includes electrolytes which can help maintain your hydration and mineral levels.
BUY IT HERE: https://amzn.to/2Jo1Jxs
PHOTOS BY: AMAZON
11. Fat Snax Cookies
Fulfill your sweet tooth craving by indulging in a delicious keto-friendly cookie! You'll get a variety pack with 3 different flavors. This includes chocolate chip cookie, lemony lemon cookie, and peanut butter cookie.
Each order comes with 12 packs of cookies, however, keep in mind that each individual pack comes with 2 cookies for a total of 24 cookies! They're sugar-free and have about 1-2 net carbs per serving.
BUY IT HERE: https://amzn.to/2DVUgCb
PHOTOS BY: AMAZON
12. Low Karb Keto Instant Hot Cereal
Sometimes all you need is a bowl of cereal to quench a craving. Unfortunately, many boxes of cereal contain loads of carbs and are not keto friendly. Instead, try this Keto Instant Hot Cereal by Low Karb.
This delicious hot cereal is flavored to taste like cinnamon buns! It's high in fat, low in carbs and doesn't contain added sugar or artificial sweeteners.
BUY IT HERE: https://amzn.to/2DUsE0m
PHOTOS BY: AMAZON
13. Chocolate Smartcake
The next time you find yourself craving cake grab one of these delicious chocolate cakes by Smartcake. These chocolate cakes are sugar-free and low-carb and are perfectly sized for one!
Keep in mind each box comes with 4 cakes. This snack option is a great way to satisfy any sweet tooth without derailing your diet! For more delicious snack ideas, check out 50 more Snacks To Try On The Keto Diet!
BUY IT HERE: https://amzn.to/2JnUN3y
PHOTOS BY: AMAZON
Forkly.com is a participant in the Amazon Services LLC Associates Program, an affiliate advertising program designed to provide a means for sites to earn advertising fees by advertising and linking to Forkly.com
Related Topics (Ads):
Switching to any new diet can be difficult. Often, you're forced to give up the foods you love but I believe the key to success is...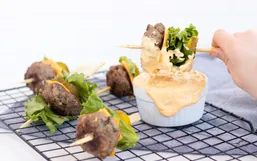 These Big Mac Bites are absolutely drool-worthy and the Copycat Big Mac Sauce is spot on - you wouldn't even know it didn't come...
Whether you've been on the Ketogenic diet for a while now or are new to it, you've likely struggled with snacks.
Diets can be so hard to follow especially when strong cravings hit.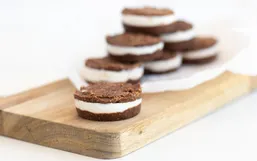 Fat bombs are an essential part of the Keto diet, allowing you to intake a large amount of healthy fats in just a couple of bites.
Some may have been lured into the keto diet for weight loss, while others may have been attracted to the idea of indulging in...
Following the keto diet means that you've committed to eating a diet that is high in fat, low in carbs and moderate in protein.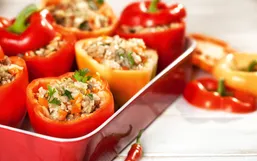 Committing to the keto diet requires hard work and dedication, especially if you want to remain in ketosis.
Nothing quite compares to a good ole homecooked meal but sometimes life gets busy. That's where fast-food comes in!
Holidays are great because they generally mean you get to spend more quality time with friends and family and feast on delicious...
There is a lot to look forward to in fall. For starters, the crisp air brings on beautiful changing leaves, apples are ready to be...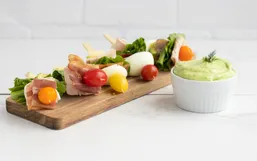 These little Cobb Salads on a Stick are all the deliciousness of a loaded cobb salad without the mess or need to sit down to enjoy...