Whether you've been on the Ketogenic diet for a while now or are new to it, you've likely struggled with snacks.
Related Topics (Ads):
Main meals – breakfast, lunch, and dinner – seem to be easier to figure out, but snacks are often eaten on-the-go and it's not until you're hangry that you realize you need something low-carb to snack on. These sweet, salty, and everything in between snacks will help squash your cravings and fuel you with healthy fats that will keep you satisfied until your next meal.
We've tried not to overrun this list with fat bombs (even though they're great!), but if that's more your style check out these Fat Bomb Recipes To Fuel You On a Keto Diet.
1. No Bake Keto Chocolate Peanut Butter Balls
These little bites only take 5 minutes and 4 ingredients and are the perfect snack if you're craving something sweet! Plus peanut butter… need I say more? Didn't think so.
https://thebigmansworld.com/no-bake-keto-chocolate-peanut-butter-balls-paleo-vegan-low-carb/ PHOTOS AND RECIPE HERE: THE BIG MAN'S WORLD
2. Keto Nut Bars
Crunchy and chewy? Yes please! These nut bars are a keto version of a carb-heavy granola bar and are great to whip up on a Sunday to fuel you all week long. It's also a good way to use up leftover nuts and seeds when you've got small amounts of many different types. Make these up today and avoid slipping out of ketosis this week!
https://aussieketoqueen.com/keto-nut-bars-no-bake-keto-snacks/ PHOTOS AND RECIPE HERE: AUSSIE KETO QUEEN
3. Charcuterie Kabobs
These no-bake kabobs are perfect for a potluck or party, or just for an afternoon snack! Choose your fav low-carb meats, cheeses, and other charcuterie ingredients and slide them onto extra large toothpicks. Perfect for packed lunches and snacks and completely customizable! That's a win in our books.
http://www.forkly.com/recipes/quick-and-easy-party-pleasing-charcuterie-kabobs/ PHOTOS AND RECIPE HERE: FORKLY
4. Low-Carb Chocolate Peanut Butter Popsicles
Looking for a cold snack on a hot day? These peanut butter popsicles are keto-friendly and oh so creamy and dreamy! No more missing out on ice cream with your family now that you have this recipe up your sleeve!
https://alldayidreamaboutfood.com/chocolate-covered-peanut-butter-popsicles-low-carb-and-gluten-free/ PHOTOS AND RECIPE HERE: ALL DAY I DREAM ABOUT FOOD
5. Keto Cookie Dough
You only need a few ingredients and a few minutes to make these grain-free, keto, vegan raw cookie dough balls! They're as delicious as they look and can be kept in the fridge for snacking all week long.
https://www.theroastedroot.net/keto-edible-cookie-dough-low-carb-vegan/ PHOTOS AND RECIPE HERE: THE ROASTED ROOT
6. Low-Carb Keto Tuna Pickle Boats
When you get hangry, you need a good snack, and quick. This recipe will save your diet, keep you from grabbing the wrong things, and it's low-calorie, low-carb, high-fat and everything you've dreamed of.
Don't shy away from the odd combination, it's actually a pretty amazing food fusion. The tanginess of the dill pickle is the perfect compliment to its tuna salad filling.
http://www.forkly.com/recipes/low-carb-keto-tuna-pickle-boats/ PHOTO AND RECIPE HERE: FORKLY
7. Low-Carb No-Bake Chocolate Coconut Bars
These 10-minute no-bake bars are made with walnuts, cashews, peanut butter, coconut, and dark chocolate – packed with healthy fats and flavor! These will satisfy your craving for a sugary treat without slipping out of ketosis! Plus, as an added bonus, you can sub in any nuts you've got on hand and need to use up to make them customed to your tastes.
https://www.primaverakitchen.com/low-carb-no-bake-chocolate-coconut-bars/ PHOTOS AND RECIPE HERE: PRIMAVERA KITCHEN
8. Healthy Keto Avocado Hummus
This tasty hummus combines healthy fats from avocado, macadamia nuts, and olive oil and uses peppers and celery for dipping. The perfect afternoon pick-me-up!
https://ketodietapp.com/Blog/lchf/healthy-keto-avocado-hummus PHOTOS AND RECIPE HERE: KETO DIET APP
9. Low Carb Granola Bars
Packed with healthy nuts and drizzled with dark chocolate, these granolas are delicious, high protein, and no-bake! They're great for on-the-go snacks or packed lunches, regardless of whether you're Keto!
https://www.sweetashoney.co/low-carb-granola-bars-sugar-free-no-bake-keto/ PHOTOS ADN RECIPE HERE: SWEET AS HONEY
10. Easy Almond Butter
It's surprisingly easy to make your own nut butter and often way cheaper! Buy pre-roasted almonds from your local bulk food store to simplify and make this a no-bake recipe. All you need is a high powered blender and you'll be eating this by the spoonful or on a low-carb food of your choice!
https://lifemadeketo.com/homemade-almond-butter/ PHOTOS AND RECIPE HERE: LIFE MADE KETO
11. Energy-Boosting Bulletproof Coffee (3 Ways!)
Okay, so maybe this is a bit of cheat because it's a drink, but this is a great way to fuel your morning or afternoon if you're feeling sluggish! Combine the energy-boosting capacity of coffee with healthy fats of grass-fed butter, coconut oil, and heavy cream that actually make you feel full! This recipe has three different options, including a boozy version.
http://www.forkly.com/recipes/energy-boosting-bulletproof-coffee-3-ways/ PHOTO AND RECIPE HERE: FORKLY
12. Low-Carb Guacamole
Guacamole is a beloved snacking food known for being full of healthy fats! This simple recipe is easy to whip up when you're hungry and can even be shared with non-Keto-dieters. For a low-carb dipper option, use pork rinds or cheese crisps!
http://www.forkly.com/recipes/energy-boosting-bulletproof-coffee-3-ways/ PHOTOS AND RECIPE HERE: LIFE MADE KETO
13. Low-Carb Keto Dessert Bark
Have a snacking sweet tooth? This recipe is for you! With the use of coconut oil, natural peanut butter, sugar-free chocolate and some whole & crushed pecans, you have a freezer snack ready at all times. Be warned though, if you make a tray of this – be prepared for how quickly it will disappear. It's good. Too good.
http://www.forkly.com/recipes/low-carb-keto-dessert-bark/ PHOTO AND RECIPE HERE: FORKLY
14. Ham Roll Ups
These delicious meat, cheese, and veggie roll-ups are a perfect mid-day snack! To make them no-bake, easier, and the prep less messy, we suggest using pre-cooked bacon.
https://jenniferbanz.com/ham-roll-ups PHOTOS AND RECIPE HERE: LOW CARB WITH JENNIFER
15. Keto Chocolate Nut Clusters
These little treats only require 3 ingredients and are a great sweet snack that can be munched on mid-day or put in your purse for something to snack on when you're out and about!
https://peaceloveandlowcarb.com/keto-chocolate-nut-clusters PHOTOS AND RECIPE HERE: PEACE, LOVE, AND LOW CARB
Related Topics (Ads):
Switching to any new diet can be difficult. Often, you're forced to give up the foods you love but I believe the key to success is...
Starting a new diet isn't the hard part but being consistent and dedicated is!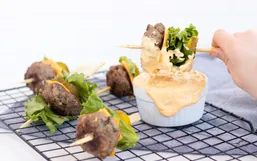 These Big Mac Bites are absolutely drool-worthy and the Copycat Big Mac Sauce is spot on - you wouldn't even know it didn't come...
Diets can be so hard to follow especially when strong cravings hit.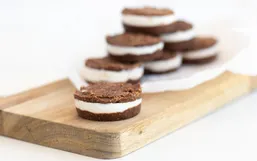 Fat bombs are an essential part of the Keto diet, allowing you to intake a large amount of healthy fats in just a couple of bites.
Some may have been lured into the keto diet for weight loss, while others may have been attracted to the idea of indulging in...
Following the keto diet means that you've committed to eating a diet that is high in fat, low in carbs and moderate in protein.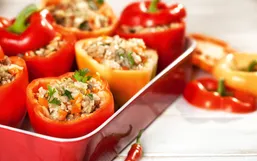 Committing to the keto diet requires hard work and dedication, especially if you want to remain in ketosis.
Nothing quite compares to a good ole homecooked meal but sometimes life gets busy. That's where fast-food comes in!
Holidays are great because they generally mean you get to spend more quality time with friends and family and feast on delicious...
There is a lot to look forward to in fall. For starters, the crisp air brings on beautiful changing leaves, apples are ready to be...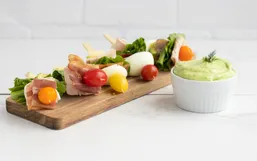 These little Cobb Salads on a Stick are all the deliciousness of a loaded cobb salad without the mess or need to sit down to enjoy...