These Big Mac Bites are absolutely drool-worthy and the Copycat Big Mac Sauce is spot on – you wouldn't even know it didn't come out through the drive-thru! They're perfect for barbeque and patio season when hosting commitments, parties, and potlucks are in full swing.
Related Topics (Ads):
Perhaps the best part? These perfect little snacks or appys are also keto-friendly, which means you don't have to starve at the next potluck or party you attend! They'll be enjoyed by everyone – keto-dieters and carb-lovers alike – so no need to double up on the dishes you bring. This one covers it all!
The concept is quite simple – take all the components of a Big Mac and instead of serving it up on a carb-heavy bun, skewer the ingredients and use the Homemade Big Mac Sauce as a high-fat dip! Start by making our Easy Copycat Big Mac Sauce to accompany the bites. Whip it together and set it aside in the fridge while you cook the rest of the dish.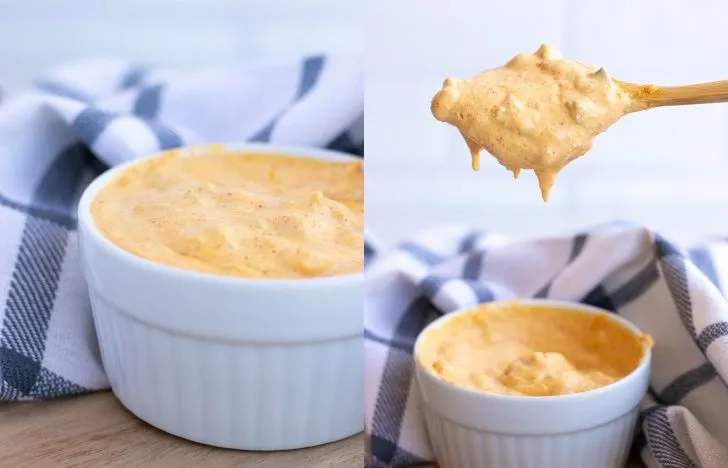 Next, it's patty time! In a large bowl, mix together the ground beef, onion, garlic, and salt until well combined. Make sure the onions are very finely diced before adding them to the mixture as this will ensure you get the flavor without big chunks in your little burgers!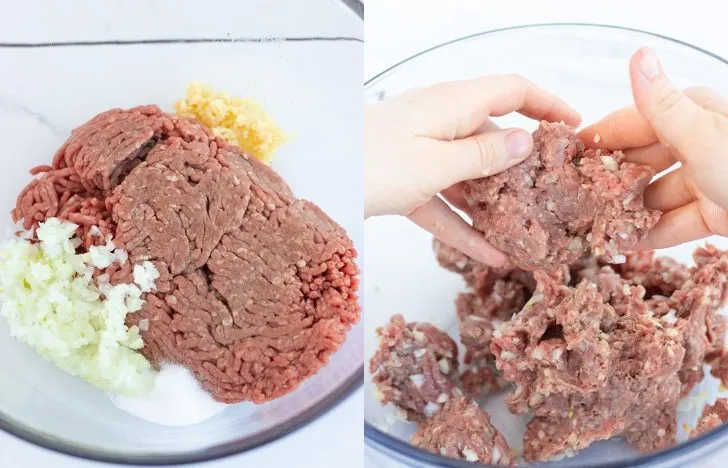 Pinch off pieces and roll into balls, then press slightly in the palms of your hands to flatten into a patty. In our recipe, one pound of meat made ten small patties, but this recipe will easily double or triple without any issues. Lay them out on a plate or baking tray as you make them until you're ready to fry them up.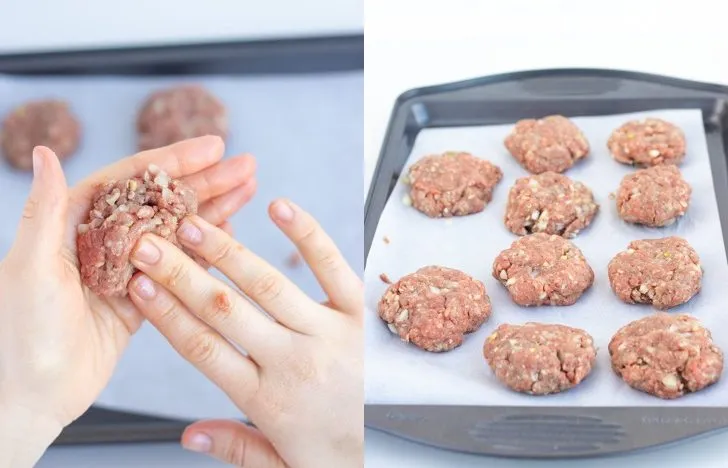 To cook these little burger bites, heat a frying pan on medium-high heat and then add a drizzle of olive oil. Fry each side for about 2 minutes, checking for doneness either by cutting one open or using a meat thermometer. The patties are done when the internal temperature has reached 160°F. Get them out of the pan and add a piece of cheese on top to melt slightly.
As a side note, you could easily barbeque these instead if you like. Just make sure that internal temperature is correct!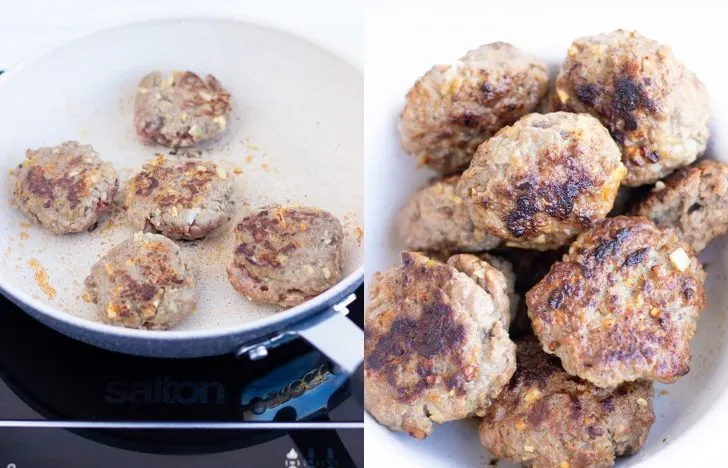 Now you're ready to assemble! Stack a pickle slice, a folded up piece of lettuce, and the patty and then put a skewer through the middle. Repeat until you've used up all of the patties. That's it. You're done!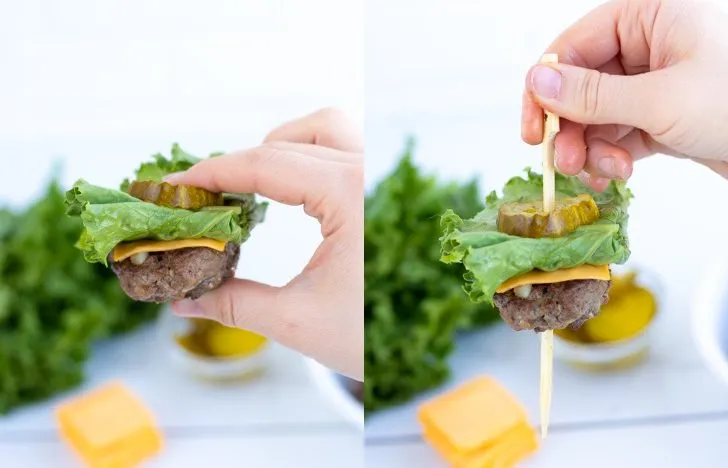 Serve up the Big Mac Bites alongside the Copycat Big Mac Sauce for dipping, dunking, or drizzling! If there are leftovers, it's best to actually disassemble, as the lettuce won't keep well.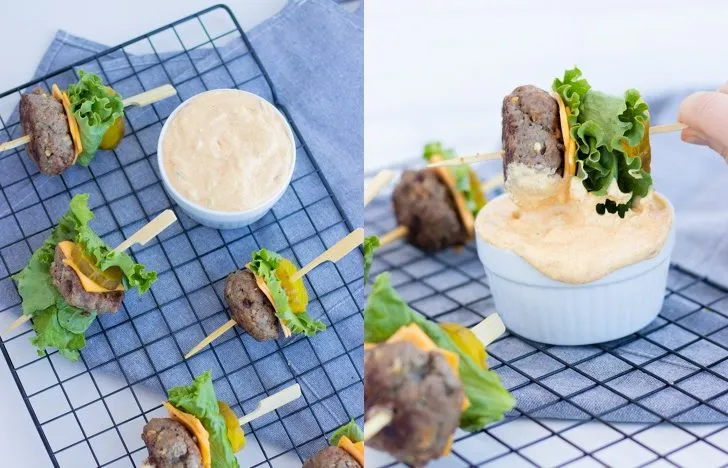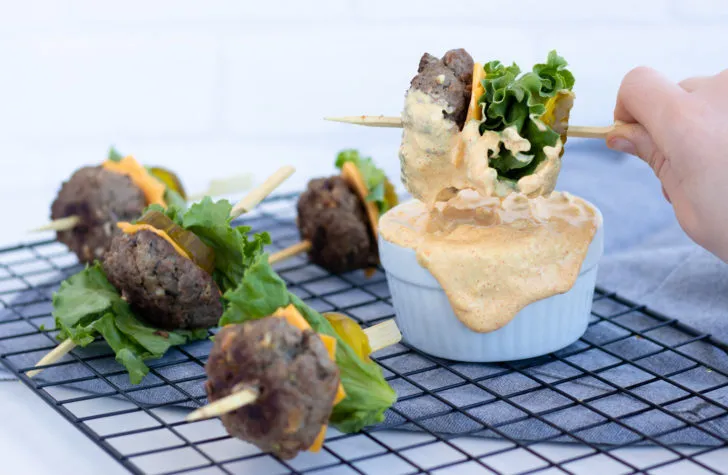 Ingredients
1 pound ground beef
1 tbsp minced garlic
¼ cup onion, diced
1 tsp salt
4 slices American Cheese
10 dill pickle slices
Lettuce
1-2 tbsp olive oil
Method
Cut each cheese slice into four squares. Cut lettuce into large pieces. Slice pickles if they are not pre-sliced.
In a bowl, mix beef, minced garlic, onion, and salt. Pinch off a piece of the mixture and roll into a ball. Place in the palm of your hand and press down slightly to flatten the patty until it's about 1 inch thick. Repeat for all of the meat.
Heat oil in a large frying pan on medium-high heat.
Cook mini patties in a frying pan for about 1-2 minutes per side until the internal temperature reaches 160°F. Repeat for all patties. As patties come out, place a piece of cheese on top, allowing to melt slightly.
Build the skewers by sliding on the pickle slice, folded up lettuce square, cheese slice, and burger patty.
Serve skewers with the Copycat Big Mac Sauce on the side for dipping or drizzled on top. Enjoy!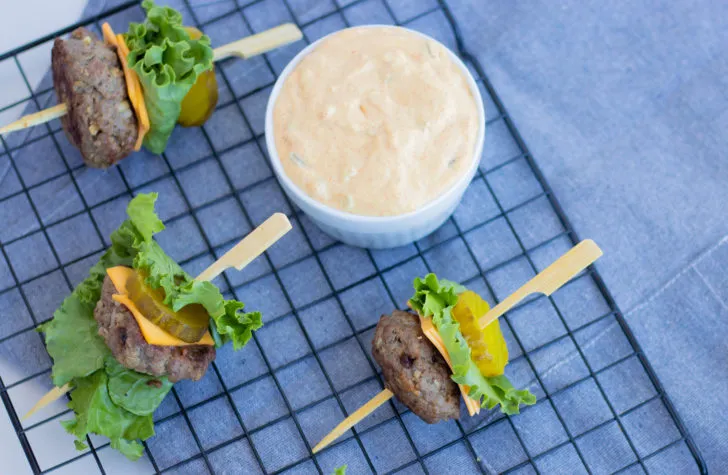 Related Topics (Ads):
Switching to any new diet can be difficult. Often, you're forced to give up the foods you love but I believe the key to success is...
Starting a new diet isn't the hard part but being consistent and dedicated is!
Whether you've been on the Ketogenic diet for a while now or are new to it, you've likely struggled with snacks.
Diets can be so hard to follow especially when strong cravings hit.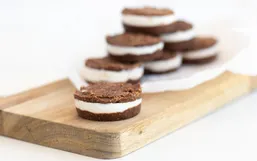 Fat bombs are an essential part of the Keto diet, allowing you to intake a large amount of healthy fats in just a couple of bites.
Some may have been lured into the keto diet for weight loss, while others may have been attracted to the idea of indulging in...
Following the keto diet means that you've committed to eating a diet that is high in fat, low in carbs and moderate in protein.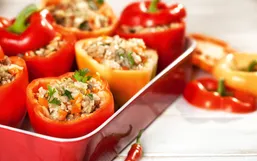 Committing to the keto diet requires hard work and dedication, especially if you want to remain in ketosis.
Nothing quite compares to a good ole homecooked meal but sometimes life gets busy. That's where fast-food comes in!
Holidays are great because they generally mean you get to spend more quality time with friends and family and feast on delicious...
There is a lot to look forward to in fall. For starters, the crisp air brings on beautiful changing leaves, apples are ready to be...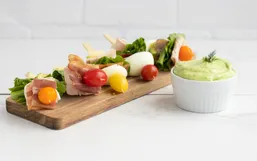 These little Cobb Salads on a Stick are all the deliciousness of a loaded cobb salad without the mess or need to sit down to enjoy...