Vegetarian dishes can be boring. It seems that all recipes are made for meat eaters. Half Hour Meals has an amazing collection of vegetarian dishes. We collected 6 of our favorite vegetarian pasta dishes that have unique and delicious flavors. We love the comforting taste of the ranch macaroni and cheese, and the refreshing flavors of the angel hair pasta with checca sauce. There's no reason to have boring vegetarian pasta dishes when making these are so easy!
Check out these 6 amazing vegetarian pasta dishes, submitted by our wonderful Half Hour Meals users.
*Click on the image to view the recipe.
6. Ranch Macaroni and Cheese
This quick and easy macaroni and cheese is loaded with ranch flavor, and it's impossibly creamy. The crackers may seem like an odd addition, but they give this macaroni and cheese a great texture!
5. Pasta With Asparagus, Lemon, and Goat Cheese
This light, refreshing pasta dish comes together in no time, making it perfect for a summer weeknight meal. The goat cheese and lemon are so tangy and work perfectly with the asparagus. If you don't want to heat up your kitchen, try grilling the asparagus!
4. Tagliatelle ai Funghi
The beauty of tagliatelle ai funghi is the simplicity, and how the quality of each ingredient can be perceived in each and every bite. When prepared with fresh handmade egg pasta, the dish is divine.
3. Penne With Artichokes and Sun-Dried Tomatoes
Need a quick meal for a crazy weeknight? Look no further! Whip up a quick sauce for your pasta using frozen artichoke hearts, lemon and sundried tomatoes. Top it with quickly toasted up bread crumbs and you're ready to go!
2. Angel Hair with Checca Sauce
This is my favorite summer pasta. It's quick and easy, and the sauce is completely raw, so there's no need to heat the kitchen up with excessive cooking! It comes together in a flash in the food processor. It is the perfect weeknight, family meal or would be great for entertaining!
1. Cheesy Pesto Stuffed Shells
Here's a hearty, delicious vegetarian main dish. If you'd like an extra creamy filling, stir in a little cream cheese. Spinach would also be delicious in the filling, and you could easily replace the tomato-based pasta sauce with alfredo sauce. This recipe is endlessly adaptable and tastes amazing!
Chicken is a family favorite for dinner. It has a pleasant mild flavor that even picky children love.
Ravioli is a great weeknight meal idea. Not only is it filling and delicious but the leftovers are great for work or dinner the...
Our spring celebration continues today with 13 amazing pasta dishes using fresh fruits and  vegetables that will keep your family...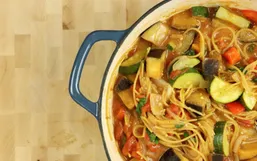 This was actually my first recipe attempt at making a pasta dinner, completely in one pot.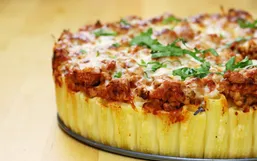 Forget traditional pasta casseroles! With the noodles standing upright, the sauce and cheese bake down into the pasta making each...
Planning a special gathering this spring or summer? The prettier the food it, the more delicious it tastes.
Macaroni noodles are often not the greatest food for your body. However, recently, healthier options have come onto the market...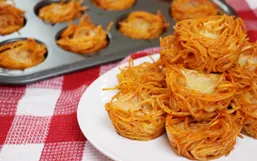 As a mother of 3, making dinners are often made with the intention of leftovers. Why? Well...lunches the next day!
I love lasagna almost as much as Garfield does. But who really loves lasagna as much as him? I have an issue though.
Pasta is a family favorite meal. You can create infinite number of unique dishes with pasta.
Busy weeknight dinner can be hectic. Instead of ordering takeaway food, why not try one of these pasta dinners?
Garlic bread has long time been a best friend of pasta dinners.