Forget traditional pasta casseroles! With the noodles standing upright, the sauce and cheese bake down into the pasta making each slice equal for edges and filling (no more fighting for the corner piece!). This is a family friendly recipe, easily adaptable to dietary needs (vegan? try a mushroom bolognese instead of meat). Baked in a spring-form pan, this pasta pie serves up beautifully, and easily prepared ahead of time. Give this one a try for your next pasta night. It won't disappoint. but then again, does pasta ever disappoint?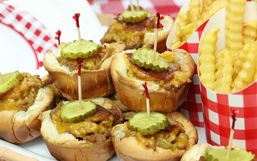 When it comes to patio weather, picnics and pool party season finger foods are an essential for these (not to mention all those...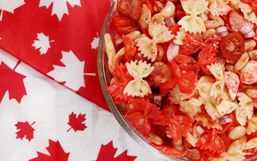 So you've volunteered yourself to bring a salad to your Canada Day festivities this weekend. Splendid!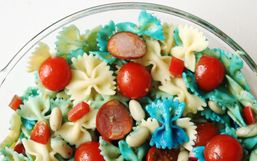 We fully recognize that pasta should probably never be dyed blue, with one exception - patriotism food!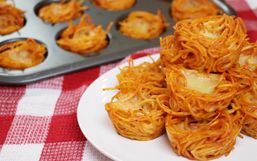 As a mother of 3, making dinners are often made with the intention of leftovers. Why? Well...lunches the next day!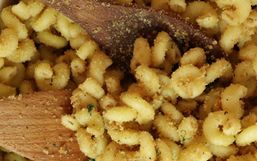 Garlic bread has long time been a best friend of pasta dinners.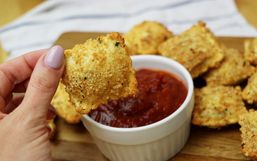 These baked crispy raviolis are like bite sized pasta casseroles you can serve at a party, or enjoy for dinner.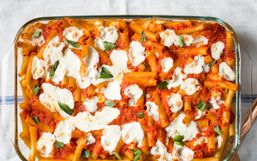 Be still my beating Italian heart... just kidding, I'm not Italian and you don't have to be either to enjoy this hearty...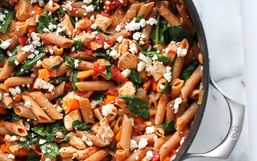 We've all been there. You've had a long day, and you want a simple dinner idea that isn't going to leave you in the kitchen...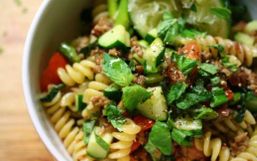 Our spring celebration continues today with 13 amazing pasta dishes using fresh fruits and  vegetables that will keep your family...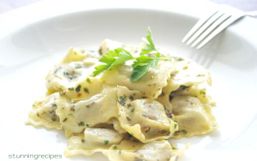 Ravioli is a great weeknight meal idea. Not only is it filling and delicious but the leftovers are great for work or dinner the...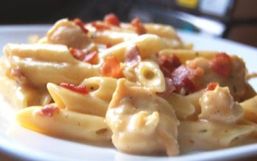 Chicken is a family favorite for dinner. It has a pleasant mild flavor that even picky children love.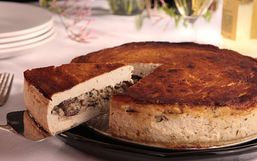 Hosting Thanksgiving can be stressful, especially when you hear a vegetarian will be joining you.