Our spring celebration continues today with 13 amazing pasta dishes using fresh fruits and vegetables that will keep your family healthy and satisfied. The following recipes each contain spring-inspired ingredients (lemon, asparagus and tomatoes to name a few) that make them a perfect choice for those of you looking to take advantage of the fresh produce in groceries stores and farmer's markets.
If you're looking to cook up a fresh and delicious pasta dinner for yourself or your family, consider one of these amazing recipes:
1. Lemon Cappellini with Grilled Chicken
This zesty pasta is seasoned with mouth-watering lemons, parmesan cheese and fresh herbs. It's topped with a moist, grilled chicken breast which compliments the pasta perfectly.
2. Pasta with Asparagus, Lemon & Goat Cheese
This light, refreshing pasta dish comes together in no time, making it perfect for a spring/summer weeknight meal. The goat cheese and lemon are so tangy and work perfectly with the asparagus. If you don't want to heat up your kitchen, try grilling the asparagus!
3. Smoked Salmon Pasta
Smoked salmon is a great way to bring a fresh, light flavor to any pasta dish. The smoked salmon is combined with finely chopped red pepper and garlic for a truly unique taste. The best part of all? It can be prepared and cooked in under 35 minutes.
4. Linguine with Baby Spinach and Almonds
This is very reminiscent of pesto and so good even the youngest of my kids loved it! Simple and delicious, this pasta dish is perfect any night of the week. This doubles and beyond very easily.
5. Angel Hair Carbonara with Green Beans
This recipe literally takes minutes to make. Angel Hair pasta cooks in a mere 4 minutes! Toss it with the rest of the fresh and delicious ingredients and you have a meal in no time.
6. Pasta with Hazelnuts
This is a very aromatic dish. I have used famous Italian hazelnuts, IGP Giffoni Hazelnuts. You can substitute finely chopped roasted hazelnuts with the same amount of chopped hazelnuts. If you've never eaten this dish, I adivse you not to sprinkle with cinnamon so you can enjoy the aromatic taste of hazelnuts.
7. Lemon Spaghetti
This fresh, light pasta is the perfect multitasker! Enjoy it as an amazing main course, or it pairs perfectly with grilled shrimp, fish or chicken. You can even add extra vegetables to bulk it up! It's the perfect warm weather pasta.
8. Creamy Roasted Tomato Pesto Pasta
The deliciousness of this pasta dish lies in its simplicity. The roasted tomatoes and creamy pesto sauce are such a perfect combination of flavors. Its flavor is complex, but it's ready in minutes!
9. Summer Vegetable Spaghetti
This pasta is a great use-up for a surplus of vegetables from your garden (such as squash, zucchini and tomatoes). Mushrooms would be delicious in this dish too! Enjoy!
10. Pesto Tortellini
Fresh ingredients like avocado, onion and tomato are combined with the crisp flavor of bacon to give this tortellini dish an amazing amount of character. You will absolutely love this pasta dish!!
11. Sun-Dried Tomato and Walnut Penne
This dish was made for a picnic and as such it is served cold. I guess you could serve it hot too, but I think it works nicer as a picnic-style cold dish. The leftovers are amazing as well.
12. Asparagus Pasta
Asparagus is a great springtime vegetable. This recipe really takes advantage of the asparagus flavor and is topped with parmigiano reggiano (parmesan cheese) to make the perfect pasta meal.
13. Salsa Style Fusilli
Sometimes it's the simple dishes that turn out the best. I made this dish because I had a lot of fresh leftover produce from a cocktail party (mint, cucumber, lime, asparagus heads) and had to use it all up. This dish smells absolutely fantastic and it tastes wonderful, with lots of summer appeal with the crunchy cucumbers and refreshing mint.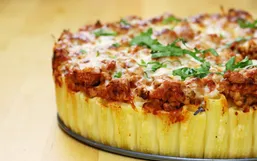 Forget traditional pasta casseroles! With the noodles standing upright, the sauce and cheese bake down into the pasta making each...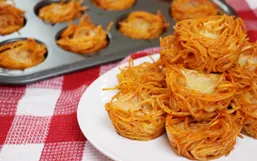 As a mother of 3, making dinners are often made with the intention of leftovers. Why? Well...lunches the next day!
Chicken is a family favorite for dinner. It has a pleasant mild flavor that even picky children love.
Vegetarian dishes can be boring. It seems that all recipes are made for meat eaters.
We've all been there. You've had a long day, and you want a simple dinner idea that isn't going to leave you in the kitchen...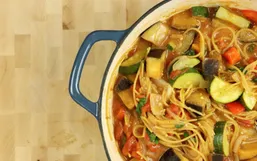 This was actually my first recipe attempt at making a pasta dinner, completely in one pot.
Pasta is a family favorite meal. You can create infinite number of unique dishes with pasta.
Busy weeknight dinner can be hectic. Instead of ordering takeaway food, why not try one of these pasta dinners?
Garlic bread has long time been a best friend of pasta dinners.
Carb-filled foods are hard to give up. For many of us, they act as comfort foods.
Noodle dishes make for some of the most comforting meals. The awesome thing about them is that they can come in many shapes,...
Planning a special gathering this spring or summer? The prettier the food it, the more delicious it tastes.