We fully recognize that pasta should probably never be dyed blue, with one exception – patriotism food! The 4th of July is all about the red, white & blue and we are whipping up recipes that celebrate just that!
This pasta salad is incredibly simple, even for the beginners. A simply, tasty pasta salad everyone will love, with some fun twists… like blue pasta and some firecracker sauce (also known as "sriracha").
Delight the masses with a pasta that will stand out while you celebrate!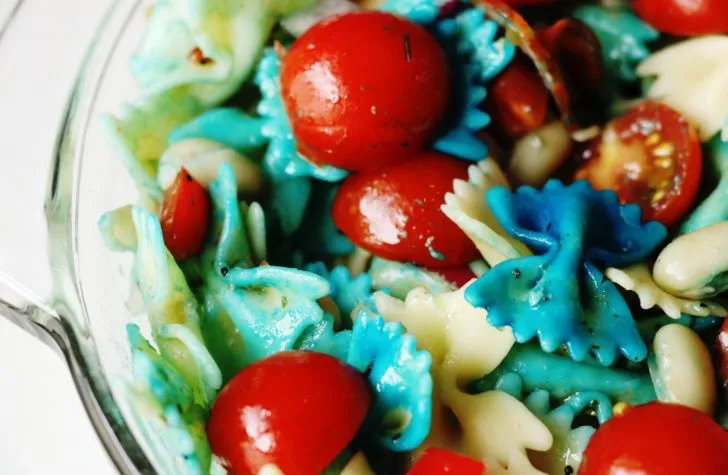 Ingredients
1 box (454gr) farfalle/bowtie pasta, cooked al dente
1 cup mozzarella cheese, bite sized
1 cup cherry tomatoes, diced
1/2 cup red pepper, diced
1/2 cup red onion, diced
1 cup canned white beans (cannellini or kidney), drained & rinsed
1/2 bottle Italian salad dressing
1/2 cup mini sliced chorizo or pepperoni
Sriracha, to taste
10-20+ drops blue food coloring
Parmesan cheese, for garnish
Equipment
Large mixing bowl
Large ziploc bag
Method
With your pre-cooked pasta bowties, remove about 1/2 of them, and place into a ziploc bag. Add in about 20 drops of blue food coloring, seal and shake until the color is well distributed.
Add the blue pasta back into the uncolored "white" pasta, and begin to add the rest of your ingredients - onion, beans, tomatoes, mozzarella, chorizo/pepperoni, italian salad dressing & sriracha sauce.
Lightly toss until everything is well coated. The dye CAN run if you over-mix, so try to avoid this the best you can.
Set aside in your refrigerator until you are ready to serve! Garnish with Parmesan cheese, if you choose.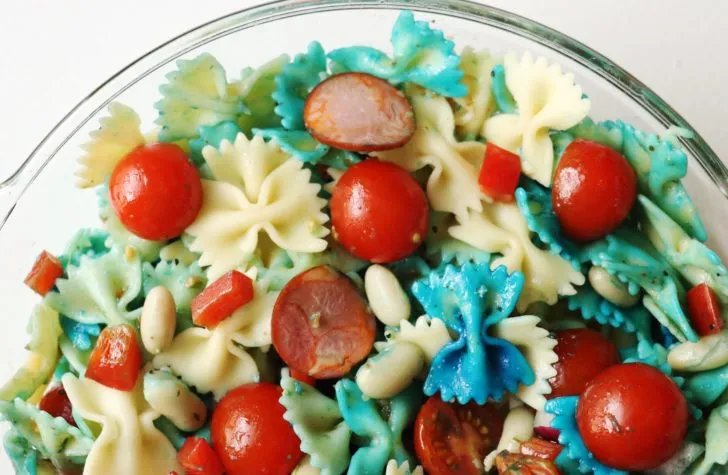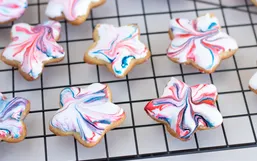 The Fourth of July is just around the corner and that means you're probably starting to plan your menu!
4th of July is less than a few weeks away and we're continuing our Forkly countdown to the big day with 9 delicious and easy...
Get red, white & blown away with these 4th of July mini cheesecakes!
Fourth of July is one of the biggest holidays in America. Every year, friends and families gather together to celebrate American...
4th of July is one of America's favorite holidays for many reasons: Great weather, great food and great company are generally...
With the sultry days of summer fast approaching, it's important to take some extra care when preparing food for those backyard...
Independence Day is just around the corner! Even if your celebrations look a little different this year, there are still so many...
Fourth of July is just a few weeks away and many people have already started their party planning for this festive holiday.
4th of July is just around the bend and our countdown to the big day just wouldn't be the same without fun and cool party ideas.
In America, July 4th is a popular day for parties and celebrations to show their patriotism to their country.
Party planning doesn't have to be stressful and you shouldn't go bankrupt over it either.
Charcuterie boards may not be new but they have become one of the hottest food trends as of late and for good reason!