The 4th of July holiday indicates that summer is here. On this patriotic holiday friends and family gather together to play games, watch fireworks, and most importantly, dig into delicious food! Whether you're hosting the big party yourself or attending one this year be sure to share one or a few of these delicious dishes.
Conveniently, all of these recipes are made using the Instant Pot. This will not only free up some space in your oven but will also prevent a hot kitchen! With that, today we're sharing delicious recipes perfect for any 4th of July party! These delicious dishes range from appetizers to main course ideas, and even a couple of desserts. Your party guests are surely going to love these!
Want New Instant Pot Recipes and Content Delivered Straight To Your Inbox? Sign up for our Instant Pot Email Newsletter
1. Instant Pot Deviled Eggs
Play it safe and serve a platter of deviled eggs. They're a crowd pleaser and you're almost guaranteed to go home without any leftovers!
Thankfully, the Instant Pot has come to show us how preparing deviled eggs can be even easier. First, you'll need to hard boil your eggs by pressure cooking for just 5 minutes followed by a natural release of 5 minutes. You'll quickly discover how the shells basically peel themselves and then you can follow the rest of the recipe to make these delicious deviled eggs.
https://www.savorytooth.com/instant-pot-eggs/ PHOTOS AND RECIPE HERE: SAVORY TOOTH
2. Instant Pot Spinach and Artichoke Dip
Why order this delicious dip at a restaurant when you can make it effortlessly at home. Better yet, share a big bowl of this cheesy spinach and artichoke dip at your 4th of July party and watch it disappear quickly.
Our recipe requires simple ingredients such as frozen spinach, canned artichoke hearts, and loads of cheese and garlic that provides an unforgettable flavor. Consider serving the dip in a pumpernickel bowl or with a side of tortilla chips – your choice!
http://www.forkly.com/recipes/drool-worthy-instant-pot-artichoke-and-spinach-dip/ PHOTOS AND RECIPE HERE: FORKLY
3. Instant Pot Baked Beans
Baked beans always remind me of the summer so there is no question as to why you should have them at your party! Enjoy this perfect backyard party food effortlessly made in the Instant Pot!
For this recipe, you'll be using dried beans but guess what, since you'll be pressure cooking using the Instant Pot there is no soaking required! This will save you a tremendous amount of time (and effort). These delicious beans are the perfect balance of sweet and savory flavors thanks to ingredients such as Worcestershire sauce and brown sugar.
https://temeculablogs.com/no-soak-instant-pot-baked-beans/ PHOTOS AND RECIPE HERE: THE TYPICAL MOM
4. Instant Pot Corn on the Cob
You can never go wrong with corn on the cob. It's easy to make and so delicious! I was utterly shocked when I cooked corn on the cob in my Instant Pot for the first time. It's so quick and the corn turns out perfect every time.
Keep in mind the size of your pot will determine how many cobs you can fit in at a time and you'll want the cobs to sit on a trivet or steaming basket. The cobs only need to cook on high pressure for 2-3 minutes and then you can serve them hot with whatever toppings you love!
https://sweetandsavorymeals.com/instant-pot-corn-on-the-cob-pressure-cooker/ PHOTOS AND RECIPE HERE: SWEET AND SAVORY MEALS
5. Instant Pot Mac and Cheese
Macaroni and cheese is a dish that is guaranteed to be loved even by the pickiest of eaters. The Instant Pot allows you to cook a large batch so that you can feed a crowd – perfect for your 4th of July party!
Making homemade mac and cheese is easier than you might think! All you'll need is macaroni pasta, cream, shredded cheese of your choice and a few secret seasonings that really make the flavor stand out! Don't be surprised when your friends and family start asking you for the recipe!
http://www.forkly.com/recipes/quick-easy-instant-pot-macaroni-and-cheese/ PHOTOS AND RECIPE HERE: FORKLY
6. Buffalo Chicken Sliders
Buffalo chicken is so popular that it has made it's a way to the appetizer menu and the main course! You may have enjoyed buffalo chicken dip and buffalo chicken wings but have you ever experience buffalo chicken sliders?
These delicious bites can be served as an appetizer or for the main course! They're the perfect amount of spicy and creamy. Serve a platter this 4th of July and they'll surely be gobbled up quickly.
http://www.forkly.com/recipes/instant-pot-buffalo-chicken-sliders/ PHOTOS AND RECIPE HERE: FORKLY
7. Easy Instant Pot Little Smokies
Little smokies make an excellent appetizer. They're so easy to make and using the Instant Pot, you can make an abundance at a time!
This appetizer comes together in 30 minutes or less and most of that time is spent hands off. All you'll need is 4 packages of little smokies along with an easy home-made sauce. The sauce is made from 3 simple ingredients yet it packs a ton of delicious flavor.
https://spaceshipsandlaserbeams.com/easy-instant-pot-little-smokies-recipe/ PHOTOS AND RECIPE HERE: SPACESHIPS AND LASER BEAMS
8. Instant Pot Citrus Beer Ribs
Ribs are another excellent finger food. They may be messy but that's half the fun, right? Our Instant Pot ribs are cooked with beer and while this might raise a brow or two we promise it only adds a wonderful flavor.
Additionally, you'll prepare a finger licking good citrus BBQ sauce that is made with 2 secret ingredients, orange juice, and orange marmalade! To our surprise, the Instant Pot results in fall-off-the-bone ribs in a fraction of the time it would take in the oven. Go the extra mile and after cooking, set them in the oven and broil until the top of the ribs is nice and crispy!
http://www.forkly.com/recipes/instant-pot-citrus-beer-ribs/ PHOTOS AND RECIPE HERE: FORKYL
9. Instant Pot Pulled Pork Tacos
I'm sure you've had pulled pork sammies but have you ever had pulled pork tacos? If the answer is no then stop everything you're doing and go try this recipe! It's so insanely good and puts a fun sping onto taco Tuesday but better yet, will transform your 4th of July get together into a fiesta!
Once again, the Instant Pot shockingly cooked tender shredded pork effortlessly. We smothered the pork in Sweet Baby Rays BBQ sauce, however, you can use any BBQ sauce you love. Then let your party guests fill their tortillas with shredded pork and top the tacos off with creamy coleslaw!
http://www.forkly.com/recipes/instant-pot-pulled-pork-bbq-tacos/ PHOTOS AND RECIPE HERE: FORKLY
10. Instant Pot Hot Dogs
You could bbq hotdogs but the Instant Pot will cook them wonderfully too. Better yet, you can cook a copious amount all at once! All you have to do is add water, the hotdogs, and optional seasonings to the pot.
This recipe provides you with two separate cooking times one for hot dogs with casings and instructions for without. Further, for your party why not set up a hot dog bar and set out exciting toppings so that your guests!
https://temeculablogs.com/instant-pot-hot-dogs/ PHOTOS AND RECIPE HERE: THE TYPICAL MOM
11. Instant Pot Angel Food Cake
Dessert is an important part of every party, in my opinion! Who knew you could make dessert in the Instant Pot? There are so many great recipes that prove that it can be done starting with this delicious angel food cake.
All you'll need is a box of angel food cake mix and water! For this recipe, you'll be using the pot in pot method which means you'll place the cake batter in a pan that fits comfortably in your Instant Pot. It's important to cover the baking pan with foil to prevent additional moisture from pooling inside the baking pan. Since angel food cake is white, consider decorating with patriotic colors such as red blue and white icing or sprinkles!
https://foodieandwine.com/instant-pot-angel-food-cake/ PHOTOS AND RECIPE HERE: FOODIE AND WINE
12. Red White and Blue Instant Pot Cheesecake
Dig into a patriotic cheesecake this 4th of July! Just like pound cake you too can cook a deliciously creamy cheesecake using your Instant Pot.
To create a patriotic cake all you have to do is top the vanilla cheesecake with a berry compote and additional blueberries and strawberries. Your guests will be dreaming about this cheesecakes days after the party and will be astounded to learn that you made it using the Instant Pot.
https://www.pressurecookingtoday.com/red-white-blue-pressure-cooker-cheesecake/ PHOTOS AND RECIPE HERE: PRESSURE COOKING TODAY
13. American Flag Toothpicks
Last but not least why not dress up any of the foods listed above by adding these adorable American flag toothpicks. This set comes with 100 toothpicks so you'll have plenty to use this year and possibly even next year! This is such an easy and inexpensive way to add a touch patriotism to your table!
BUY IT HERE: https://amzn.to/2vuodol
PHOTOS BY: AMAZON
Forkly.com is a participant in the Amazon Services LLC Associates Program, an affiliate advertising program designed to provide a means for sites to earn advertising fees by advertising and linking to Forkly.com
While experimenting with the Instant Pot I quickly discovered that it can not only cook a quick and easy weeknight meal but it can...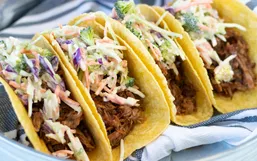 Taco Tuesday is one of my favorite nights of the week! It turns dinner time into a fiesta and it's something exciting for...
If you're like me, odds are you've jumped onto the Instant Pot bandwagon!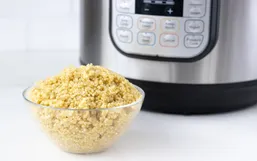 Some would consider quinoa a superfood, and for good reason! It's chock full of vitamins and minerals and is an excellent source...
The Instant Pot has many amazing capabilities. For example, it can cook a meal without heating up the kitchen (perfect for...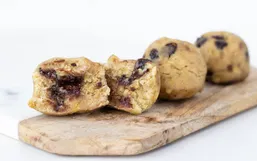 Is there anything better than biting into a warm gooey piece of banana bread? I don't think so.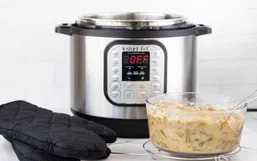 Freezing leftovers is a great way to ensure food doesn't go to waste. It's also a great way to be prepared for busy weeknights!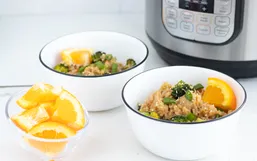 Get ready friends, it's time to enjoy some delicious takeout made at home!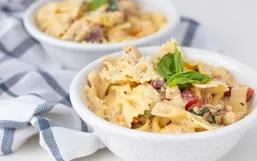 You've spoken and we heard you! Quick and easy Instant Pot weeknight meals that can feed the whole family are top of mind.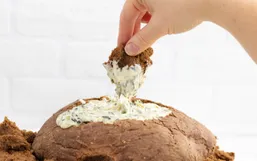 You know it's going to be a good time when there's good food, right? Appetizers are the best way to start off any party.
We've been told time and time again that breakfast is one of the most important meals of the day.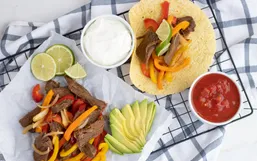 Mexican food is my absolute favorite type of cuisine. It's flavorful, quick to make, and a crowd-pleaser at my house!