Egg rolls are delicious, let's be honest. But they're crazy unhealthy because they're usually deep fried in those little wrappers! They're also a lot of work to make from scratch and I actively avoid using a deep-fryer because that's bound to end in a trip to the hospital for me. Eek! But we've got a workaround here with this Egg Roll in a Bowl – essentially the filling of a traditional egg roll. It's as delicious as it sounds, we promise. And it's quick to make with a little help from your Instant Pot.
This recipe is also fairly low carb, which means it's Keto Diet approved! The ground pork is high in fat and the cabbage is super low carb, making it the perfect combo for your dinner tonight, even if you're feeding a family with both keto and non-keto dieters.
Want New Instant Pot Recipes and Content Delivered Straight To Your Inbox? Sign up for our Instant Pot Email Newsletter!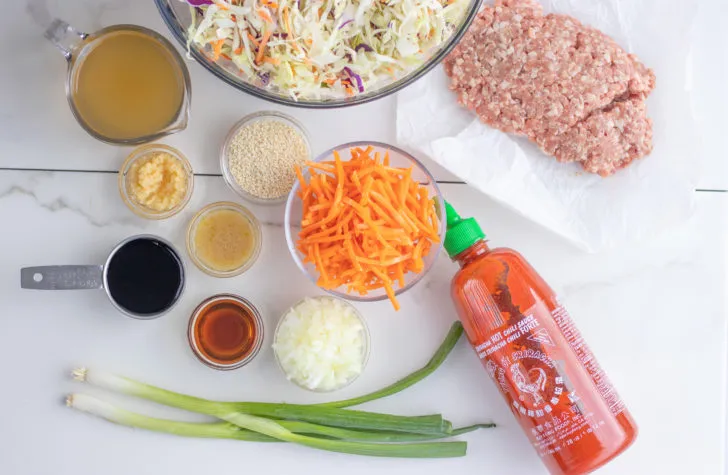 To start, set your Instant Pot to Saute mode. Once it's hot, add some sesame oil, followed by the ground pork, onion, garlic, and ginger and cook until the meat is browned and the onions are softened. Whatever you do, don't swap the sesame oil for olive oil – you'll lose that flavor that is so closely associated with Asian cuisine! If you want, you can swap out the pork for a leaner option like turkey or chicken, but you will lose a bit of flavor, so consider yourself warned!
Once the meat is cooked, it's time to add the liquid! Add the broth and soy sauce and use a wooden spoon or spatula to scrape the bottom of the pot to release any stuck on food. This will help you avoid getting the dreaded BURN notice! We used chicken broth because that's what we had on hand, but it'll taste good with vegetable, pork, or even beef broth.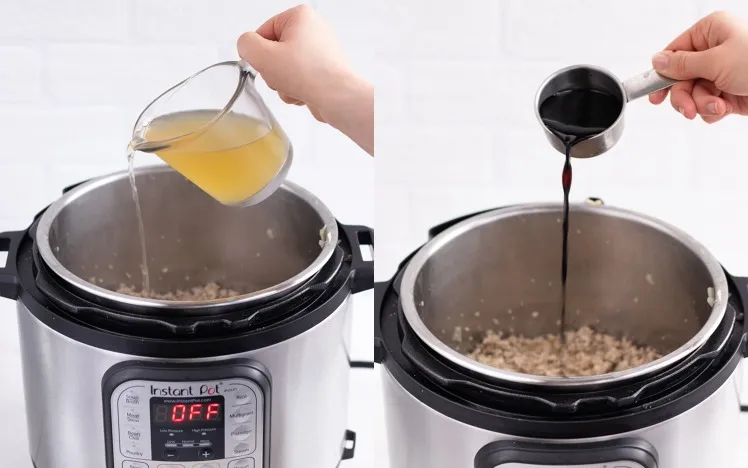 After adding the liquid, dump in the carrots and coleslaw mix, but do not mix! Don't worry about them not being submerged in liquid The veggies will essentially steam as you pressure cook the dish. Before lidding the pot, drizzle on some Sriracha – between 1 and 2 teaspoons approximately – but don't mix in.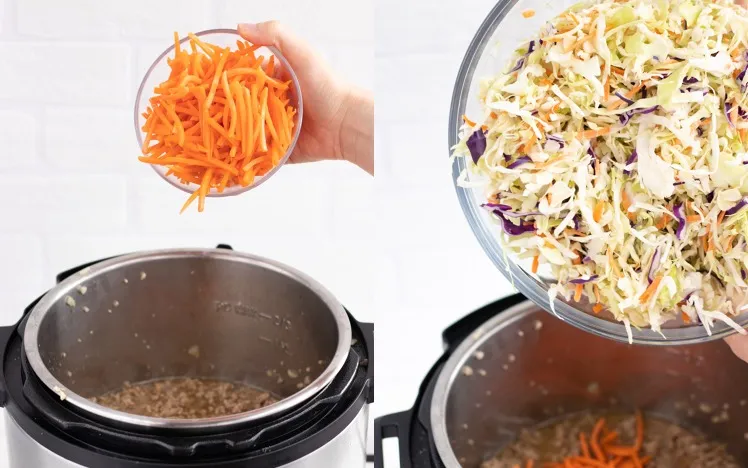 Lid the pot, set the valve to sealing, and cook on Manual/Pressure Cook NORMAL for 0 minutes. Yes, you read that correctly! hit that "-" button until it goes down to 0. The dish will cook the entire time it's coming to pressure (it took our 6-quart Instant Pot Duo 16 minutes), just no longer, ensuring your veggies don't become mush! Once the cook time has elapsed, quick release the pressure and remove the lid.
Stir up the dish to mix the cooked carrots and coleslaw into the meat and onion mixture. At this point, give it a taste and adjust the seasonings if it's needed! Add more sriracha for heat and double check the salt.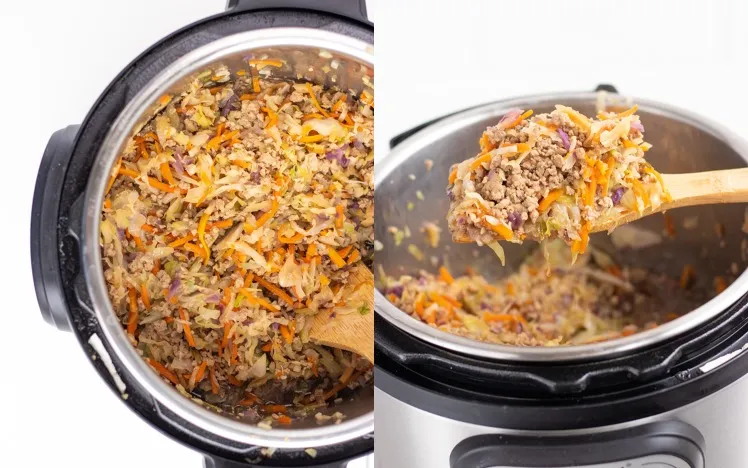 It's time to serve it up! Put into bowls and top with more Sriracha, sesame seeds, and green onions for additional flavor! Leftovers (if there are any!) can be stored in an airtight container for up to one week. Enjoy!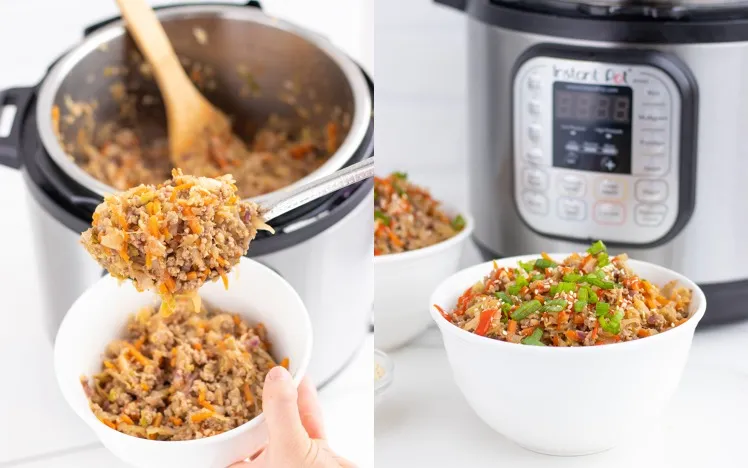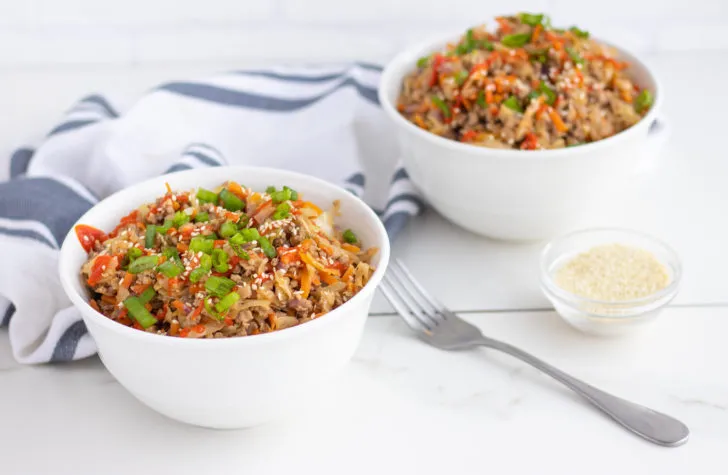 Ingredients
3 tbsp sesame oil
1/2 cup onion, chopped
1/3 cup soy sauce
1 lb ground pork (can substitute chicken or turkey instead)
1 tbsp garlic, minced
1 tbsp ginger, minced
1 tsp salt
1 cup chicken broth
1 cup carrots, julienned
2 bags (397 grams/bag) coleslaw mix
1/3 cup green onions, sliced
3 tbsp sesame seeds
1-2 tsp Sriracha, plus more for serving
Method
Turn Instant Pot to Saute mode. Once hot, add 2 tbsp sesame oil, onion, and ground pork. Brown for 5 minutes, then drain excess fat. Add garlic and ginger and saute for 1 minute, until fragrant. Turn Saute mode off.
Add broth to pot and use a spatula or spoon to release any stuck on food from the bottom of the pot. Add soy sauce, then coleslaw mix and carrots. Do not stir. Drizzle 1-2 tsp of sriracha on top.
Lid the pot and set the valve to sealing. Cook on Manual/Pressure Cook NORMAL for 0 minutes.
Once time has elapsed, quick release the pressure. Remove lid add 1 tbsp of sesame oil and stir to combine. Then serve in bowls, topped with sesame seeds, green onions, and sriracha, if desired.

Notes
Our 6-quart Instant Pot Duo took 16 minutes to come to pressure, but the time may differ depending on what model and size you're using.
You can swap the pork for ground chicken or turkey for a leaner option. It's totally up to you! We chose pork because it's the meat most commonly used in egg rolls.
If you're wanting to add a sweet flavor to the dish, serve with a drizzle of sweet and sour sauce, but know that this will up the sugar content (and therefore carbs!) and it will no longer be keto-friendly.
If you're using a low sodium soy sauce add an additional 1 tsp of salt.
While experimenting with the Instant Pot I quickly discovered that it can not only cook a quick and easy weeknight meal but it can...
Parties happen all year round and instead of taking on the task of cooking for a crowd, make your next party a potluck party!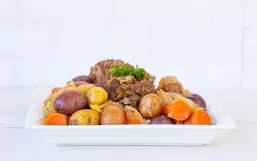 Roast beef is one of those meals that's an oldie but a goodie. If you have company coming over for supper - it doesn't matter who...
The 4th of July holiday indicates that summer is here. On this patriotic holiday friends and family gather together to play games,...
The season of fall is a favorite for many because it means crisp air, cozy layered clothing, and of course comforting meals.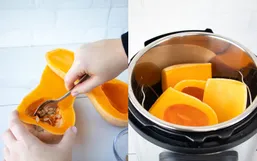 The holidays are a busy time of year, between hosting guests, planning a dinner, and catering to everyone's needs it can get...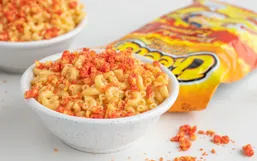 There is no comfort food like mac and cheese - the carbs and cheese are oh so delicious!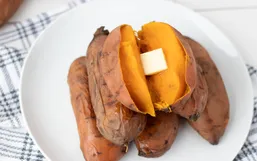 The thing about root vegetables is that they often take a lot of time to cook, especially in the oven.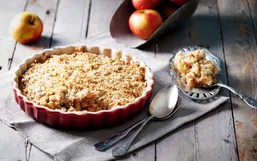 The holiday season is busy, between decorating for Christmas, hosting parties, buying and wrapping gifts it can all be...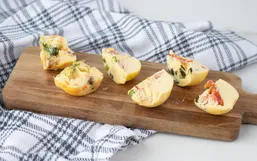 Breakfast is often the most rushed meal of the day. Sure, lunch is eaten while at your work desk and supper may be thrown...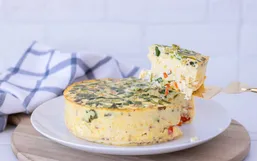 Leisurely weekends are my favorite because it's a chance to unwind and relax.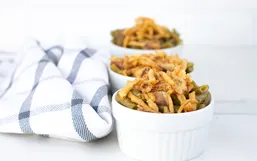 Do you love drool-worthy casseroles? Then get ready for a true treat!