Is there anything better than biting into a warm gooey piece of banana bread? I don't think so. These banana bread bites are absolutely incredible! The best part (in my opinion, that is) is the texture of these little bites. They don't have the crusty outside that banana bread would normally get from baking in the over. Instead, they're very cake-like; soft and moist. They truly taste like a treat, but we won't judge you if you eat them for breakfast.
Want New Instant Pot Recipes and Content Delivered Straight To Your Inbox? Sign up for our Instant Pot Email Newsletter!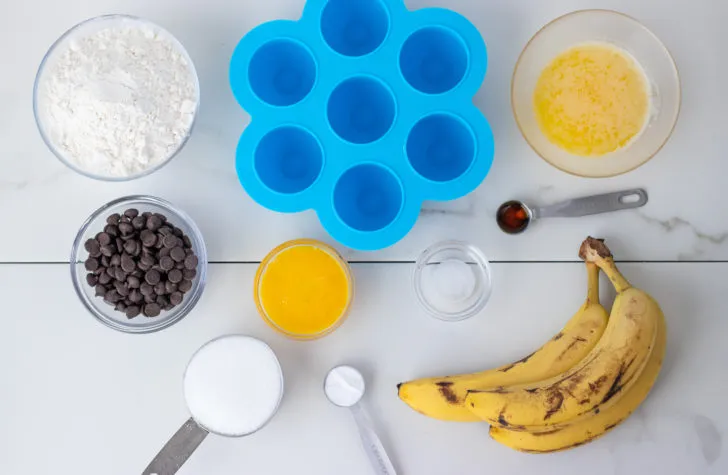 You make these banana bread bites much like you'd make any other regular banana bread recipe. In fact, they're based on my favorite banana chocolate chip muffin recipe! Make sure the bananas are very ripe, whether you've let them sit out for a week, grabbed some you stored in the freezer for such an occasion, or bought some off the discount rack at your grocery store. That last hack is my favorite! Many grocery stores have discount produce racks that they place almost-turned fruits and veggies on for a fraction of the cost. My store normally charges less than a dollar for a bunch of 8-10 overripe bananas!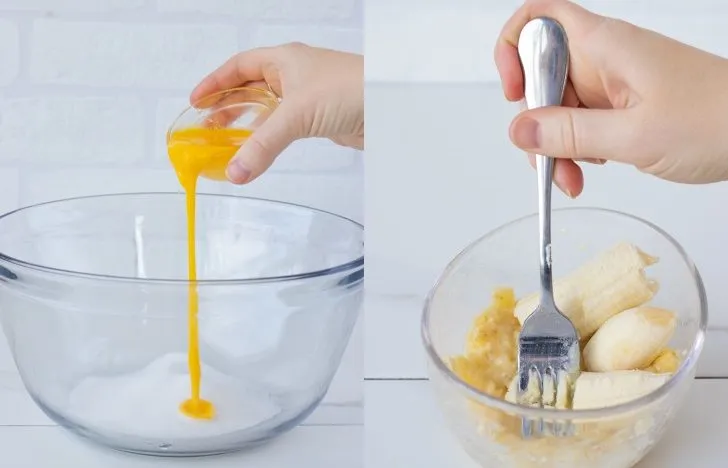 Once you've mashed them with a fork, add the bananas to the rest of the wet ingredients. Follow them up with the dry ingredients, being careful not to overmix, and then stir in the chocolate chips. We used dark chocolate (because yum!), but you can use semi-sweet or milk. It'll be delicious regardless.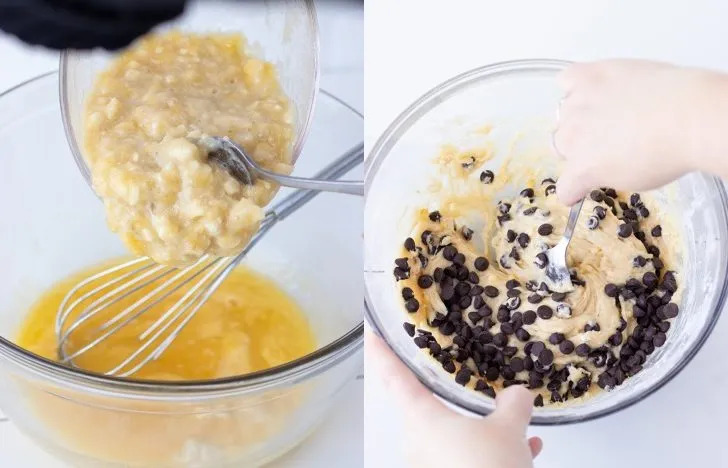 With the Instant Pot craze still in full effect and accessories that work with this gadget springing up, you'll use silicone molds that are both easy to clean and easy on the wallet to make these perfectly sized bites. While some may not be worth your money, the silicone molds from Amazon are incredible, let me tell you. No need to even spray them first! Our other favorite recipe to make in them are these Starbucks Copycat Egg Bites!
Buy on Amazon: Silicone Egg Bites Molds For Instant Pot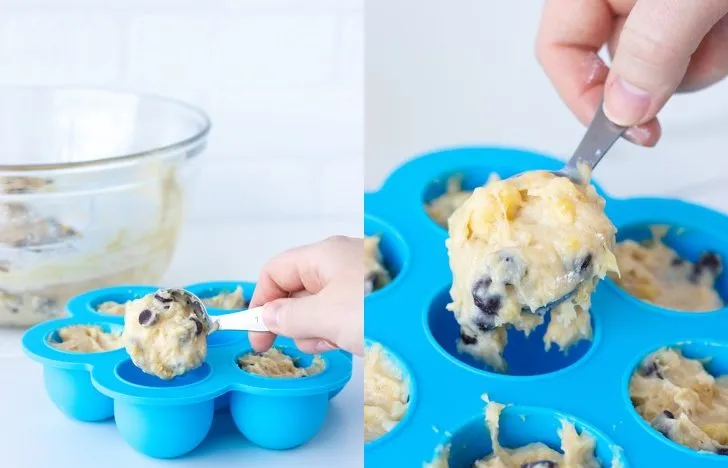 This recipe makes enough batter to fill two silicone molds, but you'll want to either pressure cook them separately or try one of the mason jar lid hacks floating around the Internet. We didn't want to risk it, so we cooked the one at a time and they came out perfectly! Cover them in tin foil to prevent extra water from getting in during the pressure cooking process. Then add the 1 cup of water, trivet, and mold into the pot. Cook on Manual/Pressure Cook for 25 minutes but then be sure to allow for a 10-minute natural release before quick releasing any remaining pressure. That extra time will perfectly finish cooking the bites – they might be a bit too gooey without it!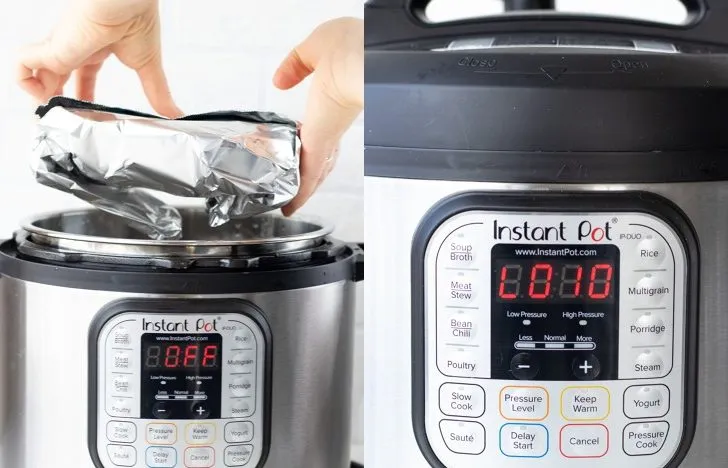 These bites will last in an airtight container in the fridge for up to a week – if they don't disappear as soon as you pop them out of the molds! They're perfect for lunchbox or afternoon snacks or even paired with a hardboiled egg or two for a quick on-the-go breakfast. Enjoy!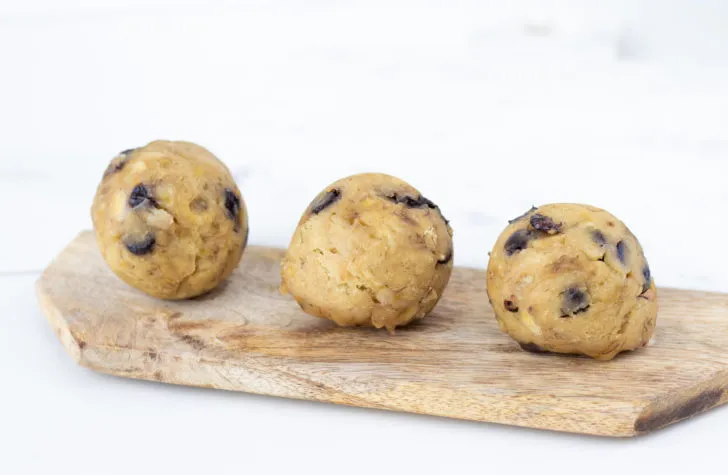 Ingredients
3 extra ripe bananas, mashed
1 1/2 cups flour
1 tsp baking soda
1 pinch salt
1/2 cup white sugar
1/3 cup melted butter
1 egg, beaten
1 tsp vanilla
½ cup dark chocolate chips
1 cup water
Equipment
Instant Pot
Silicone Egg Molds
Method
In a bowl, mix melted butter, sugar, vanilla, and egg.
Add banana (mashed with a fork first) to the mixture and stir.
Add flour and baking soda, stirring to combine but not overmixing. Add chocolate chips and stir to combine.
Divide mixture between the silicone molds, filling until about ¾ full. Cover molds in tin foil.
Add 1 cup of water to the Instant Pot, followed by the trivet. Place the first mold in the pot and then carefully stack the second on top.
Lid the pot and set the valve to sealing. Cook on Manual/Pressure Cook HIGH mode for 25 minutes.
Once the cook time has elapsed, allow for a 10-minute natural release before quick releasing the remaining pressure. Remove the molds from the pot and take off tin foil coverings.
Let cool slightly before serving warm or cool completely and store in the fridge in an airtight container for up to a week. Enjoy!
Notes
Out 6-quart Instant Pot Duo took 4 minutes to come to pressure, but the time may vary depending on the size and model you're using.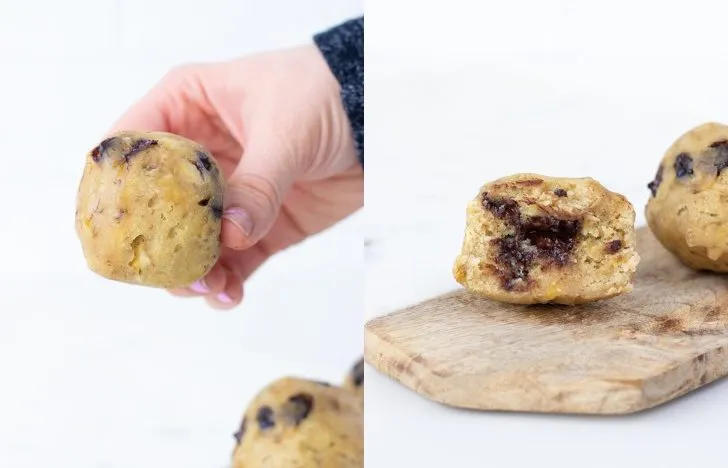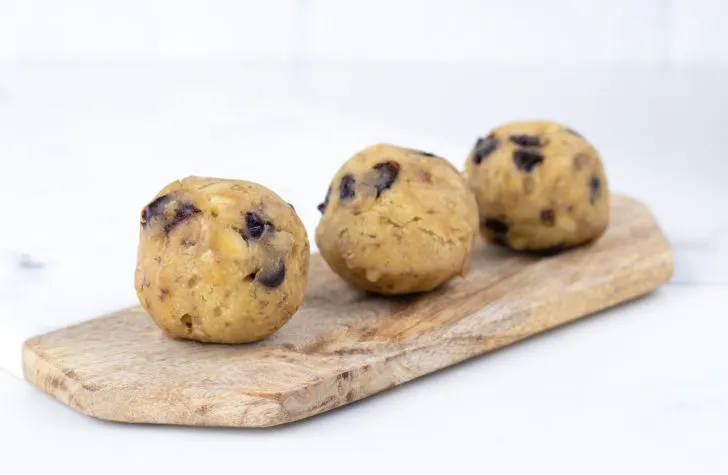 While experimenting with the Instant Pot I quickly discovered that it can not only cook a quick and easy weeknight meal but it can...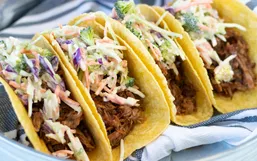 Taco Tuesday is one of my favorite nights of the week! It turns dinner time into a fiesta and it's something exciting for...
If you're like me, odds are you've jumped onto the Instant Pot bandwagon!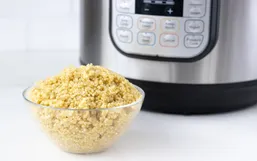 Some would consider quinoa a superfood, and for good reason! It's chock full of vitamins and minerals and is an excellent source...
The Instant Pot has many amazing capabilities. For example, it can cook a meal without heating up the kitchen (perfect for...
Often, the main entree steals the spotlight but the sides are what really complete a meal.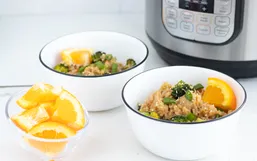 Get ready friends, it's time to enjoy some delicious takeout made at home!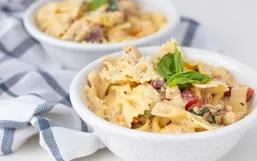 You've spoken and we heard you! Quick and easy Instant Pot weeknight meals that can feed the whole family are top of mind.
Let Mom put her feet up this Mother's Day while you prepare her some delicious food.
We've been told time and time again that breakfast is one of the most important meals of the day.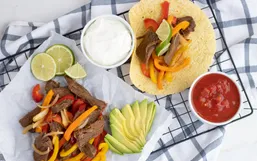 Mexican food is my absolute favorite type of cuisine. It's flavorful, quick to make, and a crowd-pleaser at my house!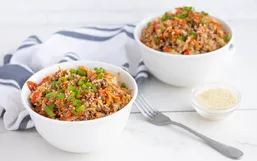 Egg rolls are delicious, let's be honest. But they're crazy unhealthy because they're usually deep fried in those little wrappers!