Let Mom put her feet up this Mother's Day while you prepare her some delicious food. While we want to spoil Mom, we don't want cooking to take up the quality time we could be spending with her. The best solution to this predicament is to use the Instant Pot!
The Instant Pot has proved to be an amazing kitchen gadget and is most definitely worth the space in your kitchen! Today, we're sharing how you can spoil Mom all day with breakfast, lunch, dinner, and dessert recipes all conveniently prepared using the Instant Pot. She'll be impressed with how quickly you'll be able to prepare these dishes and will appreciate the effort you put in even more!
Want New Instant Pot Recipes and Content Delivered Straight To Your Inbox? Sign up for our Instant Pot Email Newsletter
1. Instant Pot French Toast Croissant Casserole
Capture Mom's attention by serving her this stunning Instant Pot French toast croissant casserole. It's insanely delicious and quite simple to put together too.
For this recipe, we recommend using slightly stale croissants. Further, along with your Instant Pot, you'll also need a springform pan. You'll be using the pot-in-pot method to cook this casserole but don't worry, it's just as easy to do! Serve this lovely casserole with a drizzle of maple syrup and fresh berries.
2. Instant Pot Easy Poached Egg
Perhaps Mom prefers a savory breakfast over sweet. In that case, make her these incredibly easy poached eggs. To create the perfect poached eggs you'll want an egg mold accessories! We used this Instant Pot Silicone Egg Mold and found it worked great!
The eggs will only need to cook on HIGH-pressure for 6-8 minutes. Then serve the egg with avocado toast, on an English muffin, with hashbrowns or any of Mom's other favorite breakfast items.
3. Instant Pot Starbucks Copycat Egg Bites
Blow Mom away with these Starbucks copycat egg bites! Once again, using the Instant Pot and a few delicious ingredients you can replicate her favorite on-the-go breakfast but made effortlessly at home!
These egg bites are made with eggs, fire-roasted red pepper, and cheese! They have a soft pillowy-like texture and pack a ton of flavor that Mom will love.
4. Instant Pot Pancakes with Blueberries
Serve Mom breakfast in bed this Mother's day and surprise her with these delicious pancake bites. The pancake batter is made from pantry staple ingredients such as flour, sugar, baking powder, milk, and a few more.
Their sweetened with maple syrup and are cooked with tart blueberries. Best yet, they can be ready to eat in about 10 minutes!
5. Instant Pot Silicone Egg Mold
You have to be convinced by these egg molds by now! So we're sharing exactly where to get your own on Amazon.
These come as a set of two and even come with silicone lids which are great for storing! Additionally, these molds are to be used in the Instant Pot but can also be used in the microwave and oven.
? Buy it: https://amzn.to/2VfOw0b
6. Soft & Pillowy Instant Pot Cinnamon Rolls
Let Mom indulge in a sinfully delicious breakfast this Mother's Day. Who knew you could cook something so delicious like cinnamon rolls in the Instant Pot? Well, this recipe proves that you can!
These cinnamon rolls are homemade but don't fret, the ingredient list is simple and the instructions are so easy! To cook the rolls you'll be using the pot-in-pot method using a push pan.
7. Absolute Best Instant Pot Frittata
Treat Mom to a stunning Frittata. Our recipe is so easy and is overflowing in intriguing flavors. You'll also need a springform pan to form the shape of the frittata.
To really make the flavors stand out, you'll first use the saute function to cook the red bell peppers, spinach, and cooked bacon bits. We found this really enhanced the flavor! Then combine all the ingredients together and pour into the springform pan and cook in the Instant Pot.
8. Instant Pot Bruschetta Chicken Pasta
Try something different like this bruschetta chicken pasta. This light and vibrant dish is a unique spin onto traditional bruschetta. Instead of enjoying bruschetta topping on bread it'll be enjoyed with comforting pasta!
Mom will love how filling and flavorful this meal is and will be surprised to find out that you've prepared it in the Instant Pot. This dish serves well for lunch or for dinner!
9. Instant Pot Chicken Ranch Rice Bowls
Serving these delicious chicken ranch rice bowls is another excellent way to spoil Mom. This is essentially a dump dinner which means you pour the ingredients into the pot and set it.
While the dinner is cooking, prepare the blackened ranch dressing and prep the fresh veggies. Once the meal is cooked, serve together and enjoy your time spent with Mom.
10. Instant Pot Whole (Faux) Rotisserie Chicken
Buying a precooked rotisserie chicken from the grocery store may be convenient but you'll quickly discover cooking a whole chicken in the Instant Pot is just as easy! It's important to note that this is a cook from a fresh recipe so make sure you thaw your bird beforehand!
We chose to season our chicken with lemon pepper seasoning, however, you can season it with whatever is Mom's favorite! To truly infuse the flavor from the inside out we recommend filling the cavity with fresh ingredients such as lemon, fresh rosemary, and onion. Serve with Mom's favorite side dishes or add to a salad.
11. Instant Pot Roast Beef Dinner
Put together an impressive roast beef dinner using your Instant Pot. Traditionally a roast beef dinner requires hours of cooking in the oven, but with the Instant Pot, it can be ready in about an hour.
You'll begin by cooking the roast in the pot and then after 30 minutes release the pressure and add in the potatoes and carrots. Cook for an additional 10 minutes and voila you'll have a lovely feast to enjoy! Further, you could even reserve the liquid from the pot and make a gravy.
12. French Dip Sandwich
These french dip sammies are seriously drool-worthy! This comfort food meal will please Mom's hungry belly and she'll definitely be begging for this again and again.
Cook a chuck roast with beef broth, onion soup, and Worcestershire sauce in the Instant Pot. The meat will be cooked to a wonderful tender texture and will shred effortlessly. Serve on a bun and reserve the liquid from the pot to use as a dip for your sammies
13. Instant Pot Honey and Garlic Chicken
Skip the takeout and make Mom this delicious Instant Pot honey and garlic chicken. She'll be shocked to learn that you didn't order this from her favorite Asian restaurant!
The chicken only needs to cook for 15 minutes on high pressure! It's saucy, sweet, and savory! Serve over a bed of rice and sprinkle with sesame seeds and green onions.
14. Instant Pot Chocolate Lava Cake
This gourmet dessert is going to blow Mom away! Surprise her with a chocolatey surprise and make chocolate lava cakes in the Instant Pot!
Surprisingly these lava cakes don't require any obscure ingredients, instead, it's made with pantry staples! It's rich and decadent and that is why she is going to seriously love it!
15. Instant Pot Oreo-Crust Chocolate Cheesecake
Another excellent chocolate dessert is our chocolate cheesecake recipe! We were surprised at how well this cooked in the Instant Pot too!
It begins with an addictive oreo-crust and then finishes with a velvety chocolate cheesecake! We topped our cheesecake with chocolate dipped strawberries but you can top it with Mom's favorite chocolates or candies!
16. Instant Pot Lemon Custard Cups
This lemon custard dessert is vibrant in flavor and in color! Its tangy flavor will have her begging for more!
This dessert is naturally flavored with lemon juice and lemon zest. It's effortlessly made in the Instant Pot using the pot-in-pot method.
Forkly.com is a participant in the Amazon Services LLC Associates Program, an affiliate advertising program designed to provide a means for sites to earn advertising fees by advertising and linking to Forkly.com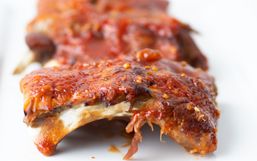 Ribs can be insanely delicious especially when they're cooked low and slow in the oven.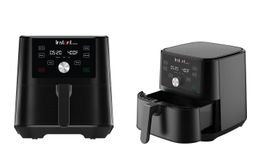 Deep-fried foods are delicious but they come with a cost. Often dripping in oil and full of fat, these not so healthy foods can...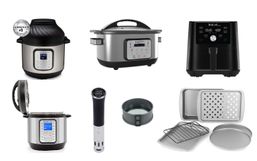 It seems like everyone and their best friend has an Instant Pot these days.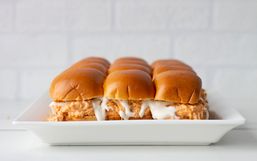 Parties happen all year round and instead of taking on the task of cooking for a crowd, make your next party a potluck party!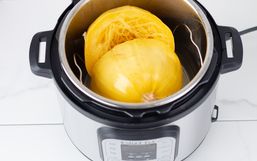 While I don't love all vegetables, I am definitely up for trying new things (at least once).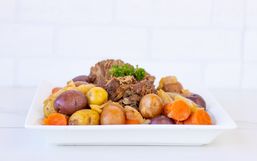 Roast beef is one of those meals that's an oldie but a goodie. If you have company coming over for supper - it doesn't matter who...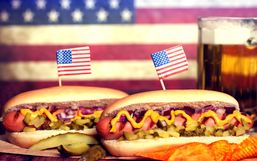 The 4th of July holiday indicates that summer is here. On this patriotic holiday friends and family gather together to play games,...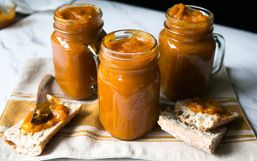 The season of fall is a favorite for many because it means crisp air, cozy layered clothing, and of course comforting meals.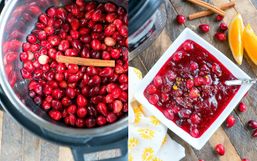 The holidays are a busy time of year, between hosting guests, planning a dinner, and catering to everyone's needs it can get...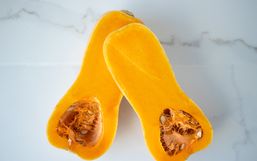 How many times have you pulled out your butternut squash just before supper and realized you don't have enough time to cook it...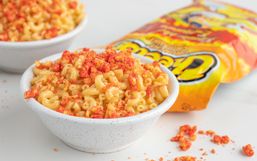 There is no comfort food like mac and cheese - the carbs and cheese are oh so delicious!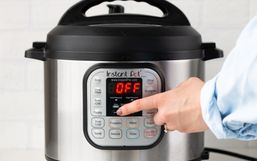 Do you know what FOMO is? Fear of missing out. I've been experiencing it ever since everyone under the sun got an Instant Pot for...