There is no comfort food like mac and cheese – the carbs and cheese are oh so delicious! Try kicking it up a notch with some sriracha and FLAMIN' HOT CHEETOS! Better yet? This mac is made in your Instant Pot, so it's low mess and super quick to make. Who needs to shell out for takeout when you've got this recipe in your back pocket for the next time a cheesy craving hits?
Looking for a less spicy mac? Check out our Quick & Easy Instant Pot Macaroni and Cheese instead!
Want New Instant Pot Recipes and Content Delivered Straight To Your Inbox? Sign up for our Instant Pot Email Newsletter!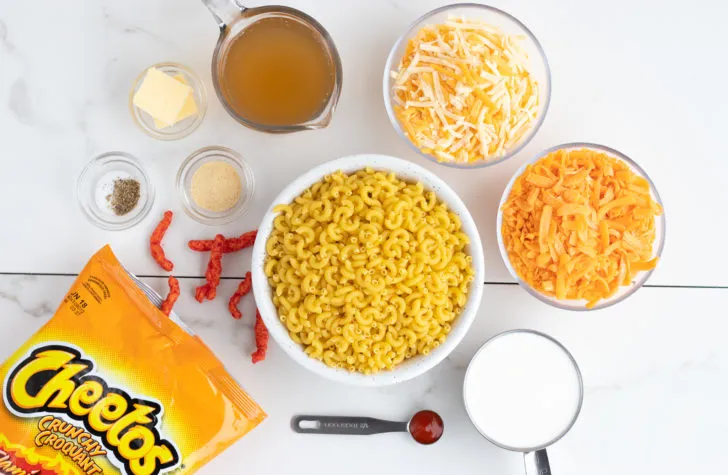 Add all the ingredients – except the milk/cream, cheese, and Cheetos – into the Instant Pot, starting with the broth. Do not stir, otherwise, you may end up with the dreaded BURN notice when you pressure cook. Technically you can use any smaller pasta you want, but we used elbow macaroni because it's called macaroni and cheese … duh! You can also swap out the broth for water, but consider yourself warned – it will be less flavorful.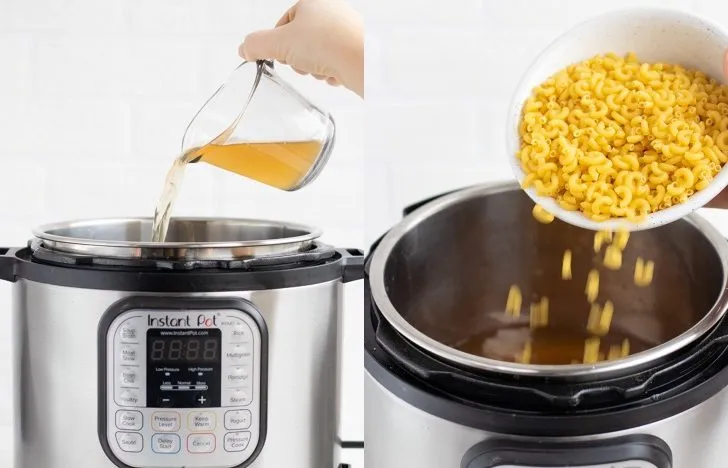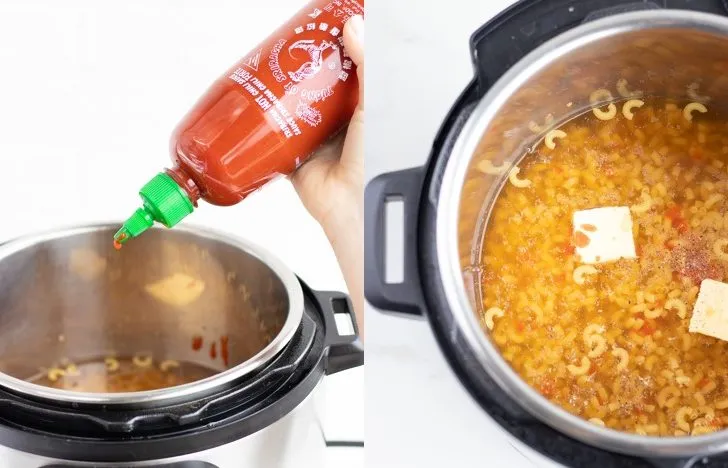 Lid the pot and set the valve to sealing. Time to cook! Press "Pressure Cook" (or "Manual" if you've got an older model) HIGH for 5 minutes. Remember to account for the time it takes the pot to come to pressure. Our 6-quart Instant Pot Duo took 14 minutes to come to pressure, but the time will vary depending on what model and size you're using, as well as the elevation you're cooking at.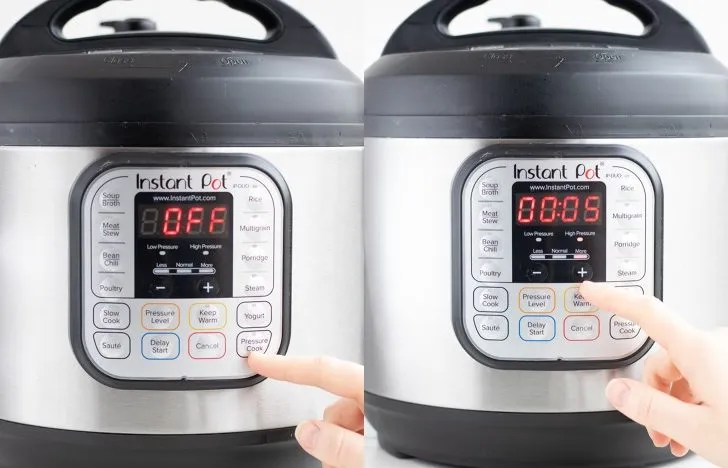 While the pasta is cooking, grab that bag of Flamin' Hot Cheetos! Open the bag to release the extra air and then hold it closed again with one hand. Use something heavy (a rolling pin works best, but we used the handle of a large cooking utensil in a pinch!) to hit the bag repeatedly to crush the Cheetos into small pieces. This will form the crust of the mac and cheese! Alternatively (if you don't want to crush the whole bag), remove about a cup of Cheetos and transfer to a Ziploc bag before crushing them. That way you've got plenty of uncrushed snacks for later!
Once the macaroni has finished cooking and the timer beeps, quick release the pressure. Otherwise, you risk ending up with some super soggy noodles! No need to drain anything – simply add the milk or half and half and the two types of cheeses! We used cheddar and pepper jack, but you can use whatever cheese you've got one hand. Just know that different cheeses will change the flavor of the dish and may melt differently!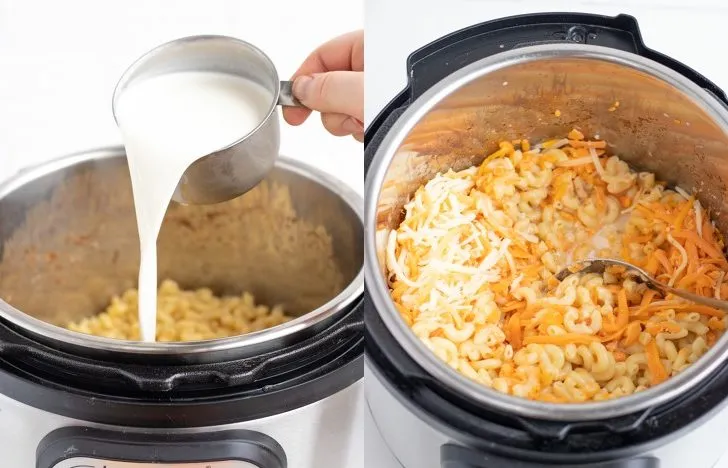 Stir the mixture well until all the cheese has melted and the macaroni is creamy. Give it a taste at this point and add more salt and sriracha if you desire. Just remember that the Cheetos will add a lot of extra heat!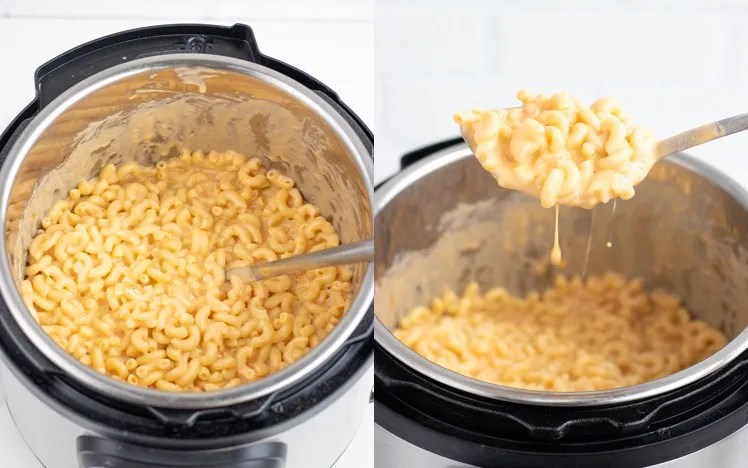 You've got two options now: serve or bake! You can transfer all of the macaroni to a glass baking dish, sprinkle the crushed up Flamin' Hot Cheetos on top, and bake at 350 degrees for 10-15 minutes until the topping has browned. Alternatively, just serve up the macaroni into bowls and top with whatever quantity of Cheetos you want! Now time to dig in!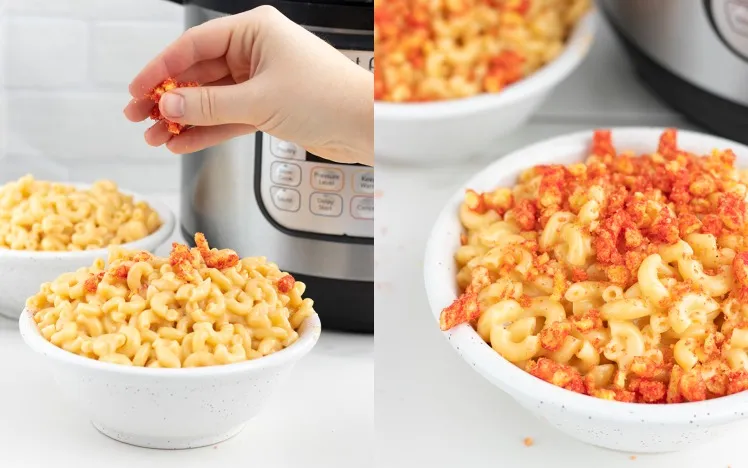 Ingredients
16oz uncooked elbow macaroni noodles
4 cups vegetable broth
3 tbsp butter
2 tsp sriracha
1 tsp garlic powder
½ tsp salt
½ tsp pepper
2 cups cheddar cheese, shredded
1 cup pepper jack cheese, shredded
1 cup milk or half-and-half
1 cup crushed Flamin' Hot Cheetos
Method
Add the broth, noodles, butter, sriracha, garlic powder, salt, and pepper to the Instant Pot. Do not stir.
Lid the pot, set the valve to sealing, and cook on Manual/Pressure Cook for 5 minutes.
Once the cook time has elapsed, quick release the pressure and remove the lid. Stir in the milk/half-and-half and cheeses until melted and combined.
Transfer mac and cheese to whatever serving dish you are using. If you are serving in the Instant Pot, turn off Keep Warm mode at this point. Sprinkle the crushed Flamin Hot Cheetos on the top of the mac and cheese to cover. If desired (optional), bake in the oven for 10-15 minutes to warm and brown the cheeto topping. Enjoy!
Notes
Our 6-quart Instant Pot Duo took 14 minutes to come to pressure, but the time will vary depending on what model and size you're using.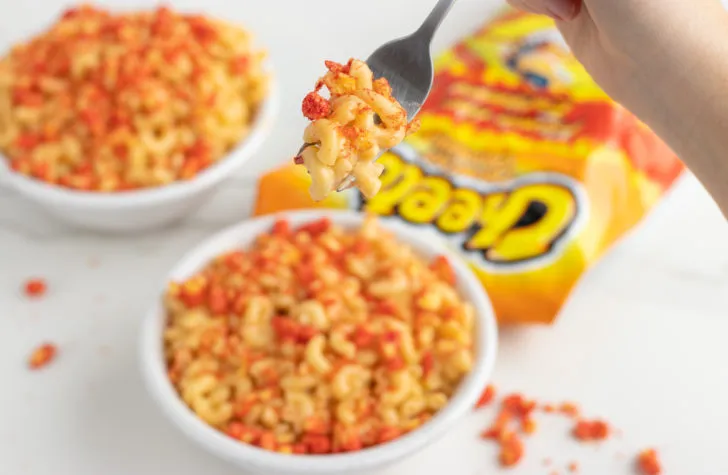 While experimenting with the Instant Pot I quickly discovered that it can not only cook a quick and easy weeknight meal but it can...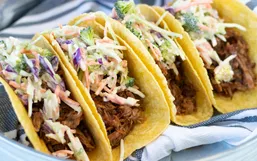 Taco Tuesday is one of my favorite nights of the week! It turns dinner time into a fiesta and it's something exciting for...
If you're like me, odds are you've jumped onto the Instant Pot bandwagon!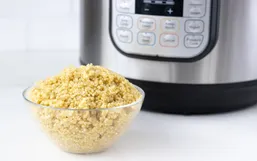 Some would consider quinoa a superfood, and for good reason! It's chock full of vitamins and minerals and is an excellent source...
The Instant Pot has many amazing capabilities. For example, it can cook a meal without heating up the kitchen (perfect for...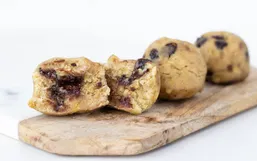 Is there anything better than biting into a warm gooey piece of banana bread? I don't think so.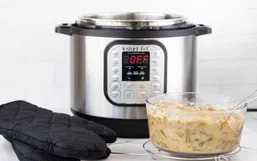 Freezing leftovers is a great way to ensure food doesn't go to waste. It's also a great way to be prepared for busy weeknights!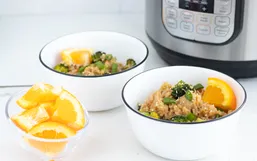 Get ready friends, it's time to enjoy some delicious takeout made at home!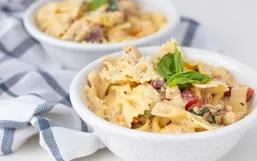 You've spoken and we heard you! Quick and easy Instant Pot weeknight meals that can feed the whole family are top of mind.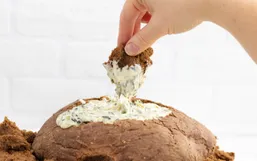 You know it's going to be a good time when there's good food, right? Appetizers are the best way to start off any party.
We've been told time and time again that breakfast is one of the most important meals of the day.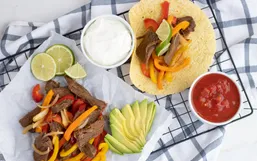 Mexican food is my absolute favorite type of cuisine. It's flavorful, quick to make, and a crowd-pleaser at my house!