This recipe feeds the whole family with a comforting casserole that takes a spin into the world of pizza. It's the perfect fusion if you ask us! With a meat layered bottom, topped with cheese and a crust that you pour over before baking, the outcome is certainly surprising to see, and even more delicious. When you try it, you'll know exactly why it's called an Upside-Down Pizza, because the flavors are perfectly aligned with a pizza, in a heartier way that delivers way more meat per "slice". Give this one a try tonite! It might just be a new family favorite!
Ingredients
1 lb ground italian sausage (we used turkey!)
1 small onion, diced
1 green pepper, diced
1 tbsp minced garlic
2 cups pizza sauce
2 cups mozzarella cheese
1 cup flour
2 eggs
1 cup milk
1 tsp vegetable oil
1/2 tsp salt
1 tsp Italian seasoning
Equipment
Stove top sauté pan
9x13 inch casserole dish
Method
Preheat oven to 425 degrees Fahrenheit.
In a saute pan over medium-high heat, brown your sausage meat along with the onion and green pepper. Add in the minced garlic for the last few minutes of cooking. Should you need to, drain any fat from the pan before going to the next step.
Add in your pizza sauce and mix well.
Pour meat & sauce mixture into your 9x13 pan, and sprinkle cheese on top in an even layer.
In a separate mixing bowl, mix together flour, eggs, milk, oil, salt and Italian seasoning until a pourable batter has formed.
Pour batter over entire dish, spreading out with the back of a spoon to the edges.
Bake uncovered for 25-30 minutes or until the crust has fully cooked and browned all over.
Remove from oven, let cool for a minute before slicing and serving. Enjoy!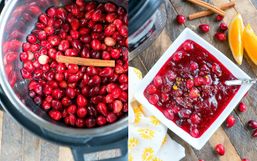 The holidays are a busy time of year, between hosting guests, planning a dinner, and catering to everyone's needs it can get...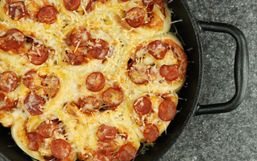 Years back my Mom taught me the life hack of using store bought pre-made pizza dough for cinnamon rolls.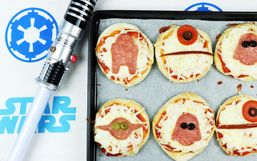 A long time ago, in a galaxy far, far away... Juuuust kidding! It's right now, and in. your. very. kitchen.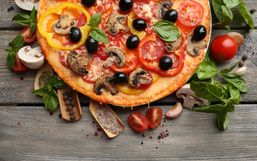 We all love pizza, but how much do we actually know about it? How long has pizza been around? How much pizza is eaten per second?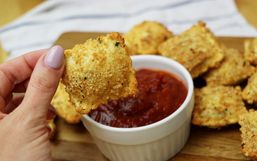 These baked crispy raviolis are like bite sized pasta casseroles you can serve at a party, or enjoy for dinner.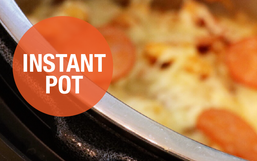 When the Instant Pot first arrived into your home, you likely did what most of us did...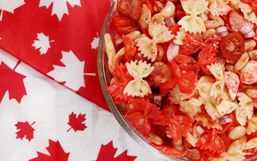 So you've volunteered yourself to bring a salad to your Canada Day festivities this weekend. Splendid!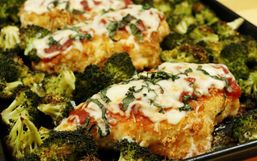 A simple chicken parm recipe for even the most inexperienced of chefs.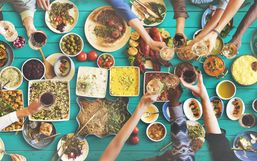 In a fast-paced world, with large group dinners out a real difficulty for both diner and restaurant, many restaurants are...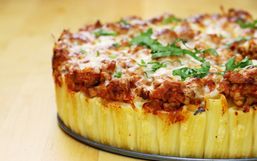 Forget traditional pasta casseroles! With the noodles standing upright, the sauce and cheese bake down into the pasta making each...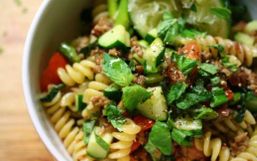 Our spring celebration continues today with 13 amazing pasta dishes using fresh fruits and  vegetables that will keep your family...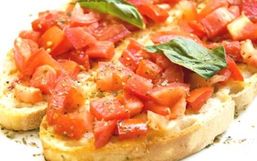 The Half Hour Meals' 2012 Culinary World Tour continues its journey, this time stopping off at Italy.