Pizza nights are always a favorite in our family, especially when we get to make our pizza from scratch. Everything tastes so much more fresh and delicious when it's made on the spot – especially all those ripe veggies! It's easy to grab some pepperoni and cheese for home made pizza with regular vegetable toppings, but this pizza night, try making a gourmet pizza at home. These recipes have carefully put together the best ingredients to bring out the strongest flavors in the most impressive way possible. Before you hit the grocery store to pick up toppings, check out this list!
1. Margherita Pizza
It's a classic pizza that will never get old. Fresh basil and mozzarella make a huge difference.
http://www.abeautifulplate.com/the-best-homemade-margherita-pizza/ Photos and Recipe By: A Beautiful Plate
2. Caramelized Onion Feta Spinach Pizza
Caramelizing onions before putting them on the pizza may seem like a lot of work, but boy, is it ever worth it.
http://littlespicejar.com/caramelized-onion-feta-spinach-pizza-with-white-sauce/ Photos and Recipe By: Little Spice Jar
3. Pear Goat Cheese and Italian Sausage Pizza with Roasted Garlic and Fresh Basil
Combining a little salty, sweet and spicy is a fantastic way to make the flavor of pizza more exciting, especially with a cream sauce base.
http://www.cookingclassy.com/pear-goat-cheese-italian-sausage-pizza-roasted-garlic-fresh-basil/ Photos and Recipe By: Cooking Classy
4. White Pizza with Spinach and Ricotta
Another white sauce pizza that is topped off with only the freshest tomatoes and spinach. Once again, simplistic yet perfect.
http://www.thelastfoodblog.com/white-pizza-spinach-ricotta/ Photos and Recipe By: The Last Food Blog
5. Green Pizza with Pesto, Feta, Artichokes and Broccoli
Pile your pizza high with all those good greens for your body so you get all your servings of veggies in one slice!
http://hellolittlehome.com/green-pizza-with-pesto-feta-artichokes-broccoli/ Photos and Recipe By: Hello Little Home
6. Mediterranean Grilled Chicken and Roasted Red Pepper Pizza with Feta and Balsamic Glaze
Balsamic Glaze solves every savoury food problem out there. End of story.
http://www.closetcooking.com/2015/06/mediterranean-grilled-chicken-and.html?m=1 Photos and Recipe By: Closet Cooking
7. French Bread Pesto Chicken Pizza
Don't want to make dough for the pizza? Not to worry! This baguette pizza is so easy and can be made in a hurry.
http://www.thekitchn.com/recipe-french-bread-pesto-chicken-pizza-241416?utm_source=pinterest&utm_medium=social&utm_campaign=managed&crlt.pid=camp.glUi2OpRv6mS Photos and Recipe By: The Kitchn
8. Garlic Ranch Chicken Pizza
We all know someone who seriously loves ranch dressing. Next time they're over, serve up this fantastic ranch pizza that will take them by surprise!
http://tastesbetterfromscratch.com/garlic-ranch-chicken-pizza/ Photos and Recipe By: Tastes Better From Scratch
9. Peach Burrata Pizza with Honey Balsamic
Peaches are better on a pizza! This summery pizza option is perfect for a hot day on the patio.
https://www.halfbakedharvest.com/peach-burrata-pizza-honey-balsamic/ Photos and Recipe By: Half Baked Harvest
10. Caramelized Onions, Mushrooms and Rosemary
Give me all the caramelized onions! This pizza is oh so savoury and served best with a glass of red wine.
http://sheeats.ca/2016/03/white-pizza/ Photos and Recipe By: She Eats
When a food inspires themed spin-offs like clothing, jewelry, phone cases, headphones and countless other pieces of paraphernalia,...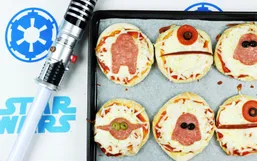 A long time ago, in a galaxy far, far away... Juuuust kidding! It's right now, and in. your. very. kitchen.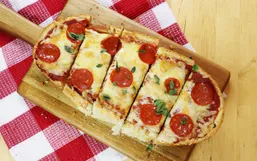 A couple years ago I was discussing with a friend what to make for dinner, and he said he was having "french bread pizza".
We all love pizza, but how much do we actually know about it? How long has pizza been around? How much pizza is eaten per second?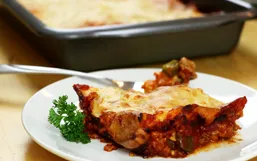 This recipe feeds the whole family with a comforting casserole that takes a spin into the world of pizza.
Over the last few months, Disney has been getting creative to create magical moments for you.
While restaurants and other sources of entertainment remain temporarily closed, many of us are spending more time in the kitchen...
With the Disney parks temporarily closed, Disney has been thinking of fun and innovative ways so you can feel like you're at...
Charcuterie boards may not be new but they have become one of the hottest food trends as of late and for good reason!
National Lasagna Day is quickly approaching (July 29, 2020), and North Italia wants to help you celebrate!
TGI Friday's is renowned for its delicious cocktails but the restaurant chain is also known for its crave-worthy food menu too...
Mmm... is there anything more delicious than chicken parm? It's perfectly crispy on the outside with tender chicken on the inside...