Nothing quite compares to a slow roasted, rotisserie chicken, but really, who has the time for that?! We all live busy lives but crave delicious cooking, which is part of the reason you can pick up a pre-cooked chicken from most grocery stores! But would you believe us if we told you that you can achieve a tender rotisserie chicken in a fraction of the time at home? Well you should, because today we're going to prove to you that it can be done! The depth of flavor is truly unreal and the amount of effort that goes into making it is next to none.
The secret tool in today's recipe is the Instant Pot. This trusty gadget is blowing us away one recipe at a time! Get ready for a seriously drool-worthy dinner that you and your family are going to love!
Want New Instant Pot Recipes and Content Delivered Straight To Your Inbox? Sign up for our Instant Pot Email Newsletter!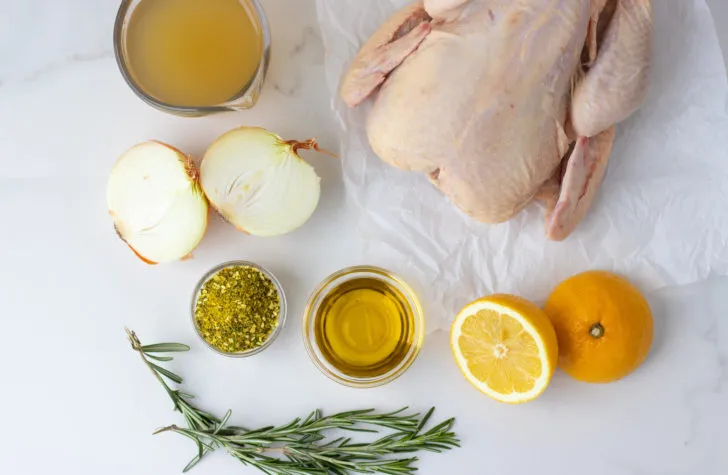 1. Infuse the Chicken
It's important to note that today we're cooking a whole fresh chicken so if your chicken is frozen, ensure that you thaw it the night before, or set it out to thaw before you go to work. Before you do anything inspect the cavity of your chicken. If there are any giblets, remove them. Next, fill the cavity with onion, half a lemon, and fresh rosemary sprigs. These ingredients infuse the chicken with flavor from the inside out!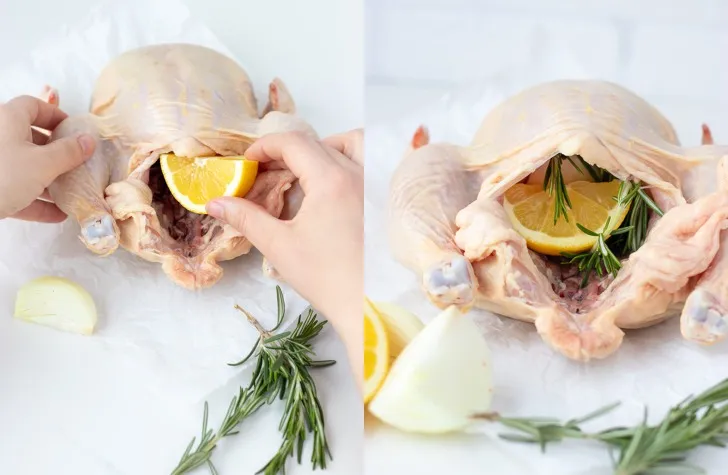 2. Season the Chicken
When cooking chicken there are two key elements that you need to achieve to make it great. First, the texture – it needs to be tender and moist. The second element is flavor – it needs to be next level! After all, these two key factors are what will make a lasting impression. To really bring the flavor to the next level, simply rub olive oil and your favorite spice mix all over the chicken. We chose a lemon pepper spice mix. This bold and cheery flavor will seriously have you drooling just by the smell of it. For other examples of spice mixes you can use, check out the notes section at the bottom of this article.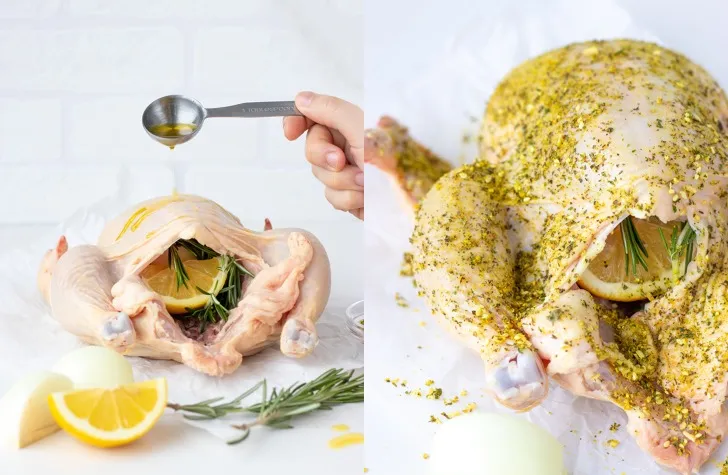 3. Sear the Chicken
Next, we're mastering the texture. If you choose to solely pressure cook the chicken, you won't get a crispy outer layer like you would get in the oven. However, we figured out a genius hack that results in that slightly charred outer layer that we have come to love! The hack – sear it! You can effortlessly sear meat using the saute function. Simply turn on saute mode, add the remaining oil to the pot, add the chicken and sear for about 3 minutes per side.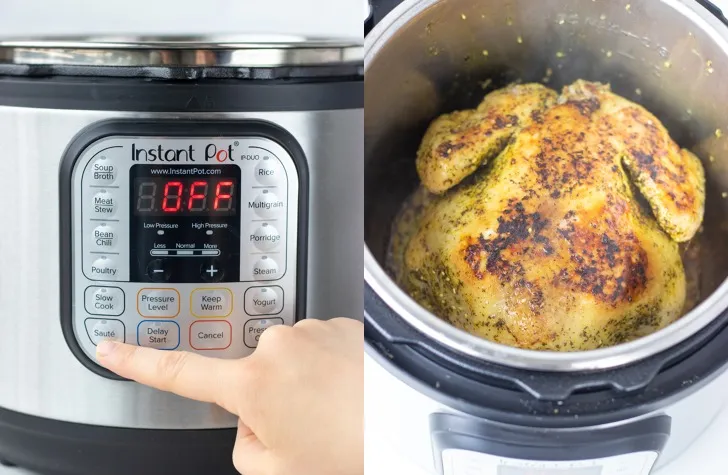 4. Deglaze the Pot
This next step is extremely crucial so don't skip past it! Once you've seared the chicken and removed it from the pot you need to deglaze the pot. Deglazing the pot ensures that you don't get the dreaded burn notice. To do so, simply pour in 1/2 a cup of broth and turn the saute mode back on. Using a wooden spoon or spatula lift the charred bits from the bottom of the pot. Once complete, turn off Saute. Be sure to keep the liquid from the deglazed pot in, as this will only add more flavor.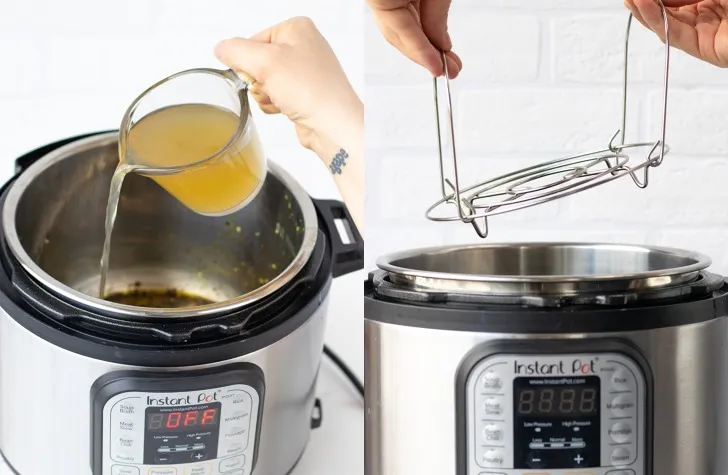 5. Add Chicken & Other Ingredients
We'll be cooking the chicken on the trivet so go ahead and add that into the pot next. Pour the remaining chicken broth to the pot and then place the chicken back inside. We added additional lemon slices, onion, and fresh rosemary sprigs on top for more flavor, but this step is optional.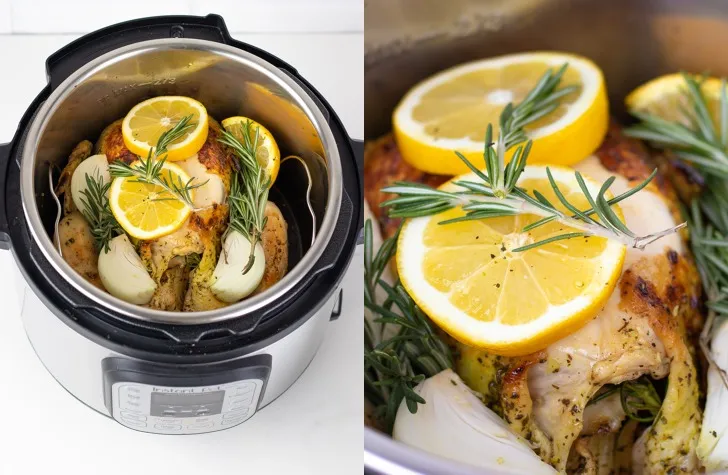 6. Pressure Cook
Lid the pot and set the valve to sealing. You'll need to cook the chicken on HIGH pressure for 25 minutes. Keep in mind that this doesn't account for the time it takes the pot to come to pressure. We found it took our 6 Quart Instant Pot Du0 15 minutes to come to pressure, however, this time will vary depending on the model and size of your pot as well as the size of the chicken.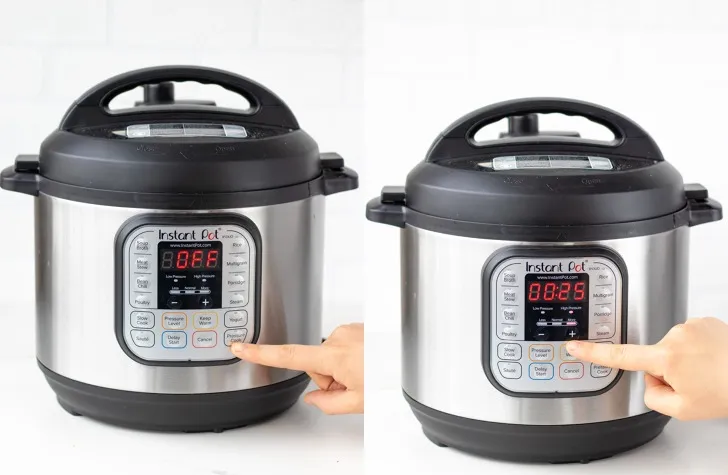 7. Natural Release
Once the cooking time has elapsed, allow for a natural release of 15 minutes. To do this simply do nothing once the cook time is up and the LCD screen will begin to clock the natural release time. Once it reads 15, quick release any remaining pressure. From experimentation, we found that a natural release is extremely important because the release will affect the texture of the chicken. A quick release results in tough and chewy meat while a natural release yields tender results – it's perfection!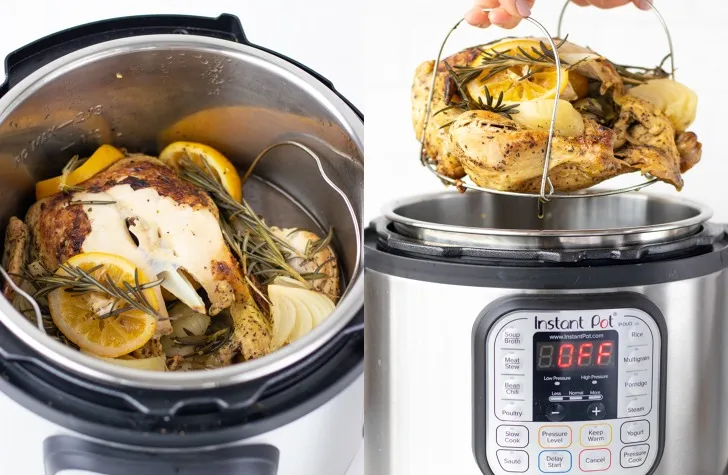 8. Serve!
Carefully lift the trivet out of the pot. It will be quite hot so use oven mitts! Allow the chicken to rest for at least 5 minutes. Then remove the lemon, onion, and rosemary sprigs from the cavity. Carve the chicken and serve with your favorite side dishes or add it into your favorite salad. If you loved this recipe, check out the Best Instant Pot Chicken Recipes!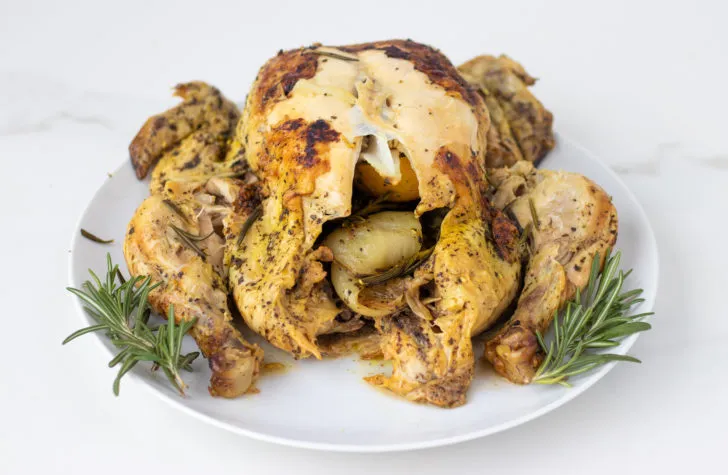 Ingredients
3 tbsp of your favorite spice mix (we used lemon pepper)
1 tsp salt (optional, if spice mix contains salt, omit this)
Rosemary sprigs
4 lb whole roasting chicken
1 small yellow onion, quartered
1 lemon, halved
3 tbsp olive oil
2 cup chicken stock
Method
If necessary, remove giblets from chicken cavity.
Add onion, half a lemon, and rosemary sprigs to the cavity of the chicken.
Rub whole chicken with a tbsp of olive oil. If adding salt, mix the salt and seasoning. Then season the entire chicken with the spice mixture of your choice by rubbing it onto the skin of the chicken.
Turn Instant Pot to Saute mode. Add the remaining oil and the chicken, searing both sides for about 3 minutes each. Remove from pot.
Add 1/2 cup of broth and turn on saute. With a wooden spoon or spatula lift any charred bits from the bottom. Once the bottom is clear, turn off saute.
Add remaining broth and trivet to the pot. Place chicken inside, add lemon slices and a few more sprigs of rosemary.
Lid the pot and set the valve to sealing. Cook on Manual/Pressure Cook for 25 minutes.
Once cook time has elapsed, allow for a 15-minute natural release.
Remove the chicken from the pot and let rest 5 minutes before serving.
Notes
Our 6 Quart Instant Pot Duo took 15 minutes to come to pressure, however, this time will vary depending on the size and model of your Instant Pot.
Alternative spice mix ideas: Lemon Pepper, Ranch Dip Mix, Cajun, Greek, Montreal Chicken, Beer Can Spice Mix.
While experimenting with the Instant Pot I quickly discovered that it can not only cook a quick and easy weeknight meal but it can...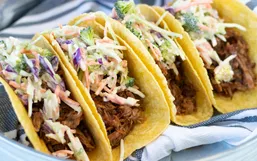 Taco Tuesday is one of my favorite nights of the week! It turns dinner time into a fiesta and it's something exciting for...
If you're like me, odds are you've jumped onto the Instant Pot bandwagon!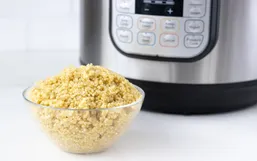 Some would consider quinoa a superfood, and for good reason! It's chock full of vitamins and minerals and is an excellent source...
The Instant Pot has many amazing capabilities. For example, it can cook a meal without heating up the kitchen (perfect for...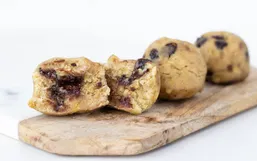 Is there anything better than biting into a warm gooey piece of banana bread? I don't think so.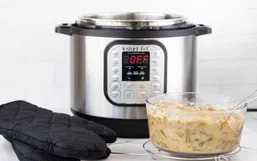 Freezing leftovers is a great way to ensure food doesn't go to waste. It's also a great way to be prepared for busy weeknights!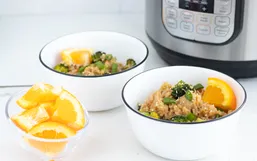 Get ready friends, it's time to enjoy some delicious takeout made at home!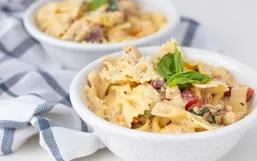 You've spoken and we heard you! Quick and easy Instant Pot weeknight meals that can feed the whole family are top of mind.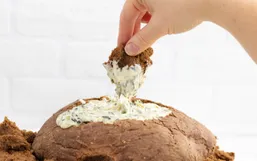 You know it's going to be a good time when there's good food, right? Appetizers are the best way to start off any party.
We've been told time and time again that breakfast is one of the most important meals of the day.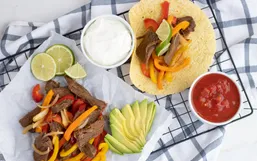 Mexican food is my absolute favorite type of cuisine. It's flavorful, quick to make, and a crowd-pleaser at my house!