Mmm… is there anything more delicious than chicken parm? It's perfectly crispy on the outside with tender chicken on the inside not to mention loaded with savory marinara sauce and ooey-gooey cheese! What's not to like? Olive Garden understands the love for chicken parm, so much that they invented a Giant Chicken Parmigiana that will certainly quench your craving. The Giant Chicken Parmigiana made its grand debut for a limited time back in 2019 as a part of the giant Italian classics menu. Luckily for us, Olive Garden is bringing it back!
The dish features a huge 11.5-inch breaded chicken cutlet topped with marinara sauce and loads of ooey-gooey mozzarella cheese. It's also served with a side of fettuccine alfredo and Olive Garden's legendary unlimited breadsticks, and soup or salad. Keep in mind, the Giant Chicken Parmigiana is only here for a limited time and while supplies last. So if you missed your chance to try it the first time, make sure you try it now!
Source: Olive Garden
As if this news isn't exciting enough, Olive Garden is also unveiling something special for pasta fans. Olive Garden will now let you choose to add extra alfredo sauce to any alfredo dishes including shrimp and steak alfredo for no extra cost! And guess what, this is a permanent addition to the menu so you can add more sauce any time you feel like it! You can try these new offerings by ordering online for contactless curbside pickup or you can dine-in where possible.
Source: Olive Garden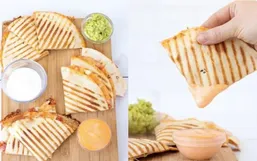 There are countless reasons why chicken is a go-to food for every meal.
Are you ready to "bend and snap"? Because that's exactly what you'll be doing after you order this Legally Blonde drink off the...
Summer is officially here and what better way to treat yourself and stay cool than with a refreshing beverage in hand!
Starbucks is not only renowned for their delicious coffee but they have a drink for everyone whether you're a chocolate fan or...
Disney theme parks and Disney Cruise Lines may be temporarily closed and suspended but that isn't stopping Disney from finding...
Hard seltzers have become the trendiest drink as of late and for good reason!
Your 4th of July celebrations may look a little different this year but that doesn't mean you still can't enjoy delicious food and...
Disney's theme parks are renowned for many things from the exciting rides to friendly characters, and of course its delicious...
Dunkin' is renowned for its coffee, tea, and delicious donuts but now the chain is entering a new drink category by offering new...
Starbucks' menu offers something for everyone from delicious coffee drinks to fruity beverages and even tasty food.
Summer is officially in full swing and now you can make the most of it with Shake Shack's new beverages!
Taco Bell is no stranger to innovative and exciting menu items.