There are countless reasons why chicken is a go-to food for every meal. Not only is it delicious, it's also easy to prepare and (especially when you get it on sale) fairly inexpensive, at least compared to most of the alternatives. When it comes to meal planning, there are two key elements to finding success: Timing and variety. If you don't mix things up, everyone in your family will get bored of eating the same thing week to week. Balancing variety with timing (sometimes you only have a few minutes to throw together a meal before heading out to soccer, dance or other weeknight commitments that leave you strapped for time) can sometimes seem like an impossible task. Luckily, we're here to help. There are so many ways to spice up chicken breasts. From salads and stir-fries to pasta dishes and wraps, there are plenty of quick and easy meal ideas that will please everyone in your family and leave you with time to spare.
Here are some delicious chicken dinners in under 30 minutes:
1. Chicken Stir-Fry
A stir fry is an excellent way to eat lots of crunchy vegetables with plenty of vitamins retaining their original texture and flavor. This recipe from Oh Sweet Basil combines fresh vegetables with juicy chicken to create the perfect healthy and delicious dinner. The best part? It takes only 15 minutes to make four servings!
Grab your cast iron skillet and begin cooking the chicken. Once that's cooked, you can move it onto a plate and start frying up the vegetables. The homemade sauce you whisk together is made up of soy sauce, stock, honey, brown sugar, ginger, garlic and cornstarch. Toss all the elements together for a fusion of flavor you'll be craving for days.
2. Grilled Chicken Wrap
This is a super quick meal you can make in a flash with just a few ingredients. It makes a great lunch or even a light dinner. I like to serve mine with a fresh salad, but feel free to pair it with whatever else you're craving like sweet potato fries or crackers. Add in any of your favorite veggies or even switch up the dressing to customize it to your liking.
There are so many possibilities with this versatile recipe and it requires little skill to whip up. Simply grill some chicken or use store-bought chicken that's already prepared. Grab your tortilla and load it with chicken, lettuce, tomato, shredded cheese, and dressing. Roll it up and enjoy!
3. 30-Minute Instant Pot Orange Chicken Dump Dinner
Put your Instant Pot to good use by following this delicious chicken recipe from Forkly. The name of this chicken dish says it all! Start to finish, this citrusy sweet dinner is done in less than 30 minutes. Just throw the ingredients in your Instant Pot, lid it, and walk away. At-home Asian cuisine at its finest!
This recipe uses boneless chicken, orange juice, orange marmalade, and other ingredients to create that recognizable orange chicken taste. It's enhanced with ingredients such as minced garlic and ginger, paired with rice to make it extra filling, and topped with broccoli for a bit of a crunch.
4. Bruschetta Chicken Pasta Salad
A bruschetta pasta paired with grilled chicken and balsamic glaze. Does it get much better than this? Following this recipe from Cafe Delites will quickly make it a fan favorite for dinner in your household. It's made up of Italian seasoned grilled chicken, spaghetti pasta, a burst of garlic, and lots of parmesan cheese.
The easy recipe yields eight servings and takes just 25 minutes from start to finish. Serve this dish immediately while warm, or let it cool for a perfect chilled chicken pasta salad. The perfect weeknight meal (and the perfect next-day lunch if you happen to have leftovers).
5. Chicken Parmesan Pasta
For an elevated dish that's easy to follow even for novice home cooks, this chicken parmesan pasta recipe from Forkly is the way to go. You won't have to worry about cleaning a mountain of dishes after cooking since it's baked all on one-pan! Each serving is given a heaping of marinara sauce, mozzarella cheese, and fresh basil.
With chicken breasts simply dredged and breaded in panko and cheese, smothered in savory marinara and topped with more cheese, it only gets better as it's served along with roasted broccoli. You'll know it's ready once the cheese is melted and brown.
6. Instant Pot Chicken Pot Pie
From cooking the fillings on the stove top to rolling out the pie dough to baking the whole dish in the oven – just thinking about making traditional chicken pot pie is exhausting! While it was one of my favorite meals as a child, my now busy lifestyle doesn't accommodate labor-intensive recipes! With that said we set out to find a way to make this family-favorite meal easy, without sacrificing flavor. Thanks to the Instant Pot, we have the perfect solution.
This Forkly recipe yields four servings. To make the dinner even better, serve it alongside a hot biscuit. You can buy store-bought biscuits and simply follow the directions on the package.
7. Easy Chicken Cheesesteaks
Nothing fancy or complicated here — just delicious, simple chicken cheesesteak sandwiches, jazzed up with a few different kinds of peppers. These are requested frequently in my house, and I hope you love them as much as we do! This recipe from Easyhealth Living teaches you how to make low-carb cheesesteak bowls, making it a cool twist on the classic cheesesteak.
It takes about 25 minutes to make three servings. The dish guarantees a mouthful of flavor with every bite thanks to the diced bell pepper, garlic powder, Worcestershire sauce, and provolone cheese. Serve with or without the bun and dig in!
8. Easy Weeknight Leftover Chicken Quesadillas
Put your leftover chicken to good use by following this delicious Forkly recipe. These quesadillas use leftover or rotisserie chicken to make a quick dinner that's oh so easy and cheesy and toasted up just perfectly into little triangles for the whole family to devour. These quesadillas would taste great dipped in some guacamole.
To take these quesadillas to the next level, make our homemade Copycat Chipotle Burrito Sauce that's partially made out of mayo and sriracha. It uses just five ingredients to deliver a creamy and spicy sauce your tastebuds will love. Plus, it only takes five minutes to whip up!
9. Spicy Piri Piri Chicken Burger
Piri Piri (also spelled Peri Peri) is a popular spice in Portuguese food and is becoming more and more popular in North America. This recipe from Taste.com gives step by step instructions on making your own piri piri sauce which is the cooking base to this recipe! The twist? This chicken is served up on a burger for a handheld dinner that will taste great.
This recipe yields about four servings. You'll start by making the chilli mixture that's flavored with garlic, ginger, lemon juice, and salt. The other steps are just as easy to follow and will ultimately be worth the extra time it takes to complete this dish.
10. Instant Pot Kung Pao Chicken
Takeout is delicious, but nothing beats the satisfaction of knowing exactly what goes into your meal by preparing it yourself and this Kung Pao Chicken will take less time than takeout delivery – we promise! This Forkly recipe is made courtesy of your Instant Pot, making it a low-maintenance recipe that will become a go-to on weeknights.
The recipe yield about four servings. For an extra crunch, feel free to add in about half a cup of roasted peanuts. While this recipe uses chilli paste to add spiciness, you can add less to have less heat. Alternatively, you can also add more to make it spicier. Just customize the amount to your liking!
11. Caprese Chicken
Basil always adds the perfect fresh touch to any dish, and this Caprese chicken is no exception! Topped with rich cheese and tangy balsamic reduction, this meal will look like it took forever to make, but it really only takes 30 minutes when you follow this recipe from Foodie Crush.
Using store-bought pesto will ensure you get this dish cooked and served in just half an hour. What's great is this mela is a one-pan recipe for minimal dishes after cooking. The fresh mozzarella cheese and tomatoes will give the chicken a summertime flair that you can enjoy all year long.
12. Quick & Easy Instant Pot Tuscan Chicken Pasta
This Tuscan Chicken Pasta is creamy, filling, and absolutely packed with flavor. But best of all, it's quick and easy to make! This filling Forkly recipe is prepared using your Instant Pot. It combines bowtie pasta, boneless chicken breasts, cream cheese, and a bunch of other flavors that will leave you begging for seconds.
Some ingredients included in this recipe are sun-dried tomatoes, roasted red peppers, spinach, minced garlic, and a few others. Garnish with some fresh basil and bon appetit! If you have any leftovers, just allow it to cool completely before storing it in an airtight container in the refrigerator.
One of the best parts about summer is deliciously grilled meals straight from the barbecue.
Encouraging your kids to eat more than noodles and sauce can be difficult.
Easter is less than a week away and men and women everywhere are eagerly searching for the best Easter dinner ideas online.
Whether you're throwing a party or just hanging out at home, appetizers are an easy way to add variety to your meals and make them...
I can only imagine what it must have been like when the microwave was invented.
I love cooking with chicken. It's a go-to grocery store item that I absolutely must have in my shopping cart.
These past few months, life has been flying by faster than usual. I make it home in time to whip up something quick for supper and...
Cooking is half the battle when it comes to busy weeknights. Washing the dishes is the other dreadful task.
The last thing we want to do after a busy day is to spend hours in the kitchen prepping, cooking, and cleaning up dinner.
Following a new diet can be both exciting and daunting and following through with that diet is never easy!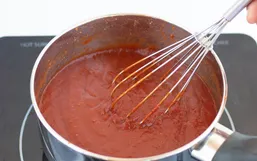 Barbeque sauce is a summer staple, but it's a hard one to get around if you're on the Keto diet since it's generally packed full...
Summer is one of the most anticipated seasons of the year! I mean, why wouldn't you love it?