Many people today don't want the fuss of preparing meals with numerous ingredients and processes. Working parents typically prioritize getting dinner on the table as quickly as possible and on a budget. Five-ingredient dinner recipes keep things simple, cut down on shopping and can often be prepared in half an hour or less. Many can also be prepared in advance and popped into the oven for the evening meal.
Whether you're new to cooking or just need inspiration for quick, easy meals, this list of 12 recipes with five or fewer ingredients has something for you.
1. Grilled Cheese Sandwich
The grilled cheese sandwich became wildly popular during the 1920s. This easy and versatile recipe from Tasty can be prepared in as little as five minutes. It works with all types of bread, cheese and butter. The secret ingredient in 21st-century grilled cheese sandwiches is mayonnaise lightly brushed on the outside of the bread just before you place it in the skillet.
Butter two pieces of bread, add your choice of cheese, use a pastry brush to apply the mayonnaise and place in a skillet over medium heat. Grill both sides to golden-brown perfection and enjoy.
2. Ham and Cheese Crescent Rollups
With only three ingredients, this simple spin on a classic ham and cheese sandwich is fun to make and even more fun to eat. Separate canned crescent rolls into triangles, place thinly sliced deli ham on each triangle and top with sliced cheese cut into strips. Roll each crescent up to contain the ham and cheese filling, and bake until golden brown. This recipe from Pillsbury can be modified using whatever type of deli meat and cheese you happen to have on hand.
This recipe is great for those with picky eaters in the family. It also makes a good after-school snack and is easy enough for older children to make themselves.
3. Five-Ingredient Barbecue Ribs
Tender, succulent ribs generally take all day on the barbecue, but you can prepare this version from Spoon University in your home kitchen in less than three hours.
All you need are ribs, a bottle of your favorite barbecue sauce, cumin, salt and pepper. Place the ribs on a baking sheet, sprinkle on the salt, pepper and cumin, and finish off with barbecue sauce. Cover them with aluminum foil and bake for two hours. Remove the foil, add more barbecue sauce and bake for 30 more minutes. This recipe can also be doubled or tripled depending on how many people you're serving.
4. Roast Chicken
Roast chicken sounds fancy and time-consuming, but all you need are spices, a chicken and an oven. This simple recipe from Taste of Home works well as a family meal but is also ideal for singles and couples because the leftovers are tasty.
Mix together onion salt, celery salt, seasoned salt and black pepper. Rub the mixture inside and outside the chicken prior to roasting. Roast until a meat thermometer in the thickest part of the chicken reaches 175 degrees Fahrenheit. As an added bonus, your home will smell heavenly for the 90 minutes or so that the chicken is roasting.
5. Chicken Pasta Casserole
What can you do with that leftover roast chicken? Chicken pasta casserole is ideal when you want comfort food in a hurry. This four-ingredient dish by Gimme Delicious takes about a half-hour from start to finish. Simply mix leftover chicken with your choice of cooked pasta and pasta sauce, top with your choice of cheese and bake in a preheated oven at 350 degrees Fahrenheit for 15 to 20 minutes or until the top of the casserole is bubbly.
If you don't have leftover roast chicken, rotisserie chicken from the supermarket works just as well. You can assemble this dish ahead of time, place it in the refrigerator and bake it for your evening meal.
6. Easy Tuna Casserole
Easy tuna casserole is a classic dish that requires only five home kitchen staples and can be ready in just under a half-hour. Combine cooked macaroni with tuna and condensed cream of chicken soup, place in a casserole dish and cover with grated cheddar cheese. Bake at 350 Fahrenheit for 20 minutes, and then sprinkle French fried onions over the casserole and bake for another five minutes.
This recipe by All Recipes is great for feeding a family in a hurry on a hectic weekend night. It also reheats nicely for leftovers later on.
7. Quick n' Easy Meatballs and Gravy
Another fast and easy comfort food staple that's also cost-effective, this dish by Food.com can be ready in about 30 minutes. Ingredients include ground beef, cream of mushroom soup, dry onion soup mix and water.
After forming the ground beef into small meatballs, fry them on the stovetop, browning them on all sides. Pour off most of the fat, add the soup and water and allow the mixture to thicken until it reaches gravy consistency. Meatballs and gravy can be served over rice, noodles or bread.
8. Five Ingredient Vegetable Lasagna
Thanks to modern ingredients such as no-boil lasagna noodles, you can assemble and bake this dish from Food.com in about one hour. Customize it by choosing your favorite vegetables, pasta sauce and choice of cheese or tofu.
Simply layer the noodles, pasta sauce and cheese or tofu in a lasagna pan and bake for 30 to 40 minutes or until the lasagna noodles are fork-tender. Cut any leftovers into individual squares, and freeze them for microwaving at a later date.
9. Five-Ingredient Pizza Bake
For this simple recipe by Mr. Food, you'll need biscuit mix, pizza sauce, packaged pepperoni, mushrooms and mozzarella cheese. Form a dough with the biscuit mix, and using a spoon, drop half of it in a baking dish and cover with pizza sauce. Add half of the pepperoni, mushrooms, and cheese and repeat the layers.
Bake at 375 Fahrenheit for 20 to 25 minutes. It's easy to make two of these at once, so consider making an extra to freeze and eat later.
10. Black Bean Soup
This black bean soup recipe from Gimme Some Oven only takes about 20 minutes to prepare. You'll need a can of black beans, freshly chopped cilantro, salsa, cumin and a minced clove of garlic. Place all ingredients in a saucepan, and bring them to a simmer on the stovetop. Simmer for about 10 minutes, and serve with a sprig of cilantro. Make a big pot of this and enjoy it all week long.
11. Simple Pot Roast
Novice cooks typically believe that pot roast is out of their wheelhouse, but this recipe from EmmyMade is super easy for Sunday dinner. Place the roast in a slow cooker along with dry onion-mushroom soup mix, a can of cream of mushroom soup, a bouillon cube and a can of beef broth. Cook it on high for six or eight hours, depending on the size of the roast, and relax and enjoy as the aroma envelops your home.
Leftover pot roast is still tasty and can be used for casual weekday meals such as French dip sandwiches.
12. Five Ingredient Apple Crisp
Dinner wouldn't be much without dessert, and this easy version of classic apple crisp by Pretty Simple Sweet hits the spot. All you need are apples, oatmeal, brown sugar, flour and butter or margarine. Place sliced, peeled apples in a baking dish, mix the other ingredients together and sprinkle the mixture over them. Bake in a 350 Fahrenheit oven until the top is golden brown and crisp and the apples are tender. Put it in the oven right before dinner and savor the aroma while you're eating. Enjoy this yummy apple crisp warm with or without vanilla ice cream.
This dessert also works with pears and plums and can be prepared in advance, refrigerated and popped in the oven when the time is right.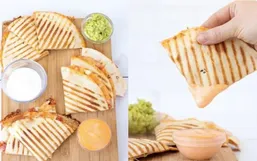 There are countless reasons why chicken is a go-to food for every meal.
Worried you're spending too much money on takeout? You're not alone!
Are you tired of making the same meals over and over again? Perhaps you're feeling uninspired in the kitchen.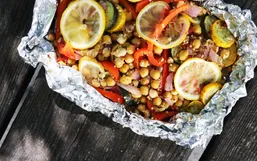 As someone who now eats a mostly plant-based diet, I've found myself stumped on how to enjoy BBQ meals this summer.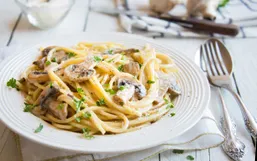 Eating nutritious meals, especially during the week, is a common goal for many people.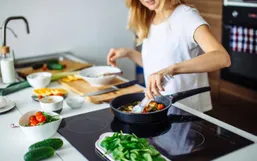 Cooking and eating with loved ones is one of life's greatest pleasures, but choosing what to cook isn't always easy.
Easter is less than a week away and men and women everywhere are eagerly searching for the best Easter dinner ideas online.
Those of us who are celebrating Halloween are getting ready to carve the pumpkins!
Whether you're throwing a party or just hanging out at home, appetizers are an easy way to add variety to your meals and make them...
I love cooking with chicken. It's a go-to grocery store item that I absolutely must have in my shopping cart.
Who loves food? US! And who loves coming home and working in the kitchen after a long day at work? Not us!
These past few months, life has been flying by faster than usual. I make it home in time to whip up something quick for supper and...