Eating nutritious meals, especially during the week, is a common goal for many people. But coming up with ideas for what exactly to make requires some inspiration and planning, which can be more difficult than it seems. If you're drawing a blank about what to eat this week, or aren't quite confident in your culinary abilities, this list of easy weeknight dinners is for you.
Here you'll find three weeks worth of recipes that feature ingredients you either have at home already or can be found at your local run-of-the-mill grocery store. Better yet, they're simple enough for cooks of any skill level to make and their straightforward preparation means you'll be able to concentrate on things outside the kitchen.
Tips for Easy Dinners
This list of easy weeknight recipes should get you through at least three weeks of delicious dinners, but there are lots of strategies for eating fairly healthy on a consistent basis. The main thing is to keep things simple, which you can do with these tips:
Plan to use ingredients you already have on hand. This will reduce your grocery bill and increase the chance that you'll actually cook the planned dish. After all, if an ingredient is already in your pantry of fridge, you probably like it!
Cook recipes that can be repurposed or eaten as leftovers in the following days. Cooking a new dish every night can feel like a lot of work and you're more likely to cave and order takeout.
Look for recipes with short or unattended cooking times. 30 minutes or less is good.
Swap spices and herbs to mix up recipes that have become boring.
Stick to recipes that only use a few dishes so that cleanup is faster. One pot or sheet and dinners are incredible when it comes to quick cleanup.
Keep shelf-stable items on hand in your pantry, such as beans, rice and pasta. Better yet, stock up when an item is on sale!
Buy proteins on sale and keep them in your freezer until you're ready to use them.
If you make bulk soups or sauces, store them in your freezer for instant dinners in the future. These are perfect for evenings when you're short on time or energy for cooking.
Simple Carbonara
This simple carbonara recipe from Bon Appétit is an incredibly accessible weeknight dinner for when you've neglected grocery shopping. Featuring ingredients that you probably have on hand, like eggs, cheese and pasta, this dish is comforting and easy to make, as well as picky eater approved. This recipe technically calls for guanciale, which is cured pork jowl, but you can easily swap it for other fatty pork cuts like bacon or prosciutto. In a pinch, you could even use a pork chop, cut up into small pieces with the fat left on.
One-Pot Kebabs
Before you get too intimidated by the thought of wrangling kebabs, take a look at this recipe from Food52. It has only a few simple ingredients, common Egyptian spices and forgiving cooking techniques. Even if you leave this beef kebab over the heat for too long, it's easily salvaged and exceptionally flavorful. The caramelized beef can accompany nearly any starch or vegetable dish, meaning that it's easy to repurpose for leftover dinners.
Two-Dollar Curry (Butter Chicken)
Coming from one of YouTube's favorite chefs, Joshua Weissman's curry hits the spot and the budget. The chicken thighs turn out tender and juicy, and this curry only gets better in the days after you make it, so don't be worried about leftovers. This recipe requires that you make your own curry sauce, a valuable skill that Weissman makes easy to follow. This recipe also has a video so you can follow along with, which is perfect if you aren't confident in your cooking skills or if this is a very new type of dish for you.
Pulled Pork Sandwiches
This pulled pork sandwich has a long cook time, but much of it is unattended making it relatively easy to make. It also yields twelve servings, making this recipe from Foodie Crush a great option for a big family, multiple dinners or even lunch leftovers. Plus, who can say no to the comfort of a delicious pulled pork sandwich? Pair this sandwich with your favorite salad or grilled vegetables for a well-rounded meal. Or throw some french fries in the oven … we won't judge.
Marinated Chicken Breasts
Quite possibly the easiest and most adaptable recipe on this list, these marinated chicken breasts from the Food Network are a classic weeknight dinner option. You can buy your chicken breasts and marinate them ahead of time, freezing them until you're ready to cook. Thaw them in your fridge for a day before you're ready to cook, then serve them alongside your favorite starch and steamed or roasted vegetables. You can also easily swap the herbs and seasoning in this recipe to your preferences.
Three-Ingredient Macaroni and Cheese
Nothing says comfort like mac and cheese. Instead of reaching for bland boxed mac and cheese, try this three-ingredient recipe from Food52 for a cheesy, satisfying dinner. It only needs a pot and strainer to cook, so it's easy to set up and clean up. Pick whatever cheese you prefer, although softer cheeses are usually better for mac and cheese recipes. For a little extra kick, you can add bacon bits or chili flakes on top.
Lemon Chicken
Instead of ordering your favorite takeout lemon chicken, try making it yoursef! This recipe from the Food Network shows you the basics of using a wok and creating your own sauces, delivering a mouthwatering lemon chicken in only about 25 minutes. There's a video included in the recipe, which is perfect to follow along with if you're fairly new to cooking from scratch.
Creamy Pasta With Crispy Mushrooms
Think of this recipe from Bon Appétit as an elevated version of mac and cheese. Featuring mixed mushrooms, this recipe is best for the fall when the most varieties of wild mushrooms are available. Sear them in a pan before combining them with your pasta and creamy sauce, resulting in an incredible combination of flavors and textures. This dish can work for either a quick family meal or an at-home date night – it's up to you!
Margherita Pizza
Skip ordering in and make your own pizza instead with this easy margherita pizza recipe from BBC's Good Food blog. You'll get practice making your own pizza dough with this crispy-thin flatbread, but can let it rise for several hours if you prefer a more classic dough. Making your own sauce is quick and easy, and you can make it your own by adding your preferred spices and herbs. Top with mozzarella or a non-dairy substitute, pop it in the oven and then enjoy it with your favorite weeknight TV show.
One-Skillet Mediterranean Chicken
This flavourful Mediterranean chicken recipe brings delicious Greek flavors to the table. Bursting with healthy fats, this dish is perfect for those who love briny-olive flavors and bright herbs. Between the chicken breast and vegetables, this dish is full of protein and nutrients to help power you through the rest of your week. Since this recipe is made in a single skillet, it also reduces time spent cleaning up after dinner.
No-Cook Fresh Tomato Sauce
This no-cook fresh tomato sauce recipe from Taste of Home is ideal for summer days when you don't want to spend too much time over a hot stove and crave fresh and light dinners. By leaving the tomatoes uncooked, the resulting tomato sauce is tangy, bright and pairs perfectly with your favorite wine and a summer patio at sunset. This spaghetti sauce is vegetarian, but you can skip the parmesan or trade it for a non-dairy cheese alternative to make it vegan.
Pasta With Vegan Chickpea Sauce
This is the last but certainly not the least of the pasta recipes on our list. Use dried chickpeas to make a creamy, aromatic and vegan pasta sauce. This recipe from Serious Eats calls for healthy and nutritious ingredients, each of which are cost-effective. That way, you can enjoy a comforting and wholesome pasta dish and feel at ease about your grocery bill. If you want to spruce it up more, add extra red pepper flakes or grate parmesan on top.
Vegan Potato Leek Soup
Don't be misled by the simplicity of this vegan potato leek soup recipe by Simple Veganista. Although it's incredibly easy to make in a single pot and ultra budget-friendly, this recipe is hearty and satisfying. It's a great dinner option on its own or paired with a thick slice or toast or biscuits, and it's easy to prepare in bulk for leftovers throughout the week. This recipe is also vegan and gluten-free, which means it can please a crowd of friends with dietary needs.
Thai Peanut Butter and Pumpkin Soup
For a warm, comforting sensation, look no further than this spicy, fragrant soup from It Doesn't Taste Like Chicken. Inspired by Thai cuisine, this recipe uses curry, pumpkin and peanut butter. Don't worry about the spice from the curry or sriracha since the coconut milk base takes the heat off. Brighten up this soup with a lime wedge and fresh herbs. This soup is also vegan, which makes it perfect for plant-based diets or even a meatless Monday.
Chicken Noodle Soup
Using chicken thighs and strong aromatics like lemongrass and ginger, this chicken soup from Basics with Babish serves up a complex base of flavors. This recipe includes a method to make your own stock, which can take a few unattended hours to simmer. Although making your own stock is great practice for any home cook and easy to do, you can swap for a store-bought stock too. From there, this comforting soup should come together in under 30 minutes, resulting in several bowls of flavorful soup.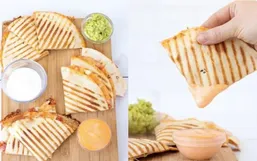 There are countless reasons why chicken is a go-to food for every meal.
Worried you're spending too much money on takeout? You're not alone!
Are you tired of making the same meals over and over again? Perhaps you're feeling uninspired in the kitchen.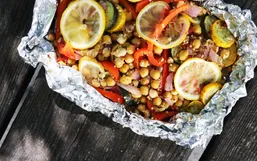 As someone who now eats a mostly plant-based diet, I've found myself stumped on how to enjoy BBQ meals this summer.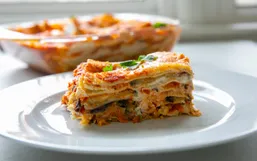 Many people today don't want the fuss of preparing meals with numerous ingredients and processes.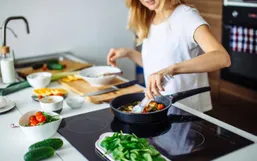 Cooking and eating with loved ones is one of life's greatest pleasures, but choosing what to cook isn't always easy.
Easter is less than a week away and men and women everywhere are eagerly searching for the best Easter dinner ideas online.
Those of us who are celebrating Halloween are getting ready to carve the pumpkins!
Whether you're throwing a party or just hanging out at home, appetizers are an easy way to add variety to your meals and make them...
I love cooking with chicken. It's a go-to grocery store item that I absolutely must have in my shopping cart.
Who loves food? US! And who loves coming home and working in the kitchen after a long day at work? Not us!
These past few months, life has been flying by faster than usual. I make it home in time to whip up something quick for supper and...