Whether you're throwing a party or just hanging out at home, appetizers are an easy way to add variety to your meals and make them unique and fun for everyone. The great thing about appetizers, is they're generally served in small portions. This means  you can have several different types of foods in one sitting without feeling guilty for indulging too much. If you're looking for easy and delicious appetizer ideas, you've come to the right place. We've compiled 15 of our best appetizer recipes and we're ready to share them all with you.
Here are 15 simple yet delicious appetizer recipes:
15. Mini Meatloaves Wrapped in Bacon
Want to know what's better than bacon-wrapped meatloaf? Little mini bacon-wrapped meatloaves that you don't have to share with anyone. These are really easy to cook on the grill, the bacon not only holds the meatloaf together but it also helps keep them from sticking to the grates.
Prep Time: 10 min | Cook Time: 40 min
14. Jalapeno Bacon Dip
This dip is perfect for a Game Day appetizer but will surely be hit when served at any gathering. The combination of jalapeno peppers with bacon and cheese is delicious. Serve with tortillas, pitas or chips.
Prep Time: 5 min | Cook Time: 25 min
13. Potato Skins
Another bacon and cheese appetizer you and your guests will love. If you're purchasing bacon and cheese for other appetizers like jalapeno poppers or jalapeno bacon dip, why not whip up some of these easy potato skins as well? Adding green onions or jalapeno bits to the top will finish this appetizer off perfectly.
Prep Time: 20 min | Cook Time: 20 min
12. Lazy Chicken Bruschetta
Just because it's quick and easy doesn't mean it's not delicious. This is one of the most popular bruschetta recipes on the site. It's the perfect combination of tomato, chicken and onion – and your guests will think you slaved for hours making them!
Prep Time: 10 min | Cook Time: 10 min
11. Chicken Sliders with Zucchini Buns
No bun, all good. This lactose-free dish is perfect as a party appetizer or as a mini-meal. The best part? It's all prepared and cooked in under 20 minutes!
Prep Time: 10 min | Cook Time: 10 min
10. Nacho Crostini
Nacho Crostini! The hybrid of the best bar snack ever and a tasty italian appetizer. Trust us, you won't be disappointed with this delicious appetizer.
Prep Time: 10 min | Cook Time: 5 min
9. Giant Jalapeno Poppers
A great (and easy) dish for any sporting event. Be warned, though. Your guests will be begging you to make more of these cheesy delights.
Prep Time: 15 min | Cook Time: 10 min
8. Bacon Wrapped Shrimp Appetizers
Imagine, jumbo shrimp stuffed with goat cheese, seasoned with garlic & lemon pepper then wrapped up in your choice of prosciutto, pancetta or regular bacon. One word: Yum!
Prep Time: 10 min | Cook Time: 10 min
7. Sassy Stuffed Peppers
The perfect combination of ground sirloin, onions, olives, tomatoes, cheese, rice and garlic stuffed into a deliciously cooked green pepper. These appetizers take a little longer to prepare and cook but the outcome is definitely worth the time and effort.
Prep Time: 20 min | Cook Time: 30 min
6. Wesley's Hot Wings
The best wings you'll ever taste! The wing sauce is made up of butter, garlic powder, zesty herb blend, hot and spicy cajun blend, cayenne pepper and Frank's hot wing sauce. Is your mouth watering yet?
Prep Time: 5 min | Cook Time: 20 min
5. Zucchini Oven Chips
These flavorful, crispy zucchini chips are so delicious that, just like their potato counterparts, I bet you won't be able to eat just one! The best part? They're actually healthy too!
Prep Time: 10 min | Cook Time: 30 min
4. Layered BLT Dip
This quick and easy dip will surely be a hit at your next get together. It's a BLT, like you've never had it before! Even better, it only takes minutes to prepare. Serve it up with crackers or a crusty, sliced baguette.
Prep Time: 10 min | Cook Time: 5 min
3. Cheesy Corn Tortilla Bites
These yummy little corn bites will quickly become your go-to appetizer. They're so simple to make, and they're addictive too. Everyone will love them!
Prep Time: 10 min | Cook Time: 20 min
2. Grilled Zucchini Rolls with Bacon and Cheese
These interesting appetizers are a great alternative to jalapeno poppers (or addition to jalapeno poppers if you're looking to grill more than one appetizer at once) and the zucchini adds a unique and healthy twist.
Prep Time: 15 min | Cook Time: 15 min
1. Mango and Avocado Salsa and Chips
When prepared with jalapeno peppers, this wonderful salsa is the perfect mix of sweet and spicy. You'll be surprised how well these ingredients blend to make the perfect dip. Serve with tortilla chips or pita bread.
Prep Time: 5 min | Cook Time: 5 min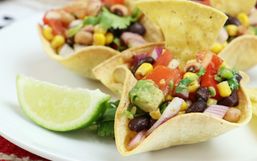 If you love salsa, this recipe is for you. If you love bean salads, this recipe is for you. If you love guacamole...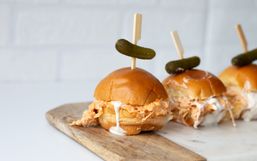 There's nothing that screams "tasty appetizer" quite like buffalo chicken sliders.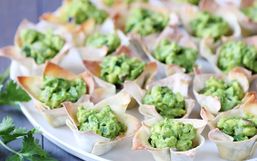 St. Patrick's Day is just weeks away and it's never too early to start planning! Whether you're hosting a St.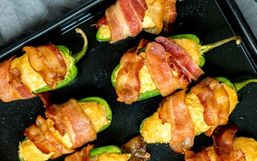 Staying on track with your diet during any holiday can be extremely difficult.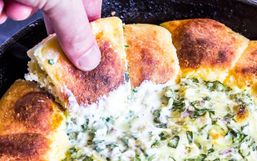 Who doesn't love a good potluck? They're the best because it often means that there will be loads of food and a wonderful variety...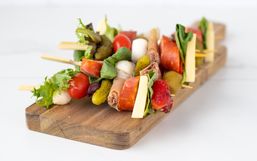 Buckle up, friends. This is about to blow your minds! Charcuterie. Kabobs.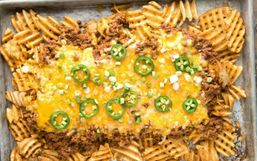 Fourth of July is one of the biggest holidays in America. Every year, friends and families gather together to celebrate American...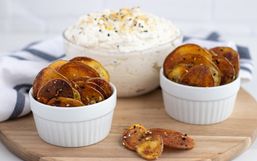 When I dip, you dip, we dip! Chips that is. I'm a sucker for a good chip and dip combo whether it's a Friday night movie in or I'm...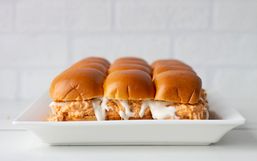 Who doesn't love a good potluck? You get to hang out with friends and dig into a delicious assortment of food.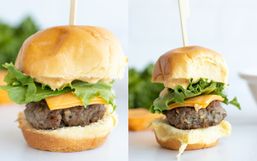 These Big Mac Bites are absolutely drool-worthy and the Copycat Big Mac Sauce is spot on - you wouldn't even know it didn't come...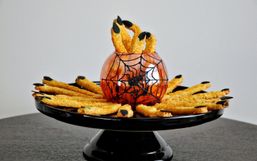 Spooky season is here and it's time go all out for this fun holiday.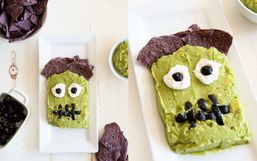 Appetizers are an essential part of any party or gathering. These small dishes stimulate our taste buds and fill our bellies while...