Whether you're throwing a party or just hanging out at home, appetizers are an easy way to add variety to your meals and make them unique and fun for everyone. The great thing about appetizers, is they're generally served in small portions. This means you can have several different types of foods in one sitting without feeling guilty for indulging too much. If you're looking for easy and delicious appetizer ideas, you've come to the right place. We've compiled 15 of our best appetizer recipes and we're ready to share them all with you.
Here are 15 simple yet delicious appetizer recipes:
15. Mini Meatloaves Wrapped in Bacon
Want to know what's better than bacon-wrapped meatloaf? Little mini bacon-wrapped meatloaves that you don't have to share with anyone. These are really easy to cook on the grill, the bacon not only holds the meatloaf together but it also helps keep them from sticking to the grates.
Prep Time: 10 min | Cook Time: 40 min
14. Jalapeno Bacon Dip
This dip is perfect for a Game Day appetizer but will surely be hit when served at any gathering. The combination of jalapeno peppers with bacon and cheese is delicious. Serve with tortillas, pitas or chips.
Prep Time: 5 min | Cook Time: 25 min
13. Potato Skins
Another bacon and cheese appetizer you and your guests will love. If you're purchasing bacon and cheese for other appetizers like jalapeno poppers or jalapeno bacon dip, why not whip up some of these easy potato skins as well? Adding green onions or jalapeno bits to the top will finish this appetizer off perfectly.
Prep Time: 20 min | Cook Time: 20 min
12. Lazy Chicken Bruschetta
Just because it's quick and easy doesn't mean it's not delicious. This is one of the most popular bruschetta recipes on the site. It's the perfect combination of tomato, chicken and onion – and your guests will think you slaved for hours making them!
Prep Time: 10 min | Cook Time: 10 min
11. Chicken Sliders with Zucchini Buns
No bun, all good. This lactose-free dish is perfect as a party appetizer or as a mini-meal. The best part? It's all prepared and cooked in under 20 minutes!
Prep Time: 10 min | Cook Time: 10 min
10. Nacho Crostini
Nacho Crostini! The hybrid of the best bar snack ever and a tasty italian appetizer. Trust us, you won't be disappointed with this delicious appetizer.
Prep Time: 10 min | Cook Time: 5 min
9. Giant Jalapeno Poppers
A great (and easy) dish for any sporting event. Be warned, though. Your guests will be begging you to make more of these cheesy delights.
Prep Time: 15 min | Cook Time: 10 min
8. Bacon Wrapped Shrimp Appetizers
Imagine, jumbo shrimp stuffed with goat cheese, seasoned with garlic & lemon pepper then wrapped up in your choice of prosciutto, pancetta or regular bacon. One word: Yum!
Prep Time: 10 min | Cook Time: 10 min
7. Sassy Stuffed Peppers
The perfect combination of ground sirloin, onions, olives, tomatoes, cheese, rice and garlic stuffed into a deliciously cooked green pepper. These appetizers take a little longer to prepare and cook but the outcome is definitely worth the time and effort.
Prep Time: 20 min | Cook Time: 30 min
6. Wesley's Hot Wings
The best wings you'll ever taste! The wing sauce is made up of butter, garlic powder, zesty herb blend, hot and spicy cajun blend, cayenne pepper and Frank's hot wing sauce. Is your mouth watering yet?
Prep Time: 5 min | Cook Time: 20 min
5. Zucchini Oven Chips
These flavorful, crispy zucchini chips are so delicious that, just like their potato counterparts, I bet you won't be able to eat just one! The best part? They're actually healthy too!
Prep Time: 10 min | Cook Time: 30 min
4. Layered BLT Dip
This quick and easy dip will surely be a hit at your next get together. It's a BLT, like you've never had it before! Even better, it only takes minutes to prepare. Serve it up with crackers or a crusty, sliced baguette.
Prep Time: 10 min | Cook Time: 5 min
3. Cheesy Corn Tortilla Bites
These yummy little corn bites will quickly become your go-to appetizer. They're so simple to make, and they're addictive too. Everyone will love them!
Prep Time: 10 min | Cook Time: 20 min
2. Grilled Zucchini Rolls with Bacon and Cheese
These interesting appetizers are a great alternative to jalapeno poppers (or addition to jalapeno poppers if you're looking to grill more than one appetizer at once) and the zucchini adds a unique and healthy twist.
Prep Time: 15 min | Cook Time: 15 min
1. Mango and Avocado Salsa and Chips
When prepared with jalapeno peppers, this wonderful salsa is the perfect mix of sweet and spicy. You'll be surprised how well these ingredients blend to make the perfect dip. Serve with tortilla chips or pita bread.
Prep Time: 5 min | Cook Time: 5 min
You can never go wrong with buttery flaky crescent rolls but did you know a tube of crescent roll dough can be so much more than...
Easter is less than a week away and men and women everywhere are eagerly searching for the best Easter dinner ideas online.
Those of us who are celebrating Halloween are getting ready to carve the pumpkins!
I love cooking with chicken. It's a go-to grocery store item that I absolutely must have in my shopping cart.
Who loves food? US! And who loves coming home and working in the kitchen after a long day at work? Not us!
These past few months, life has been flying by faster than usual. I make it home in time to whip up something quick for supper and...
Cooking is half the battle when it comes to busy weeknights. Washing the dishes is the other dreadful task.
The last thing we want to do after a busy day is to spend hours in the kitchen prepping, cooking, and cleaning up dinner.
Encouraging your kids to eat more than noodles and sauce can be difficult.
Following a new diet can be both exciting and daunting and following through with that diet is never easy!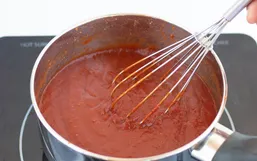 Barbeque sauce is a summer staple, but it's a hard one to get around if you're on the Keto diet since it's generally packed full...
Summer is one of the most anticipated seasons of the year! I mean, why wouldn't you love it?