When the snack cravings hit we all know how easy it is to reach for the most accessible thing in sight. Unfortunately, this often results in poor snacking choices like a bag of chips, a candy bar, and so on. Put the chips down because we're going to show you how you can indulge in tasty treats guilt-free!
We've compiled a list of some healthy yet incredibly delicious snack recipes! From fries to dips and even a few sweet treats, we will cover it all! Buckle up and get ready for some seriously good snacks this week!
1. Pizza Hummus
The next time you have a craving for pizza, whip up a batch of this pizza hummus! It's insanely delicious and certainly healthy. It's made from traditional hummus ingredients such as chickpeas and tahini, however, ingredients like tomato paste, oregano, and basil provide the lovely authentic pizza flavor.
Top the hummus with some of your favorite pizza toppings such as mini pepperonis, olives, and chopped bell pepper! Finally, dig in with carrot sticks, whole wheat pita bread or any of your favorite dippers!
http://smilesandwich.com/2017/05/30/pizza-hummus/ PHOTOS AND RECIPE HERE: SMILE SANDWICH
2. Chocolate Dessert Hummus
Instead of a savory hummus, perhaps you'd enjoy an irresistibly sweet one! This chocolate hummus is so decadent, yet still healthy so you don't have to feel guilty!
Once again, the main ingredient in this hummus is chickpeas, however, to achieve the decadent flavors you'll need cocoa powder, coconut milk, maple syrup, and a few other simple ingredients. Enjoy this snack with your favorite wafer cookies!
http://www.forkly.com/recipes/chocolate-dessert-hummus/ PHOTOS AND RECIPE HERE: FORKLY
3. The Best Baked Sweet Potato Fries
When you're hungry and need a little pick me up, heading to the drive-through is a tempting option. However, those salty deep-fried treats aren't always worth it!
This time, skip the drive-through and prepare a batch of these baked sweet potato fries. Sweet potatoes contain fewer calories and carbs in comparison to white potatoes. In addition, baking them instead of frying them will result in a lot less fat too!
https://www.gimmesomeoven.com/oven-roasted-sweet-potato-fries/?crlt.pid=camp.G32GsZJi3bL8 PHOTOS AND RECIPE HERE: GIMME SOME OVEN
4. Coconut Brownie Batter Energy Bites
Biting into an ooey-gooey chocolatey brownie is tempting but it's not always the best choice especially when it comes to snacking. Instead, set yourself up for success by preparing a batch of these coconut brownie batter energy bites.
These chocolatey energy bites are naturally sweetened and made of wholesome ingredients. Not only will they quench your chocolate craving but they'll fulfill your snacking needs!
http://www.forkly.com/recipes/coconut-brownie-batter-energy-bites/ PHOTOS AND RECIPE HERE: FORKLY
5. Frozen Banana Bites
Eating a banana is undoubtfully a healthy choice but that can get boring quick, especially if you eat them too often. Jazz up an ordinary banana snack but preparing these delicious frozen banana bites!
Add a dab of almond butter in between the banana slices and dip into melted chocolate. Then, simply place the banana bites into the freezer and freeze until solid. Be sure to store in the freezer in an airtight container until your snack cravings hit.
https://www.nobiggie.net/frozen-banana-bites/ PHOTOS AND RECIPE HERE: NO BIGGIE
6. Chewy Healthy Snack Bars
These chewy healthy snack bars are the healthier, more grown-up version of store-bought granola bars! You'll only need a few wholesome ingredients to create these bars. Some of these include dates, cashews, and almond butter.
Start by pouring all the ingredients into a food processor, blend, and then transfer to a baking dish. They'll need to chill in the fridge for at least 30 minutes and then you can cut them up to enjoy whenever you want!
http://www.forkly.com/recipes/chewy-healthy-snack-bars/ PHOTOS AND RECIPE HERE: FORKLY
7. Homemade Baked Sweet Potato Chips
There's nothing better than sitting down to watch your favorite show with a bag of chips in hand. However, these unhealthy habits can spiral out of hand quickly!
The next time you have a craving for potato chips be sure to make a batch of these homemade baked sweet potato. They may be healthier but don't worry they certainly are loaded with flavor and contain that lovely crunchy texture you love about chips! Check our 15 of the Best Homemade Snacking Alternatives to Potato Chips!
https://www.thecookierookie.com/sweet-potato-chips/ PHOTOS AND RECIPE HERE: THE COOKIE ROOKIE
8. Healthy Buffalo Chicken Dip
If you have a craving for something sinfully delicious but don't want to dig into some unhealthy then be sure to try this healthy buffalo chicken dip! This dip is seriously dreamy and overflowing in exciting flavors.
This delicious dip gets a healthy makeover thanks to ingredients like Greek Yogurt and shredded chicken. Mix all the ingredients together and then bake in the oven until it's golden and bubbly!
https://thecleaneatingcouple.com/healthy-buffalo-chicken-dip/ PHOTOS AND RECIPE HERE: THE CLEAN EATING COUPLE
9. No-Bake Chocolate Raspberry Stuffed Snack Bites
In contrast, if you don't feel like heating up the kitchen try making these no-bake snack bites! This delightful treat is nut-free and made of several wholesome ingredients.
They're naturally sweet thanks to ingredients like dates and fresh raspberries. In addition to the chocolate flavor, you'll also get to experience a surprise raspberry jam center!
http://www.forkly.com/recipes/no-bake-nut-free-chocolate-raspberry-stuffed-snack-bites/ PHOTOS AND RECIPE HERE: FORKLY
10. Spicy Sriracha Tuna Lettuce Wraps
The next time you have a craving for a sandwich try a lettuce wrap! This healthy alternative will surely satisfy your belly but with fewer carbs.
This isn't your average tuna wrap! These wraps are infused with flavors of spicy sriracha and have a lovely crunch thanks to chopped onions and diced celery.
https://gimmedelicious.com/2018/05/20/spicy-sriracha-tuna-lettuce-wraps-low-carb-keto/ PHOTOS AND RECIPE HERE: GIMME DELICIOUS
11. Apple Nachos with Peanut Butter and Chocolate
This idea puts a healthy spin on to traditional nachos! Instead of a plate loaded with chips, cheese, and other assorted savory toppings, these nachos are healthy and sweet!
Quench your sweet tooth craving and slice up an apple. Drizzle the apple slices with melted chocolate chips and peanut butter and enjoy!
https://www.trialandeater.com/apple-nachos-with-peanut-butter-chocolate/ PHOTOS AND RECIPE HERE: TRIAL AND EATER
12. Greek Yogurt Bark
Greek yogurt bark is the healthier version of chocolate bark but you don't have to worry, it's just as delicious! Simply head to your local bulk food store and pick up yogurt chips.
This delicious snack comes together in 20 minutes or less! We decided to top our yogurt bark with granola, dried blueberries, dried acai berries, and dried mango slices but we encourage you to top yours with any of your favorite healthy toppings!
http://www.forkly.com/recipes/greek-yogurt-bark/ PHOTOS AND RECIPE HERE: FORKLY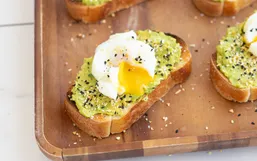 Breakfast is often called the most important meal of the day. It can also be the most delicious meal of the day!
Are you tired of making the same meals over and over again? Perhaps you're feeling uninspired in the kitchen.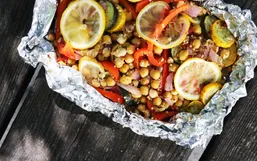 As someone who now eats a mostly plant-based diet, I've found myself stumped on how to enjoy BBQ meals this summer.
Easter is less than a week away and men and women everywhere are eagerly searching for the best Easter dinner ideas online.
Those of us who are celebrating Halloween are getting ready to carve the pumpkins!
Whether you're throwing a party or just hanging out at home, appetizers are an easy way to add variety to your meals and make them...
I love cooking with chicken. It's a go-to grocery store item that I absolutely must have in my shopping cart.
Who loves food? US! And who loves coming home and working in the kitchen after a long day at work? Not us!
These past few months, life has been flying by faster than usual. I make it home in time to whip up something quick for supper and...
Cooking is half the battle when it comes to busy weeknights. Washing the dishes is the other dreadful task.
The last thing we want to do after a busy day is to spend hours in the kitchen prepping, cooking, and cleaning up dinner.
Encouraging your kids to eat more than noodles and sauce can be difficult.