Summer is one of the most anticipated seasons of the year! I mean, why wouldn't you love it? You get to soak in some much-needed vitamin D, hang out with friends and family and of course, dig into delicious food! However, we all know how busy summer can be. Between working your regular work schedule to planning your summer vacation all the while attending birthdays and other summer functions on the weekends it can all be a bit much!
To help alleviate some of the stress for you, we've compiled a list of delicious summer meals that you can make in a hurry! These tasty meals are so quick and easy that you can prepare them even on the busiest weeknight – Phewf!
1. Easy Buffalo Chicken Pasta Salad
Summer is prime time for salads! They're cold and refreshing and a great way to satisfy your belly without making you too hot! But this isn't just any ordinary salad. This pasta salad is infused with delicious buffalo chicken and blue cheese crumbles.
Want to make it in a hurry? Pre-cook the chicken and pasta so that come dinner time, it's as easy as assembling and enjoying – no cooking required! This salad is loaded with veggies and protein plus, it's exploding in enticing flavors that will keep you satisfied. You're bound to crave this salad again!
https://www.yourcupofcake.com/2019/05/easy-buffalo-chicken-pasta-salad.html PHOTOS AND RECIPE HERE: YOUR CUP OF CAKE
2. Instant Pot Pulled Pork Tacos
So long are the days where you have to wait for pulled pork to cook all. day. long. With the Instant Pot, you can have a delicious meal like pulled pork tacos made in a hurry!
Aside from the time the pot needs to come to pressure, the delicious pulled pork cooks in less than an hour! Plus, the Instant Pot does all the work for you so you can unwind after work and catch up on your favorite show while you wait for dinner. Serve the pulled pork in a flour or corn tortilla and top it with a simple store-bought coleslaw.
http://www.forkly.com/recipes/instant-pot-pulled-pork-bbq-tacos/ PHOTOS AND RECIPE HERE: FORKLY
3. Grilled BBQ Chicken Kabobs
Kabobs are so fun to cook in the summer and it's an easy way to create an entire meal on a stick! These chicken kabobs are layered with peppers, sweet pineapple, onions, and bacon!
Additionally, the kabobs are smothered in a wonderful bbq sauce. The combination of BBQ sauce and sweet pineapple creates the perfect balance of sweet and savory flavors! You'll love that this dinner comes together in just 25 minutes!
https://www.thechunkychef.com/grilled-bbq-chicken-kabobs/ PHOTOS AND RECIPE HERE: THE CHUNKY CHEF
4. Quick and Easy Lemon Garlic Foil Packet Shrimp
Fire up the grill and create this quick and easy dinner. Foil pack dinners are awesome because they allow you to combine a dinner's worth of ingredients into one foil pack.
Even if you're not a grill master, you can create a delicious dinner too because foil pack dinners are basically fool-proof! This foil pack recipe is filled with lemony garlic shrimp and loads of nutritious veggies. It serves well on its own but also wonderfully with rice!
http://www.forkly.com/recipes/quick-and-easy-lemon-garlic-foil-packet-shrimp/ PHOTOS AND RECIPE HERE: FORKLY
5. Low-Carb Italian Sausage and Veggie Foil Packets
Considering cooking foil pack dinners on the grill are so easy, you'll want to enjoy them all summer long. With that, we're sharing another great idea – Italian sausage and veggie foil packs!
Instead of shrimp, this foil pack is filled with spicy Italian sausage, peppers, asparagus, mushrooms, and loads of delicious seasonings. This tasty dinner will be ready to eat in 30 minutes or LESS!
http://www.forkly.com/recipes/low-carb-keto-italian-sausage-and-veggie-foil-packets/ PHOTOS AND RECIPE HERE: FORKLY
6. Greek Chicken Pasta Salad
Are your leafy green salads not cutting it anymore? Switch things up and whip together this quick and easy Greek pasta salad.
This pasta salad has everything from comforting pasta to protein-packed chicken and enough veggies to make this salad a wholesome meal. You'll create a homemade salad dressing that also acts as a marinade for the chicken! To save yourself some time marinate the chicken overnight so that you cook it quickly once you get home from work.
https://www.budgetbytes.com/greek-chicken-pasta-salad/?utm_content=buffer24d63&utm_medium=social&utm_source=pinterest.com&utm_campaign=budgetbytesbuffer PHOTOS AND RECIPE HERE: BUDGET BYTES
7. Grilled Steak Kabobs
These steak kabobs are another delicious quick and easy summer dinner idea! The steak pieces are soaked in a simple marinade that is made from 3 simple ingredients.
Once the steak has had time to marinade, you can assemble the kabobs, fire up the grill, and cook this delicious dinner on a stick! Before you know it, you and your family can be enjoying the sunshine while digging into a delicious meal.
https://life-in-the-lofthouse.com/grilled-steak-kebabs/ PHOTOS AND RECIPE HERE: LIFE IN THE LOFTHOUSE
8. No-Grill Flank Steak Sheet Pan Dinner
No grill? No problem! Summer is prime grilling season but not everyone has one and that is totally okay. You don't have to miss out on deliciously seasoned steak because our quick and easy sheet pan recipe will quench your cravings!
While this is an oven recipe, we're including it because this meal only requires 5-7 minutes in the oven! Which means you won't be heating up your kitchen too much!
http://www.forkly.com/recipes/no-grill-flank-steak-sheet-pan-dinner/ PHOTOS AND RECIPE HERE: FORKLY
9. Easy Shrimp Tacos
Taco Tuesday is one of the most fun dinners of the week! Change up your taco dinner and create these insanely delicious yet easy shrimp tacos.
The shrimps require just 10 minutes in the oven and while you wait you can prepare the delicious cream sauce. Then once finished, served on a soft tortilla with shredded cabbage, bell peppers, and sliced avocado – YUM!
https://wonkywonderful.com/easy-shrimp-tacos/ PHOTOS AND RECIPE HERE: WONKY WONDERFUL
10. Lemony Garlic Butter Grilled Salmon in Foil Packets
Whip up a quick and easy healthy dinner this summer. These salmon foil packs may be healthy but they certainly pack a ton of flavor.
A salmon fillet and green beans make up the contents of these foil packs. They're seasoned with fresh lemon juice, garlic, and butter!
https://unsophisticook.com/grilled-salmon-in-foil/ PHOTOS AND RECIPE HERE: UNSOPHISTICOOK
11. Quick & Easy Mediterranean Quinoa Salad
This quinoa salad is far from boring! It is light and fresh and full of wonderful flavor! Simply prepare quinoa on the stove-top or quickly in an Instant Pot (your choice), then combine all the fresh ingredients together.
We've also equipped you with an insanely delicious salad dressing recipe that you are seriously going to love. This salad is quite flavorful but if you're looking to add more protein to this meal simply mix in barbecued chicken breasts or salmon!
http://www.forkly.com/recipes/quick-easy-mediterranean-quinoa-salad/ PHOTOS AND RECIPE HERE: FORKLY
12. Grilled Pizza
Have you ever tried pizza on the barbecue? Prepare to be blown away! The grill chars the most beautiful lines and creates a wonderful depth of flavor for your pizza.
This recipe proves how easy it is to do too! All you need is store-bought pizza dough, your favorite pizza sauce, toppings, and cheese! Plus, the grill will cook your pizza incredibly quickly.
https://thepioneerwoman.com/food-and-friends/how-to-grill-pizza/ PHOTOS AND RECIPE HERE: THE PIONEER WOMAN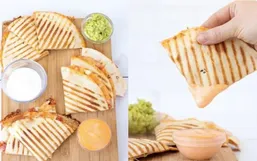 There are countless reasons why chicken is a go-to food for every meal.
Worried you're spending too much money on takeout? You're not alone!
Are you tired of making the same meals over and over again? Perhaps you're feeling uninspired in the kitchen.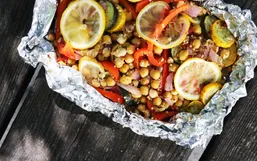 As someone who now eats a mostly plant-based diet, I've found myself stumped on how to enjoy BBQ meals this summer.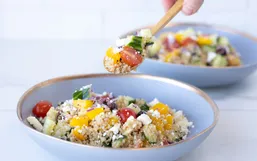 Enjoy the fresh flavors of Mediterranean cooking that will have you dreaming of lounging next to the sea without having to fly...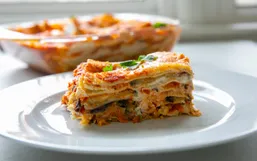 Many people today don't want the fuss of preparing meals with numerous ingredients and processes.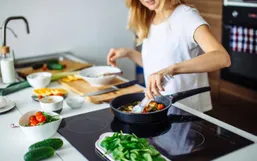 Cooking and eating with loved ones is one of life's greatest pleasures, but choosing what to cook isn't always easy.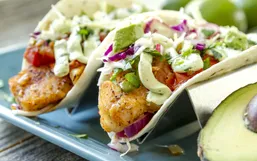 Let's face it, we all live busy lives and with those busy nights come stressful dinner times.
Easter is less than a week away and men and women everywhere are eagerly searching for the best Easter dinner ideas online.
Whether you're throwing a party or just hanging out at home, appetizers are an easy way to add variety to your meals and make them...
I can only imagine what it must have been like when the microwave was invented.
I love cooking with chicken. It's a go-to grocery store item that I absolutely must have in my shopping cart.