There's no need to stand over a stove for hours or spend a fortune on ingredients to make delicious desserts. Knowing a few simple recipes and clever shortcuts can help you achieve great results in a relatively short time, even if you have limited equipment or a tight budget. In fact, with the right recipe you can make most of your favorite sweet treats using just five ingredients or less. There are even ways to whip up irresistible desserts without a mixer or oven!
We've listed 12 of the most tempting and decadent dessert recipes that even beginners can tackle confidently, including no-bake options, gluten-free and vegan ideas. From showstoppers to classics, there's a recipe on this list to satisfy any sweet tooth.
1. Quick Chocolate Mousse
Chocolate mousse is a surefire crowd-pleaser, but it can be tricky to achieve the right consistency using egg whites or gelatin as a setting agent. This incredibly easy chocolate mousse recipe from Kitchen Cents requires just three ingredients and takes five minutes to prepare.
The secret to making this simple chocolate mousse is chilled heavy whipping cream, which whips to a pleasantly airy and creamy texture. Adding icing sugar and cocoa powder gives the dessert a rich flavor that satisfies any chocolate craving. You can pipe the mixture into individual ramekins with a star nozzle to achieve an Instagram-worthy dessert.
2. Apple Berry Dump Cake
Dump cakes are the ideal solution for creating an impressive dessert in a hurry because you can simply dump all the ingredients straight into the baking dish. You don't even need to mix them — just pop the tin into the oven, and get on with the rest of your meal prep while dessert bakes.
This five-ingredient apple berry dump cake from Taste.com takes seconds to throw together and just 40 minutes to bake. It jazzes up a coconut-flavored packet cake mix with juicy raspberries, stewed apples and chocolate chips to make a comforting cake that goes well with whipped cream or ice cream.
3. One-Ingredient Banana Ice Cream
Homemade ice cream is a great way to impress guests, but all that churning makes it a time-consuming (and carpel tunnel inducing) recipe to get right. This one-ingredient banana ice cream recipe from the New York Times is a fail-safe way to make delicious, healthy, dairy-free ice cream without a machine. It takes around six hours to freeze the bananas, but it only requires a couple of minutes to blitz them in a blender before serving.
The recipe calls for just one ingredient — the banana – making it naturally vegan and gluten-free. Once you've mastered the basic recipe, you can add your own twist by blending peanut butter or chocolate hazelnut spread into the frozen bananas or sprinkling on some chocolate chips or chopped nuts.
4. Condensed Milk Chocolate Truffles
Chocolate truffles are the ultimate luxurious conclusion to a dinner party, and they're easier to make than you might think. These two-ingredient condensed milk truffles from Taste.com require just two steps. Simply heat canned condensed milk and cocoa powder in a pan, leave the mixture to set in the fridge and roll them into truffle balls.
These simple truffles are ideal for serving with coffee, or give them to a lucky someone as a homemade gift. You can also consider using them to top a chocolate cake for an impressive, low-effort decorative touch.
5. Blender Banana Bread Muffins
Muffins are delicious as a quick breakfast or served with ice cream as a cupcake-like dessert, especially if you have young kids who don't eat a lot of sugar. Blender muffin recipes, such as this one for five-ingredient banana bread muffins from Don't Waste The Crumbs are ideal when you're in a hurry because the blender does all the hard work for you. This recipe uses oat flour instead of regular wheat flour to make the muffins gluten-free, but check to ensure your oats are labeled gluten-free if you have an intolerance.
You can have this recipe prepared and in the oven in just a few minutes by whizzing eggs, rolled oats, honey, bananas and baking soda together in a blender and then baking for 20 minutes. You can also add half a teaspoon of ground cinnamon to give the muffins a comforting, spiced flavor or a handful of chocolate chips for added sweetness.
6. Chocolate Brownies
These straightforward five-ingredient brownies from Blue Bowl Recipes are incredibly quick to make, and you don't even need a mixer to get great results. All you need is a large mixing bowl, a wooden spoon and a baking pan to get started. The recipe calls for just five ingredients: butter, sugar, eggs, flour and cocoa powder.
Once you've mastered the basic recipe, there are plenty of ways to customize these delicious brownies and transform them into an impressive dessert. Consider mixing chopped nuts or chocolate chips into the batter before baking, or add your favorite frosting on top before serving.
7. Strawberry Yogurt Popsicles
Popsicles are the ultimate low-fuss, low-effort dessert for summer, and you can achieve the creaminess of real ice cream without the churning by using Greek yogurt. This three-ingredient strawberry yogurt popsicle recipe from Little Broken combines blended strawberries, Greek yogurt and honey to create a dessert that's as pretty as it is delicious.
There are plenty of ways to riff on the theme of frozen yogurt popsicles and create your own unique desserts. Consider swapping the strawberries for other fruits or adding chopped berries to the mixture. You can also use flavored or low-fat yogurt instead of Greek yogurt if you prefer.
8. Fresh Strawberry Pie
Making pastry from scratch is notoriously challenging to get right, but you can bake delicious tarts and pies using ready-made pie shell without compromising on taste. This easy fresh-strawberry pie recipe from Taste of Home calls for just five ingredients and makes a delightful summery dessert served with cream or ice cream.
You can make this pie dinner party-worthy by slicing the strawberries and arranging them in a pattern on top of the blind-baked pie crust. However, you can also use whole strawberries if you're preparing the recipe in a hurry.
9. Black Forest Trifle
This easy five-ingredient black forest trifle recipe from Happy Hooligans provides all the rich flavors of the classic gateaux without the fiddly prep. It's the ideal solution if you need to prepare a show stopping dessert in a rush because it involves virtually zero prep — simply layer five pre-made ingredients in a serving bowl.
This black forest trifle makes a great potluck dinner contribution if you prepare it as suggested in a large serving bowl. However, you can also arrange the layers in individual ramekins or cocktail glasses to create dinner party desserts in minutes.
10. Southern Fried Apples
Fried apples are a perennial favorite, and you can have this classic comfort food on the table in under 10 minutes. This Southern fried apple recipe from All Recipes calls for just four ingredients — peeled and sliced cooking apples, butter, sugar and cinnamon.
This recipe is well worth adding to your dessert arsenal because it's incredibly versatile. It works beautifully as a quick dessert with ice cream, whipped cream or custard. However, it also makes a delicious topping for yogurt and breakfast cereal.
11. Fruit Granita
Granita is a fresh, zesty Italian dessert that's similar to sorbet. However, you break the mixture up with a fork instead of churning it as it freezes, giving it a pleasant, flaky texture similar to snow. This granita recipe from Kitchn explains how to make refreshing granita from any fresh fruit, fruit juice and sugar.
The beauty of knowing how to make granita is that it's a great way to use up any leftover fresh fruit you have hanging around in your fruit bowl, and you can adapt the recipe to suit your taste once you've mastered the basics. It makes an elegant, low-calorie dessert or palate cleanser between courses.
12. No-Bake Cheesecake
No-bake cheesecakes are an easy way to add a show stopping finale to a meal, and they're also a lot easier to get right than their baked counterparts. This five-ingredient no-bake cheesecake recipe from All Recipes uses frozen whipped topping and condensed milk to set the filling and give the cheesecake a decadently sweet flavor.
This recipe is straightforward for beginners because you can use a store-bought graham cracker crust. Alternatively, you can use mini crusts to create dainty individual servings.
Delicious Desserts Anytime
Taking the time to learn to make a few simple five-ingredient sweet recipes means you're never stuck for ideas when you need a last-minute dessert. You can make your life easier by keeping your kitchen stocked with the essential ingredients and investing in a blender to cut down on preparation. Any of the above recipes are a surefire way to impress guests or treat yourself to a comforting favorite without hard-to-find ingredients or expensive equipment.
Mmmm, lemon desserts are my favorite (next to chocolate of course)!
Ice cream cakes are absolutely to DIE for. Have you heard of ice cream pies though?
Peach season is the best season! It's such a sweet and juicy fruit that is perfect for a day at the beach or in the place of a...
Marshmallows are often a symbol of our childhood in the summer. Roasting marshmallows over a bonfire with friends and family, then...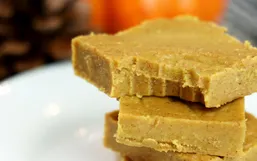 When I was a kid, fudge was something that so rich and decadent it came around maybe once a year.
When we crave chocolate, rarely do our minds first go to white chocolate. Why is that?
Have you offered to bring a dessert to a dinner party or family gathering before and then realized a few hours before the get...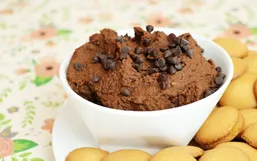 Hummus has forever been a protein-rich dip for your veggies and chips, a spread on your greek wraps and much more.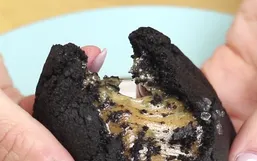 So another year has passed and your little trick or treaters have come home with a sack full of candy, and right at the bottom is...
I've never deep-fried anything at home before...until now. Deep-frying looked and sounded intimidating, and I had (wrongfully)...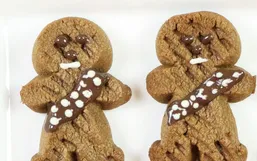 Okay so we cheated a little bit with this recipe and used pre-made AND pre-cut gingerbread boy cookie dough.
When it comes to brownies, it's rare to find someone that can resist them.