Who doesn't love a rich, chocolatey, gooey brownie?! They're delicious and comforting and great with a bowl of vegan ice cream. I'll admit my weakness has always been home-baked desserts, but in recent years (as I find my metabolism is a little too honest) finding ways to turn my favorites into healthy versions of their old selves have become a challenge I just can't let go of.
These chewy, gooey brownies are refined sugar-free (win!), gluten-free, AND vegan! But you won't even notice what it doesn't have in it when you taste how delicious these few simple, clean ingredients are.
Plus, they're packed with protein to keep you moving all (Valentines) day long.
So whip up a batch of these babies for you and your honey, whether you'll be enjoying them on the couch with some Netflix or as a quick treat to fuel your Valentines workout!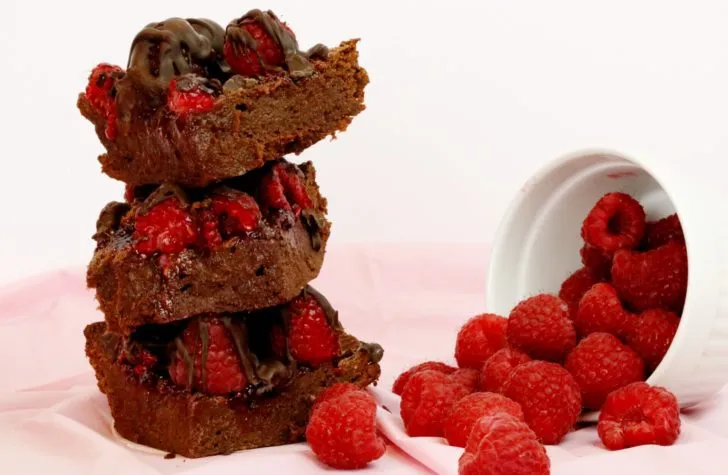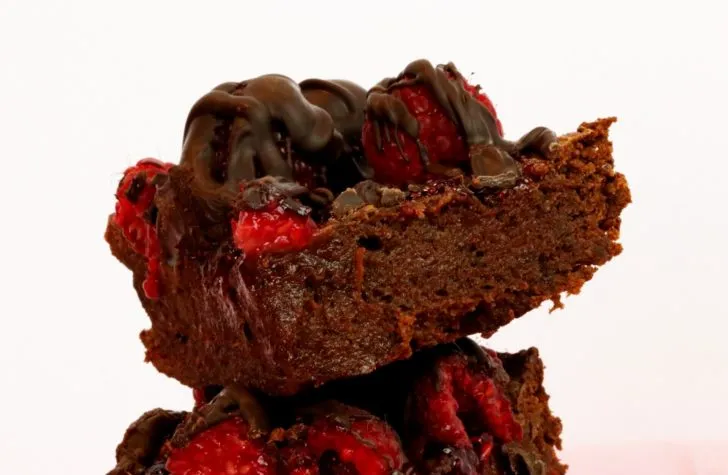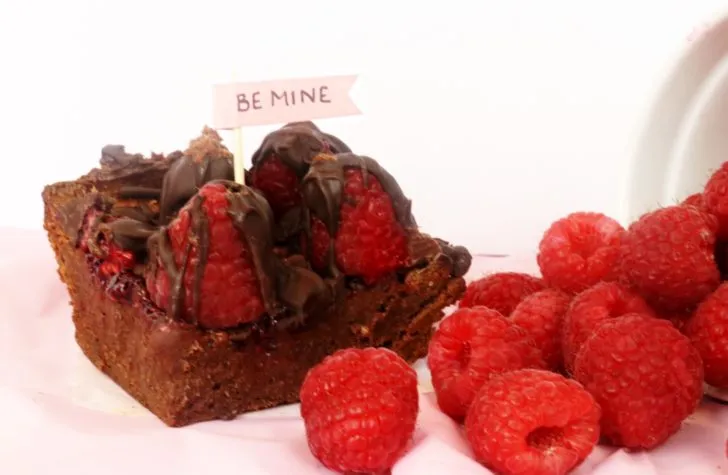 Ingredients
2 cups pitted Medjool dates
4 tbsp melted coconut oil
4 tbsp maple syrup
4 tbsp cacao nibs or powder
1 cup almond flour
1 cup vegan chocolate protein powder
3/4 cup vegan raspberry jam or preserves
1 cup fresh raspberries
3/4 cup vegan dark chocolate
Equipment
Food Processor
Square Baking Dish
Method
Preheat oven to 350°
Add dates, coconut oil, maple syrup, cacao, almond flour, and protein powder to the food processor.
Process until smooth and well combined.
Add the raspberry jam/preserves, reserving about 3 tablespoons. Process until combined.
Press the batter evenly (using a hot or greased metal spoon) into a lined or well-greased baking dish. Top with the remaining jam and swirl into the batter.
Bake for 30-40 minutes until a toothpick comes out mostly clean. The centre will still be a little bit gooey! Let cool.
Top brownies with fresh raspberries and drizzle with melted dark chocolate. Let harden in fridge.
Cut into squares and enjoy right away or store in the fridge for up to a week!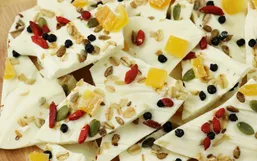 Looking for a healthier version of a chocolate bark? With bulk stores now selling greek yogurt chips, we decided to try our hands...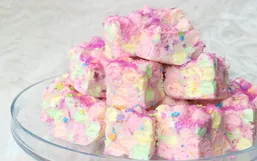 If you've spent any time on the internet at all lately, you may have noticed the growing obsession with rainbows, and pastels and...
We all have those cravings we wish we didn't have. When you're sitting at your desk and all you can think about eating for lunch...
Dessert is just about everyone's favorite part of a meal. All those brownies and cakes can make even the most nutritious person's...
It's wedding season! The dresses are gorgeous, the people are ecstatic and the cupcakes are show stopping.
When the weather gets warm, the kids come outside to play, the birds start singing, and we are suddenly hot again!
Each summer, parties are happing in the street, at the park or on the water.
Summer desserts are always a good idea, especially when they are pre-portioned so you don't overeat all that delicious sugar!
Happy National Sugar Cookie Day! If you were looking for an excuse to make a batch of these chewy, heavenly wonders, this is a...
Rainbow foods are all the rage right now and we aren't mad at it! Rainbows make everyone feel good and can often fill your plate...
Happy National Pecan Pie day! Pecan Pie is one of those desserts you either love or hate.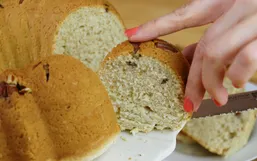 Ever come home from the store and unloaded your bags and had the devastating realization that your tub of ice cream was left too...