When you think of a warm day, what flavors come to mind? Maybe some BBQ flavors like hamburgers, hot dogs and grilled veggies. For dessert, I always love a good citrus dessert that is both refreshing and sweet! Key Lime is the best flavor for summer desserts and can be served up in so many ways. From a basic fruit salad with a little extra flavor to your classic key lime pie, these recipes are simple and refreshing – perfect for summer days!
1. Frozen Key Lime Pie On A Stick
Why serve up a regular pie, when you can make a memorable frozen treat for you and your friends? Not only is this key lime pie to die for, but it's coated in chocolate! Does it get better than this?
http://www.thekitchn.com/everything-you-need-in-life-frozen-key-lime-pie-on-a-stick-delicious-links-217081 Photos and Recipe By: The Kitchn
2. Key Lime Eclair Cake
Between thin layers of cake is creamy frosting with a tangy flavor and is best served with a few slices of fresh lime on the side.
http://thissillygirlslife.com/2016/05/key-lime-eclair-cake/ Photos and Recipe By: This Silly Girls Life
3. Key Lime Mousse Tart
Looking to create something beautiful? This mousse tart is absolutely wonderful to make and easy to customize the toppings to make it the perfect kind of Instagram-worthy tart.
https://www.garlicandzest.com/key-lime-mousse-tart/ Photos and Recipe By: Garlic and Zest
4. Key Lime Trifle
Less about the look and more about the flavor? This trifle consists of messy layering and all kinds of flavor! The best part is, it feeds an army!
http://www.hollyscheatday.com/key-lime-trifle/ Photos and Recipe By: Hollys Cheat Day
5. Key Lime Pie Bars
These key lime pie bars are easy to transport to get togethers and are light enough to give you that kick of sweet without making you feel like you're in a sugar coma.
https://lilluna.com/key-lime-pie-bars/ Photos and Recipe By: Lil Luna
6. Mini Key Lime Cheesecake
Cutting a cheesecake can get messy, so instead, create pre-portioned cakes that are easy to hand out and look so cute when topped with whipped cream and lime slices.
https://www.livewellbakeoften.com/mini-key-lime-cheesecakes/ Photos and Recipe By: Live Well Bake Often
7. Key Lime Chia Pudding
Kick off your day with a flavorful and tart treat for breakfast! Chia seeds are so healthy and make a deliciously healthy pudding.
http://www.blissfulbasil.com/key-lime-pie-chia-pudding/ Photos and Recipe By: Blissful Basil
8. Key Lime Cupcakes
Celebrating a birthday? Or maybe saying goodbye to summer? This cupcake recipe tastes every bit like a tropical vacation while also sitting pretty.
http://www.lifeloveliz.com/2015/04/23/key-lime-cupcakes/#_a5y_p=3689658 Photos and Recipe By: Life Love Liz
9. Key Lime Coconut Energy Bites
Pack a container of these healthy treats that will fill your hungry belly and give you the energy you need to get through your errands or a long day at work!
http://www.spoonfulofflavor.com/2014/01/27/key-lime-coconut-energy-bites/ Photos and Recipe By: Spoonful Of Flavour
10. Creamy Key Lime Fruit Salad
Pack all your fruits into one serving and coat with a creamy key lime topping that takes fruit salad from "pretty good" to "this is amazing!".
https://www.countrysidecravings.com/creamy-key-lime-fruit-salad/ Photos and Recipe By: Countryside Cravings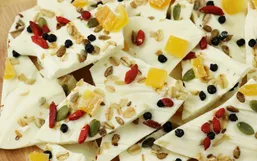 Looking for a healthier version of a chocolate bark? With bulk stores now selling greek yogurt chips, we decided to try our hands...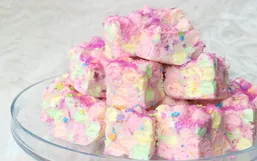 If you've spent any time on the internet at all lately, you may have noticed the growing obsession with rainbows, and pastels and...
We all have those cravings we wish we didn't have. When you're sitting at your desk and all you can think about eating for lunch...
Dessert is just about everyone's favorite part of a meal. All those brownies and cakes can make even the most nutritious person's...
It's wedding season! The dresses are gorgeous, the people are ecstatic and the cupcakes are show stopping.
When the weather gets warm, the kids come outside to play, the birds start singing, and we are suddenly hot again!
Each summer, parties are happing in the street, at the park or on the water.
Summer desserts are always a good idea, especially when they are pre-portioned so you don't overeat all that delicious sugar!
Happy National Sugar Cookie Day! If you were looking for an excuse to make a batch of these chewy, heavenly wonders, this is a...
Rainbow foods are all the rage right now and we aren't mad at it! Rainbows make everyone feel good and can often fill your plate...
Happy National Pecan Pie day! Pecan Pie is one of those desserts you either love or hate.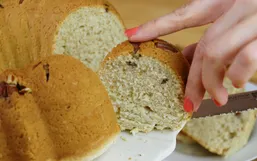 Ever come home from the store and unloaded your bags and had the devastating realization that your tub of ice cream was left too...