When the weather gets warm, the kids come outside to play, the birds start singing, and we are suddenly hot again! Whether you're by the pool, on a beach or in an office, we always love any chance we get to have a frozen treat. Instead of reaching for a typical store bought kind, why not make some at home that are extra special? You can make popsicles out of just about any flavor you love, so get creative! We've found some lovely little recipes that will bring your temperature down, satisfy your tastebuds and will look amazing on your Instagram feed! Let's get Poppin'!
1. Coconut Popsicles
Coconut is the fruit of the south and is a great flavor in your home made popsicle. You'll be cooled off in no time and out in the sun once again!
http://littlespicejar.com/coconut-popsicles-paletas-de-coco/ Photos By: Little Spice Jar
2. Smashed Berry-Lime-Coconut Yogurt Ice Pops
These sweet pops have real smashed berries in them, unlike many store bought brands that have artificial flavoring. Pick the better option and smash those berries yourself!
http://www.dessertsforbreakfast.com/2012/06/smashed-berry-lime-coconut-yogurt-ice.html Photos By: Dessert For Breakfast
3. 5-Ingredient Vegan Magical Fudgesicles
These are the most creative popsicles we've ever seen, and they may be our favorite because they include the words "fudge" and "vegan". Sprinkle with some coconut flakes, chia seeds and anything else that comes to mind. Enjoy!
https://www.bloglovin.com/blogs/my-new-roots-4586769/5-ingredient-magical-fudgesicles-4933694451 Photos By: Blog Lovin'
4. Raspberry Lemonade Yogurt Popsicles
These popsicles will be a little sweet and a little sour. Lemon is such a refreshing fruit and it does an amazing job refreshing you in popsicle form.
http://www.cookiedoughandovenmitt.com/raspberry-lemonade-yogurt-popsicles/ Photos By: Cookie Dough and Oven Mitt
5. Lavender Lemonade Pops
I'm obsessed with lavender. I simply can't get enough of it. So the ability to freeze and eat it on a hot summer day makes me so excited. It's a natural recipe that will please a crowd of tastebuds!
http://www.saltandlavender.com/lavender-lemonade-popsicles/ Photos By: Salt and Lavender
6. Lava Flow Popsicles
With the help of a little pineapple and strawberries, this popsicle is oh so sweet! Get ready to be reaching for seconds with this scrumptious pop.
http://www.onelovelylife.com/lava-flow-popsicles/ Photos By: One Lovely Life
7. Honey Chamomile Popsicles
For those of us who love subtle, natural flavors, this popsicle is for you. Be sure to include some edible flowers in this one to make it even more beautiful.
https://vanillaandbean.com/honey-chamomile-popsicles/ Photos By: Vanilla and Bean
8. Blackberry Lavender Popsicles
The color! The flavor! Does it get better? These lollies are going to be a hit with those foodies who are looking for a twist on an average popsicle recipe.
http://tutti-dolci.com/2016/06/blackberry-lavender-popsicles/#comment-28858 Photos By: Tutti Dolci
9. White Chocolate Drizzled Peach Popsicles
Whip out your phones are get ready to do all the Instagram-ing! Not only are these little guys presented well, but they are perfectly drizzled in white chocolate. Make these when peaches are in season for the ultimate sweet, peachy flavor.
http://www.studiobicyclette.com/blog/white-chocolate-peach-popsicles Photos By: Studio Bicycle
10. Chocolate Chip Mint Greek Yogurt Pops
These Chocolate Chip Mint Greek Yogurt Pops pack some serious protein and are drizzled in everyone's favorite food – chocolate! I would love to serve these as an alternative to a birthday cake at a kids birthday party for an inventive approach to children's parties.
http://www.countrycleaver.com/2015/06/chocolate-chip-mint-greek-yogurt-pops.html Photos By: Country Cleaver
11. Matcha White Chocolate Pistachio Creamsicles
Make this uber gourmet popsicles for someone who is a major foodie. It will blow them away and have them taking photos of this amazing treat!
http://www.nutritionistinthekitch.com/matcha-white-chocolate-pistachio-creamsicles-dairy-gluten-free/ Photos By: Nutritionist In The Kitchen
12. Dirty Martini Popsicles
End your week with a punch! These popsicles will help you get into the weekend mood with it's savoury flavor.
http://www.forkly.com/recipes/dirty-martini-popsicles/ Photos By: Forkly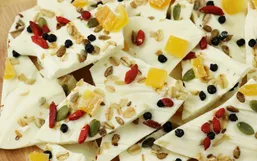 Looking for a healthier version of a chocolate bark? With bulk stores now selling greek yogurt chips, we decided to try our hands...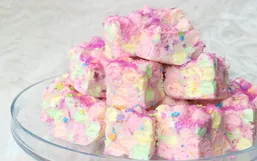 If you've spent any time on the internet at all lately, you may have noticed the growing obsession with rainbows, and pastels and...
We all have those cravings we wish we didn't have. When you're sitting at your desk and all you can think about eating for lunch...
Dessert is just about everyone's favorite part of a meal. All those brownies and cakes can make even the most nutritious person's...
It's wedding season! The dresses are gorgeous, the people are ecstatic and the cupcakes are show stopping.
The official wardrobe swap happened for me this weekend. All my knitted winter sweaters are in storage and my summer sundresses...
Summer desserts are always a good idea, especially when they are pre-portioned so you don't overeat all that delicious sugar!
Happy National Sugar Cookie Day! If you were looking for an excuse to make a batch of these chewy, heavenly wonders, this is a...
Avocados are an amazing food to incorporate into breakfast, lunch and dinner, but what about dessert?
Happy National Pecan Pie day! Pecan Pie is one of those desserts you either love or hate.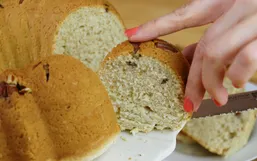 Ever come home from the store and unloaded your bags and had the devastating realization that your tub of ice cream was left too...
Baking a cake for a special occasion is never a bad idea, especially when you can make it look Pinterest worthy and super yummy.