What's better than a pie? A turnover! Why? Because a pie is made for a group of people, while turnovers are made especially for you! Fill them up with all the fresh berries of summer, and when fall comes around you can slice up some apples and sprinkle a little cinnamon for that harvest-themed taste. This weekend, try making turnovers from scratch. The fruity aroma that will fill your kitchen will draw in your family from the yard and have them biting into a warm turnover in no time. It could even become your new signature dessert.
1. Rustic Berry Turnover
This traditional turnover is best served with a cup of tea while you relax in a Muskoka chair at the cottage.
http://www.thatskinnychickcanbake.com/rustic-berry-turnovers/ Photos and Recipe By: That Skinny Chick Can Bake
2. Blueberry Lemon Turnover
This tangy, sweet flavor combination is perfect for wrap up the summer and can be served with a tall glass of iced sweet tea.
http://www.shugarysweets.com/2016/11/blueberry-lemon-hand-pies Photos and Recipe By: Shugary Sweets
3. Apple Turnover
Mmm, the traditional yet timeless approach to a turnover. Packed full of apples and sweetness, the turnover will warm your heart and belly.
https://www.browneyedbaker.com/apple-hand-pies/ Photos and Recipe By: Brown Eyed Baker
4. Rhubarb Cream Cheese Turnover
Not only is this a fantastically delicious turnover, but it's creamy as well!
https://joanne-eatswellwithothers.com/2014/05/rhubarb-cream-cheese-hand-pies.html Photos and Recipe By: Joanne Eats Well With Others
5. Super Easy Cherry Turnover
Don't know what to do with all those cherries you bought when they were in season? These turnovers are the perfect excuse to make a sweet treat!
http://www.iwashyoudry.com/super-easy-cherry-turnovers/ Photos and Recipe By: I Wash You Dry
6. Peach Hand Turnover
When life is peachy, make turnovers!
https://www.savingdessert.com/peach-hand-pies/ Photos and Recipe By: Saving Dessert
7. Blueberry Turnover
Create this lovely blueberry turnover instead of blueberry muffins for a sweet change!
http://bakerbynature.com/blueberry-hand-pies/ Photos and Recipe By: Baker By Nature
8. Raspberry Cream Cheese Turnover
Smothered with creamy goodness, this raspberry turnover is anything but average. In case it wasn't sweet enough, this turnover is dusted with icing sugar to not only taste good, but also to look pretty.
http://www.countrycleaver.com/2016/05/easy-raspberry-cream-cheese-turnovers.html Photos and Recipe By: Country Cleaver
9. Chocolate Strawberry Nutella Turnover
You either love Nutella…or you can't have it because you're allergic like me. Basically everyone will love this turnover.
https://www.livewellbakeoften.com/chocolate-strawberry-nutella-turnovers/ Photos and Recipe By: Live Well Bake Often
10. Vanilla Cardamom Pear Turnover
Try a gourmet turnover for the foodie in the crowd! With the twist of vanilla and cardamom, this pear turnover is unpredictable!
http://www.anediblemosaic.com/vanilla-cardamom-pear-hand-pies/ Photos and Recipe By: An Edible Mosaic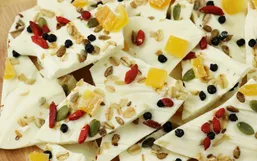 Looking for a healthier version of a chocolate bark? With bulk stores now selling greek yogurt chips, we decided to try our hands...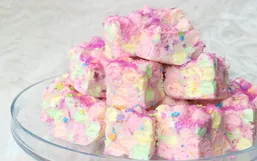 If you've spent any time on the internet at all lately, you may have noticed the growing obsession with rainbows, and pastels and...
We all have those cravings we wish we didn't have. When you're sitting at your desk and all you can think about eating for lunch...
Dessert is just about everyone's favorite part of a meal. All those brownies and cakes can make even the most nutritious person's...
It's wedding season! The dresses are gorgeous, the people are ecstatic and the cupcakes are show stopping.
When the weather gets warm, the kids come outside to play, the birds start singing, and we are suddenly hot again!
Each summer, parties are happing in the street, at the park or on the water.
Summer desserts are always a good idea, especially when they are pre-portioned so you don't overeat all that delicious sugar!
Happy National Sugar Cookie Day! If you were looking for an excuse to make a batch of these chewy, heavenly wonders, this is a...
Rainbow foods are all the rage right now and we aren't mad at it! Rainbows make everyone feel good and can often fill your plate...
Happy National Pecan Pie day! Pecan Pie is one of those desserts you either love or hate.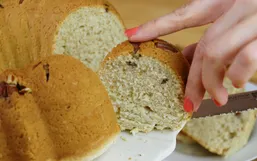 Ever come home from the store and unloaded your bags and had the devastating realization that your tub of ice cream was left too...