Happy National Pecan Pie day! Pecan Pie is one of those desserts you either love or hate. Today, we are calling out to all those pecan pie lovers to check out all the different ways you can serve up Pecan Pie to your friends family on National Pecan Pie day. While a pie is always a classic, surprise yourself by making a pecan pie cheesecake, or maybe some shortbread! No matter how you bake up this legendary dessert, it will always pair well with coffee and taste oh so sugary and delicious.
1. Pecan Pie Shortbread
Make your pecan pie portable with this dessert in the form of shortbread!
http://theemotionalbaker.com/2016/12/07/pecan-pie-shortbread-cookies/ Photos and Recipe By: The Emotional Baker
2. Pecan Pie Cupcakes
Do you know someone who LOVES pecan pie? For their birthday, bake these adorable cupcakes to celebrate their favorite flavor.
http://thetoughcookie.com/2016/10/09/pecan-pie-cupcakes-pecan-pie-ermine-buttercream/ Photos and Recipe By: The Tough Cookie
3. Pecan Pie Trifle
What's better than pecan pie? Pecan Pie Trifle! Topped with a little cream and chocolate, this rich dessert will satisfy a variety of sweet cravings.
http://celebrationsathomeblog.com/pecan-pie-trifle-recipe/ Photos and Recipe By: Celebrations At Home
4. Pecan Caramel Bars
Keep a batch of these pecan caramel bars in the freezer for whenever you have some unexpected guests drop by for supper or dessert.
http://www.thenovicechefblog.com/2016/11/pecan-caramel-bars/ Photos and Recipe By: The Novice Chef
5. Pecan Pie Tarts
Need a little portion control? These pies are so cute and help you manage your sweet tooth.
http://houseofyumm.com/pecan-pie/ Photos and Recipe By: House of Yumm
6. Pecan Pie
Ah, the classic pecan pie. It will always hold a special place in our dessert hearts and can be enjoyed for any occassion.
http://www.ifyougiveablondeakitchen.com/2014/11/26/pecan-pie/ Photos and Recipe By: If You Give A Blonde A Kitchen
7. Pecan Pie Cheesecake
My in-laws love two things more than anything: cheesecake and pecan pie. So this deadly combination is perfect!
https://sweetiestplate.blogspot.com/2016/11/pecan-pie-cheesecake.html Photos and Recipe By: Sweetiest Plate
8. Maple Pecan Pumpkin Pie
When you can't decide what pie you want, combine everything! This pie has maple, pumpkin and pecan so you can't miss out on any dessert.
http://www.thewholesomedish.com/maple-pecan-pumpkin-pie/ Photos and Recipe By: The Wholesome Dish
9. Caramel-Pecan Hand Pies
This hand pie could actually be suitable to serve at brunch in addition to being an after supper dessert.
https://thecafesucrefarine.com/caramel-pecan-hand-pies/ Photos and Recipe By: The Cafe Sucre Farine
10. Pecan Log Roll
When you just love the filling, a log roll is perfect! It's definitely a slice of pecan heaven.
http://thisgirlslifeblog.com/2016/04/pecan-log-roll-recipe.html Photos and Recipe By: The Girl's Life Blog
11. Vegan Pecan Pie Snack Bites
Craving a little dessert for a snack? These snack bites are the perfect option!
http://www.forkly.com/recipes/vegan-pecan-pie-snack-bites/ Photos and Recipe By: Forkly
12. Dairy-Free Pecan Pie Overnight Oats
Have pecan pie for breakfast! Pecan Pie doesn't have to be limited to dessert!
http://www.forkly.com/recipes/dairy-free-pecan-pie-overnight-oats/ Photos and Recipe By: Forkly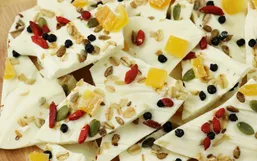 Looking for a healthier version of a chocolate bark? With bulk stores now selling greek yogurt chips, we decided to try our hands...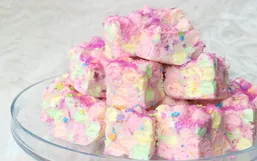 If you've spent any time on the internet at all lately, you may have noticed the growing obsession with rainbows, and pastels and...
We all have those cravings we wish we didn't have. When you're sitting at your desk and all you can think about eating for lunch...
Dessert is just about everyone's favorite part of a meal. All those brownies and cakes can make even the most nutritious person's...
It's wedding season! The dresses are gorgeous, the people are ecstatic and the cupcakes are show stopping.
When the weather gets warm, the kids come outside to play, the birds start singing, and we are suddenly hot again!
Each summer, parties are happing in the street, at the park or on the water.
Summer desserts are always a good idea, especially when they are pre-portioned so you don't overeat all that delicious sugar!
Happy National Sugar Cookie Day! If you were looking for an excuse to make a batch of these chewy, heavenly wonders, this is a...
Rainbow foods are all the rage right now and we aren't mad at it! Rainbows make everyone feel good and can often fill your plate...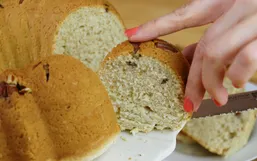 Ever come home from the store and unloaded your bags and had the devastating realization that your tub of ice cream was left too...
Baking a cake for a special occasion is never a bad idea, especially when you can make it look Pinterest worthy and super yummy.