We are HUGE fans of the no-bake energy bites here at Forkly. We understand the need and importance of a few factors when it comes to homemade goods for those with a busier lifestyle. Anything within the realm of QUICK, EASY and HEALTHY, is exactly what we love to aim for.
So yes, we've made a few of these little energy balls from inspired by some of our favorite not-so-healthy desserts such as Cake Batter, Pecan Pie and Carrot Cake.
When we made these, we knew they would be delicious with the ingredients we were making them from, but we did not anticipate just how FUDGY they would be. Let alone a near exact taste of brownie batter.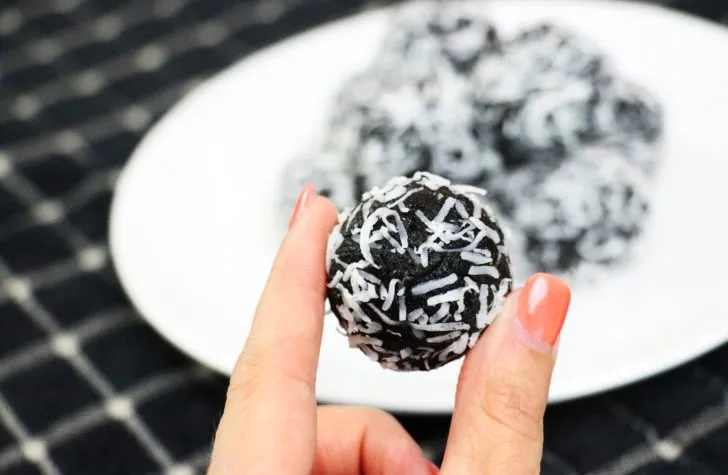 We made these with no added sugar, and all healthy, natural ingredients. So it's an indulgence you can actually feel good about!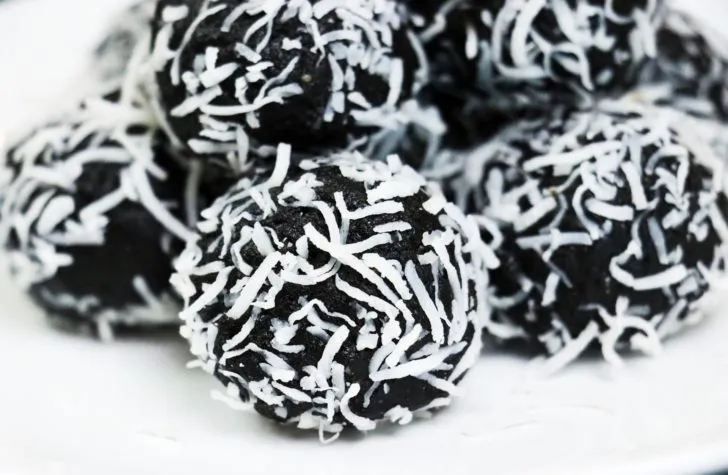 Packed with proteins and completely dairy-free, gluten-free, and vegan.
Ingredients
1 cup medjool dates, pitted
1/2 cup raw walnuts
1/2 cup raw almonds
1/4 cup unsweetened black cocoa powder (can substitute for regular cocoa powder)
1/2 cup flaked coconut (divided in half)
1.5 tsp vanilla extract
1 tbsp almond milk (can substitute for water)
Equipment
Food Processor
Cookie dough scoop or tbsp
Method
Add all of your ingredients into a food processor (except for one half of your flaked coconut, save for rolling!).
Combine at a med-high speed for 2+ minutes, or until the mixture begins to bind and ball.
Using a cookie dough scoop or tbsp measuring cup, scoop the mixture and hand roll into ball form and then immediately begin rolling in the flaked coconut.
Chill and store in the refrigerator until ready to enjoy. Will last 2-3 weeks in the fridge.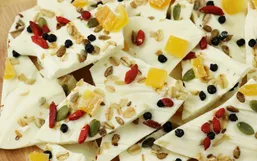 Looking for a healthier version of a chocolate bark? With bulk stores now selling greek yogurt chips, we decided to try our hands...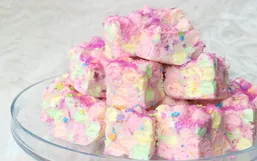 If you've spent any time on the internet at all lately, you may have noticed the growing obsession with rainbows, and pastels and...
We all have those cravings we wish we didn't have. When you're sitting at your desk and all you can think about eating for lunch...
Dessert is just about everyone's favorite part of a meal. All those brownies and cakes can make even the most nutritious person's...
It's wedding season! The dresses are gorgeous, the people are ecstatic and the cupcakes are show stopping.
When the weather gets warm, the kids come outside to play, the birds start singing, and we are suddenly hot again!
Each summer, parties are happing in the street, at the park or on the water.
Summer desserts are always a good idea, especially when they are pre-portioned so you don't overeat all that delicious sugar!
Happy National Sugar Cookie Day! If you were looking for an excuse to make a batch of these chewy, heavenly wonders, this is a...
Rainbow foods are all the rage right now and we aren't mad at it! Rainbows make everyone feel good and can often fill your plate...
Happy National Pecan Pie day! Pecan Pie is one of those desserts you either love or hate.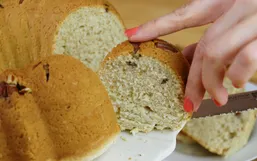 Ever come home from the store and unloaded your bags and had the devastating realization that your tub of ice cream was left too...