Dessert is just about everyone's favorite part of a meal. All those brownies and cakes can make even the most nutritious person's mouth water. Today, we are taking a new approach to dessert: Sugar Free. How do we do that you ask? Well, thanks to many talented bakers and bloggers, we have rounded up some recipes that won't disappoint and won't break your healthy eating streak. Get excited for dessert because you're about to be able to eat it a whole lot more.
1. Raw Strawberry Vegan Cheesecake
Strawberry season is nearing, and we are all about incorporating them into every meal possible! Make this vegan cheesecake for a celebration or just for a regular day.
https://thequeenofdelicious.com/en/raw-strawberry-cheese-cake/ Photos By: The Queen of Delicious
2. Low Carb Fudgy Avocado Brownies
How amazing do these look? They are super rich and covered in so many layers of delicious chocolate and some decorative edible flower petals.
https://www.sweetashoney.co/low-carb-fudgy-avocado-brownie-sugar-free-gluten-free/ Photos By: Sweet As Honey
3. Banana Birthday Cake with Blueberry Cream Frosting
Looking to make a sugar free cake for a special birthday? This cake will help you celebrate without the added grams of sugar! It is so beautiful, you may actually pick this recipe over a regular box cake.
http://www.secretsquirrelfood.com/banana-birthday-cake-layered-with-chocolate-ganache-blueberry-cream/ Photos By: Secret Squirrel Food
4. Low Carb Cheesecake
Nothing like a little cheesecake without the carbs. Make this cheesecake as a fun, summery dessert to serve at a BBQ or dinner party.
https://www.wholesomeyum.com/recipes/low-carb-cheesecake-keto-gluten-free-sugar-free/ Photos By: Wholesome Yum
5. Sugar Free Cheesecake Brownies
Oh man these look so good, they couldn't possibly be good for you! But, guess what…no sugar! You will love the way they make you feel and how good they taste.
http://www.sugarfreemom.com/recipes/sugar-free-cheesecake-brownies-gluten-free-and-low-carb/ Photos By: Sugar Free Mom
6. Strawberry Pie
Another recipe where the strawberries have the spotlight. Don't shy away from making this pie, it's so delicious and definitely won't disappoint.
http://www.momlovesbaking.com/sugar-free-strawberry-pie/ Photos By: Mom Loves Baking
7. Raw Chocolate Pudding
Make dessert look oh so pretty with this oh she glows recipe that will satisfy your sweet tooth and keep you on the healthy eating track. Top with some colorful fruit and nuts!
http://ohsheglows.com/2015/02/02/raw-chocolate-pudding-vegan-no-added-sugar/ Photos By: Oh She Glows
8. S'More Bars
Who doesn't love a good s'more? These little squares will make a big impact on your tastebuds when you taste how incredible they are.
http://alldayidreamaboutfood.com/2016/07/low-carb-smores-bars.html Photos By: All Day I Dream About Food
9. Apple Tart
Get a little artistic when it comes to dessert and create a scrumptious apple tart that will have you reminiscing of your childhood without all that sugar!
http://www.52newfoods.com/sugar-free-apple-tart-recipe/ Photos By: 52 New Foods
10. Raspberry Almond Chocolate Fat Bombs
Fat bombs sound so scary, but they're really not! Skip a chocolate bar and bite into this amazing bark that serves well as a sweet snack when you are craving all the sugar!
https://www.mypcoskitchen.com/raspberry-almond-chocolate-fat-bombs/ Photos By: My PCOS Kitchen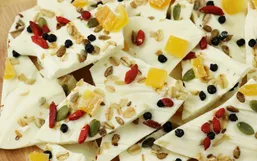 Looking for a healthier version of a chocolate bark? With bulk stores now selling greek yogurt chips, we decided to try our hands...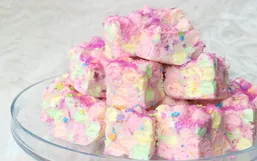 If you've spent any time on the internet at all lately, you may have noticed the growing obsession with rainbows, and pastels and...
We all have those cravings we wish we didn't have. When you're sitting at your desk and all you can think about eating for lunch...
It's wedding season! The dresses are gorgeous, the people are ecstatic and the cupcakes are show stopping.
When the weather gets warm, the kids come outside to play, the birds start singing, and we are suddenly hot again!
The official wardrobe swap happened for me this weekend. All my knitted winter sweaters are in storage and my summer sundresses...
Summer desserts are always a good idea, especially when they are pre-portioned so you don't overeat all that delicious sugar!
Happy National Sugar Cookie Day! If you were looking for an excuse to make a batch of these chewy, heavenly wonders, this is a...
Avocados are an amazing food to incorporate into breakfast, lunch and dinner, but what about dessert?
Happy National Pecan Pie day! Pecan Pie is one of those desserts you either love or hate.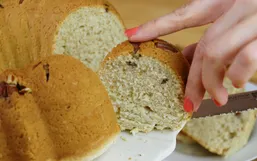 Ever come home from the store and unloaded your bags and had the devastating realization that your tub of ice cream was left too...
Baking a cake for a special occasion is never a bad idea, especially when you can make it look Pinterest worthy and super yummy.