Ice cream cakes are absolutely to DIE for. Have you heard of ice cream pies though? Imagine everything you love in a pie, the delicious crust with tons of flavorful filling, but instead of a traditional fruit filling, it's your favorite ice cream. If I haven't already sold you on this idea, the best way to be convinced that this is your new favorite treat, is to take a read through this article of all the completely delicious and irresistible flavors that are ice cream pies.
1. Lemon Ice Cream Pie
This tangy sweet twist on an ice cream pie is perfect for a hot summer day while you sip on lemonade. Lemons on lemons on lemons!
http://beyondfrosting.com/2015/04/06/lemon-ice-cream-pie/ Photos and Recipe By: Beyond Frosting
2. Chocolate Chip Dough Ice Cream Pie
This is my personal favorite ice cream pie. Filled with chunks of cookie dough, this ice cream pie is flavorful but not too rich so you can maybe even enjoy two slices instead of one.
http://www.creationsbykara.com/2017/05/chocolate-chip-cookie-dough-ice-cream-pie.html/?utm_medium=social&utm_source=pinterest&utm_campaign=tailwind_tribes&utm_content=tribes Photos and Recipe By: Creations By Kara
3. Twix Ice Cream Pie
If your favorite chocolate bar is Twix, this pie will sweep your tastebuds off their feet and take you to another place…probably filled with ice cream and Twix bars.
https://www.twopeasandtheirpod.com/twix-ice-cream-pie/ Photos and Recipe By: Two Peas And Their Pod
4. Fried Ice Cream Pie
When you can't decide between deep fried food and sweets, have both!
http://myincrediblerecipes.com/fried-ice-cream-pie/ Photos and Recipe By: My Incredible Recipes
5. Sprinkle Ice Cream Pie
Pie crusts may not be your favorite part of the pie, but guess what? When it's a Rice Krispie Square crust, it becomes the star of the dessert show!
http://www.rachelcooks.com/2016/07/18/sprinkle-ice-cream-pie-recipe/ Photos and Recipe By: Rachel Cooks
6. Pumpkin Ice Cream Pie
Bite into Autumn with this rich and creamy ice cream pie! It's the perfect transition from summer to fall.
http://www.recipegirl.com/2008/08/28/pumpkin-ice-cream-pie/ Photos and Recipe By: Recipe Girl
7. No Bake Strawberry Cheesecake Ice Cream Pie
Dig into this fruity, sweet, cheesecake flavored ice cream pie. Does it get better than this? No. No it doesn't.
http://www.chelseasmessyapron.com/easiest-strawberry-cheesecake-ice-cream-pie/ Photos and Recipe By: Chelsea's Messy Apron
8. Drumstick Ice Cream Pie
Turn your favorite corner store treat into a pie of perfection.
https://theviewfromgreatisland.com/drumstick-ice-cream-pie/ Photos and Recipe By: The View From The Great Island
9. Peanut Butter Reeses Ice Cream
If you have a weak spot for anything Reese's -related, you will absolutely love this pie!
http://americanheritagecooking.com/2014/08/peanut-butter-reeses-ice-cream-pie-nutter-butter-crust/ Photos and Recipe By: American Heritage Cooking
10. No Bake Ice Cream Pie With A Cookie Crust
Make three different flavors within one perfect cookie crust. Don't forget to add all the sprinkles!
https://www.mysequinedlife.com/no-bake-ice-cream-pie-cookie-crust/ Photos and Recipe By: My Sequined Life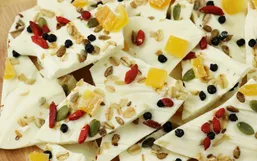 Looking for a healthier version of a chocolate bark? With bulk stores now selling greek yogurt chips, we decided to try our hands...
Mmmm, lemon desserts are my favorite (next to chocolate of course)!
Peach season is the best season! It's such a sweet and juicy fruit that is perfect for a day at the beach or in the place of a...
Marshmallows are often a symbol of our childhood in the summer. Roasting marshmallows over a bonfire with friends and family, then...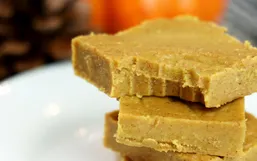 When I was a kid, fudge was something that so rich and decadent it came around maybe once a year.
When we crave chocolate, rarely do our minds first go to white chocolate. Why is that?
Have you offered to bring a dessert to a dinner party or family gathering before and then realized a few hours before the get...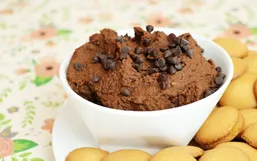 Hummus has forever been a protein-rich dip for your veggies and chips, a spread on your greek wraps and much more.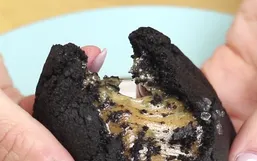 So another year has passed and your little trick or treaters have come home with a sack full of candy, and right at the bottom is...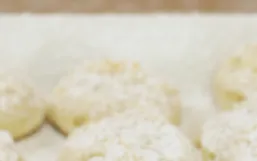 There's something incredibly heartwarming when baking cookies, especially when they are easy to make, and come out perfectly.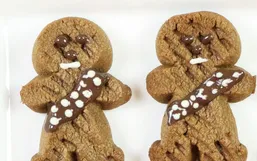 Okay so we cheated a little bit with this recipe and used pre-made AND pre-cut gingerbread boy cookie dough.
When it comes to brownies, it's rare to find someone that can resist them.