When it comes to brownies, it's rare to find someone that can resist them. They're soft, chewy, sometimes gooey, rich, decadent and easy to devour. Who doesn't love a chocolatey square that makes life…well, delicious! Brownies, however, come in many different forms. From bean based (yes, seriously), to peanut butter infused, spicy or rich, there are endless ways to enjoy this classic dessert. If you're a beginner baker, brownies are certainly a great place to start. Why exactly? Well, if you underbake them – they're just extra gooey, if you overbake them – a little extra chewy and crisp. They are nearly foolproof. But don't just reach for the store-bought box! There are so many amazing simple recipes that can make your brownie dreams come true!
1. Pecan Pie Brownies
There's one other dessert in my mind that competes the most with the "ooey-gooey" delicious category of brownies, and that's pecan pie.
Combining the two together is one of the most ingenious ideas, but also the most delicious. There's no going wrong with a recipe like this.
https://realhousemoms.com/pecan-pie-brownies/?utm_campaign=coschedule&utm_source=pinterest&utm_medium=Real%20Housemoms&utm_content=Pecan%20Pie%20Brownies Photos & Recipe HERE: Real Housemoms
2. Thin Mint Brownies
For those who are mint chocolate lovers, there is nothing better than a smooth, cool and creamy thin mint. Especially as a finishing note after dinner.
Try these Thin Mint inspired brownies for a truly decadent spin on the treat.
https://www.sixsistersstuff.com/recipe/2011/04/chocolate-thin-mint-brownies/ Photo & Recipe HERE: Six SIsters Stuff
3. Loaded Oreo Cream Cheese Brownies
Speaking of inspired desserts – how about this top loaded Oreo brownie, complemented by cream cheese?
We're not sure if this is more cheesecake or cookie, but we are taking it! These are truly an over-the-top version of a brownie, but that just makes it all the better. It's chewy, gooey, and all crunchy!
https://www.averiecooks.com/2016/05/loaded-oreo-cream-cheese-brownies.html Photos & Recipe HERE: Averie Cooks
4. White Chocolate Raspberry Cheesecake Brownies
Speaking of cheesecake, how about this cheesecake recipe that's raspberry swirled gorgeously atop a decadent chocolate brownie?
Bring these along to your next gathering and watch as they get completely devoured by your loved ones. These may look like a ton of work, but the recipe is actually fairly simplistic, promising that even the beginner bakers can participate in this one.
https://bakerbynature.com/white-chocolate-raspberry-cheesecake-brownies/ Photos & Recipe HERE: Baker By Nature
5. Easy Cookie Dough Brownies
THIS IS THE HOLY GRAIL OF DESSERTS! That was my exact thought when I came across this recipe. These are the epitome of gooey, topped with something too many breakup victims know too well – cookie dough.
With a recipe split into two layers, the baked brownie bottom and the unbaked cookie dough topper (safe to eat), this is a recipe that say "no thanks" to the icing, and just tops it with something that, you'd likely agree, is soooo much better.
https://kerrycooks.com/easy-cookie-dough-brownies/ Photos & Recipe HERE: Kerry Cooks
6. Sriracha Brownies
When it comes to sweet with heat, these brownies sure do pack a punch! The spice of sriracha sauce lends itself as a warmth in your mouth as you're eating, without you needing to gulp down milk to recover.
The perfect balance between the richness of the chocolate and the chilis blended together in one brownie, will make this a recipe you'll come back to again and again!
https://thecompletesavorist.com/sriracha-brownies Photo & Recipe HERE: The Complete Savorist
7. Mocha Brownies With Cafe Latte Frosting
These coffee infused brownies will remind you of a warm cup of mocha on a cold winter day. The flavors well known for being paired together are of course in perfect complementary fashion to this one recipe.
Not only is the coffee flavor infused throughout the brownie, but the frosting too has a cafe latte taste to it, making this one knock-it-out-of-the-park brownie.
https://www.justsotasty.com/mocha-brownies-cafe-latte-frosting/ Photo & Recipe HERE: Just So Tasty
8. Kitchen Sink Brownies
Why stick to basic when you can truly have it all?
These brownies are topped with pretzels, potato chips, peanut butter cups, cookies and some other ooey-gooey things. When you're looking for a recipe to use up all the stuff in your cupboard – this is the brownie recipe for you.
https://www.tablespoon.com/recipes/kitchen-sink-brownies/a6d155ec-96dc-40e9-b48c-206aaeae83ae?utm_medium=social&utm_source=pinterest&utm_campaign=dessert&utm_content=bake&crlt.pid=camp.yxqsxiftbl0v Photo & Recipe HERE: Tbsp.
9. Brownies On A Stick
This takes brownies away from the ooey-gooey and into a more handheld version that won't cause chocolate covered fingers, a key thing to note especially if you have kids in the house.
These adorably decorated brownie pops are easy to make and decorate to suit the theme of your party or event as well.
https://thesoccermomblog.com/fudge-brownie-popsicles/ Photo & Recipe HERE: The Soccer Mom Blog
10. Avocado Brownies
One of the bigger things to happen in recent years has been the use of healthier ingredients hidden within common recipes. A great way to be health conscious, while you indulge.
Avocados are a natural healthy fat substitute that lends its creamy texture and mild taste to a brownie recipe that will be perfect for those who are looking to have a treat, but would prefer a healthier alternative. Or perhaps, you're a mom who's looking to serve up the healthy stuff without turned up noses from little ones. Whatever way you serve it up, this one is a true hit.
http://www.frugalmomeh.com/2016/04/avocado-brownies.html Photos & Recipe HERE: Frugal Mom Eh
11. Creme Egg Brownies
There's something magical that happens every year just a month or so after the Christmas holidays, far too early for Easter, but no less welcomed…and that's the revival of the Cadbury Creme Egg.
These seasonal treats are the best chocolate treat when seeking that ooey-gooey goal, so switching over to brownie baking, adding these into the mix makes perfect sense. And no, it doesn't have to be Easter to justify eating them.
https://www.cookbakeeat.com/cadbury-creme-egg-brownies-scrumptious-recipe/ Photo & Recipe HERE: Cook Bake Eat
12. Peanut Butter Truffle Brownies
There's no way we could curate a list of the best brownie recipe and not have one be a peanut butter & chocolate fusion variety.
When it comes to food pairings, it truly doesn't get much better than this. With a layer of brownie, a layer of creamy sweet peanut butter and then topped with a chocolate coating? Dear goodness, pass the fork.
https://www.chef-in-training.com/2015/03/peanut-butter-truffle-brownies/ Photo & Recipe HERE: Chef In Training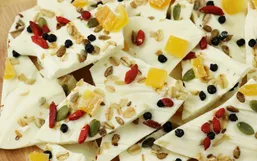 Looking for a healthier version of a chocolate bark? With bulk stores now selling greek yogurt chips, we decided to try our hands...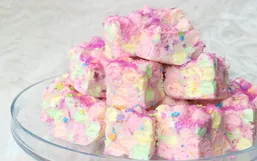 If you've spent any time on the internet at all lately, you may have noticed the growing obsession with rainbows, and pastels and...
We all have those cravings we wish we didn't have. When you're sitting at your desk and all you can think about eating for lunch...
Dessert is just about everyone's favorite part of a meal. All those brownies and cakes can make even the most nutritious person's...
It's wedding season! The dresses are gorgeous, the people are ecstatic and the cupcakes are show stopping.
When the weather gets warm, the kids come outside to play, the birds start singing, and we are suddenly hot again!
Each summer, parties are happing in the street, at the park or on the water.
Summer desserts are always a good idea, especially when they are pre-portioned so you don't overeat all that delicious sugar!
Happy National Sugar Cookie Day! If you were looking for an excuse to make a batch of these chewy, heavenly wonders, this is a...
Rainbow foods are all the rage right now and we aren't mad at it! Rainbows make everyone feel good and can often fill your plate...
Happy National Pecan Pie day! Pecan Pie is one of those desserts you either love or hate.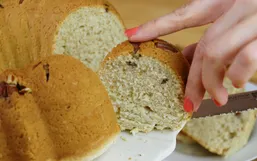 Ever come home from the store and unloaded your bags and had the devastating realization that your tub of ice cream was left too...