Snacks are sneaky foods that can derail our diets, especially when following the keto diet. When those cravings hit, they strike hard and we are often left reaching for the easiest and most accessible snacks. Unfortunately said snacks are often not healthy or are loaded with carbs.
So let's set you up for success and help you stay on track with your keto diet by trying out these quick and easy snacks. They truly are the definition of easy as they all require 5 minutes or less to prepare! Satisfy your belly and quench those cravings guilt-free!
1. Homemade 'Cheetos'
Before you reach for that bag of chips try making these delicious homemade Cheetos! This incredibly easy 5-minute hack combines delicious and nutritious seasonings with a bag of pork rinds.
The seasonings combined with the texture of pork rinds replicate a bag of Cheetos perfectly! Try it once and this addictive snack will become your new favorite.
https://www.gnom-gnom.com/paleo-keto-cheetos/ PHOTOS AND RECIPE HERE: GNOM-GNOM
2. One-Minute Keto Mug Bread
It's hard not to crave bread when following the keto diet but you don't have to give in to your cravings because we've figured out how to make a keto-friendly version. The best part is this keto bread requires 4 ingredients and only a minute of your time!
Simply toss the ingredients into your favorite mug, give it a good stir, and toss it in the microwave. Use the bread to make a delicious keto sandwich or toast it – your choice!
http://www.forkly.com/recipes/one-minute-keto-mug-bread/ PHOTOS AND RECIPE HERE: FORKLY
3. 5-Minute Keto Pizza
I don't know about you but I always crave pizza! Dive into a delicious snack like this keto-friendly pizza and satisfy your belly until your next meal.
You'll love that this keto pizza comes together in just 5 minutes and only has 3.5 net carbs per serving. To help this pizza remain low-carb you'll need a few keto-friendly ingredients such as psyllium husk powder instead of regular flour and a low-sugar tomato sauce!
https://www.ruled.me/5-minute-keto-pizza/ PHOTOS AND RECIPE HERE: RULED.ME
4. Low-Carb Keto Tuna Pickle Boats
Our low-carb tuna pickle boats went viral and for good reason! They're so easy and insanely addictive. This simple idea combines tuna salad with a pickle.
This snack may be simple but it seriously packs a ton of flavor! Share this delicious snack with your friends, bring them to your next party or enjoy it all to yourself, we don't judge!
http://www.forkly.com/recipes/low-carb-keto-tuna-pickle-boats/ PHOTOS AND RECIPE HERE: FORKLY
5. Quick & Easy Charcuterie Kabobs
Looking for a snack that will seriously get your taste buds dancing? These quick and easy charcuterie kabobs will not disappoint. The combination of savory meats with decadent cheeses and fresh veggies will truly satisfy any snack craving.
Charcuterie kabobs is essentially a charcuterie board just perfectly portion for one! Enjoy these on your own or prepare a batch to share with friends!
http://www.forkly.com/recipes/quick-and-easy-party-pleasing-charcuterie-kabobs/ PHOTOS AND RECIPE HERE: FORKLY
6. Mixed Berry Keto Cobbler For One
We've talked about several savory snacks so now it's time to quench that sweet tooth craving! Our sweet berry cobbler is perfect for one, or two if you feel like sharing! It only requires a couple of minutes in the microwave which means you can whip it up in a hurry, especially when those strong cravings hit.
There are a few fruits that are not keto-friendly but thankfully, berries are not one of them. The combination of fresh berries and a keto-friendly sweetener create the perfect sweet flavor you've been searching for.
http://www.forkly.com/recipes/mixed-berry-keto-cobbler-for-one-or-two/ PHOTOS AND RECIPE HERE: FORKLY
7. Keto Almond Flour Chocolate Mug Cake
perhaps you're more of a chocoholic when it comes to sweet snacks. If that's you, give this rich chocolate mug cake a try! This velvety cake cooks in just one minute using a microwave.
Ingredients like almond flour and a keto-friendly sweetener are what make this snack keto-approved. Top the cake with sugar-free chocolate chips or your favorite keto-friendly mix-in's and enjoy!
https://thebigmansworld.com/almond-flour-chocolate-mug-cake/ PHOTOS AND RECIPE HERE: THE BIG MAN'S WORLD
8. 5-Ingredient Keto Mug Lasagna
Lasagna is such a rewarding meal. It's savory flavor, and comforting pasta and cheese are worth all the hype! Unfortunately, traditional lasagna does require a bit of time and effort.
With that in mind, the next time you find yourself craving lasagna, whip together this quick and easy keto-approved mug lasagna! You only need 5 ingredients and about 5 minutes of your time! Considering it's so easy you can enjoy it for a quick snack to tide you over until your next meal.
http://www.forkly.com/recipes/5-ingredient-keto-mug-lasagna/ PHOTOS AND RECIPE HERE: FORKLY
9. One-Minute Keto Cheesy Garlic Mug Bread
Nothing pairs more perfectly with lasagna than garlic bread! We already mastered how to make quick and easy keto bread in the microwave so we wanted to take that one step further and transform it into savory garlic bread.
The results were amazing, and our coworkers were asking for seconds! This savory bread would pair wonderfully with lasagna but it's a delicious treat on its own too.
http://www.forkly.com/recipes/one-minute-keto-cheesy-garlic-mug-bread/ PHOTOS AND RECIPE HERE: FORKLY
10. 5-Minute Keto ice Cream
Prepare to be blown away! Who knew you could have delicious homemade ice cream ready in just 5 minutes! This keto-friendly ice cream is perfectly sweet and irresistibly creamy.
You'll be happy to know that this simple recipe only requires 3 ingredients. Toss the ingredient in a food processor, blend, and enjoy right away!
https://joyfilledeats.com/5-minute-keto-ice-cream-recipe/ PHOTOS AND RECIPE HERE: JOY FILLED EATS
11. Keto Cookie Dough
I don't know about you, but growing up nibbling on cookie dough was one of my guilty pleasures! So go ahead and make your own cookie dough that is actually meant for eating!
This time, it's keto-approved! Each cookie dough ball contains just 2 net carbs so you can dig in guilt-free! Just don't be surprised when your family members try to steal your sweet treat.
https://www.lowcarbspark.com/keto-cookie-dough/ PHOTOS AND RECIPE HERE: LOW CARB SPARK
12. Keto-Friendly Baked Cheese Crisps
When you're craving for chips and dip arises, we've got you covered! Cheese is a great way to boost your fat consumption and that is exactly what these crisps are made out of.
This delicious snack cooks perfectly in the oven in just 5 minutes! Enjoy these crisps on their own or use them to dig into a healthy bowl of guacamole.
http://www.forkly.com/recipes/keto-friendly-baked-cheese-crisps/ PHOTOS AND RECIPE HERE: FORKLY
Following a new diet can be both exciting and daunting and following through with that diet is never easy!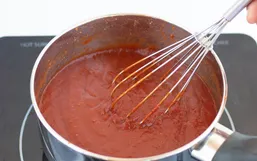 Barbeque sauce is a summer staple, but it's a hard one to get around if you're on the Keto diet since it's generally packed full...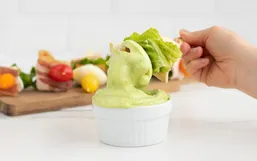 Let me start by answering the question I know you're wondering - "Is this dressing good enough that I should actually take the...
Those of us who are celebrating Halloween are getting ready to carve the pumpkins!
Whether you're throwing a party or just hanging out at home, appetizers are an easy way to add variety to your meals and make them...
I can only imagine what it must have been like when the microwave was invented.
Who loves food? US! And who loves coming home and working in the kitchen after a long day at work? Not us!
These past few months, life has been flying by faster than usual. I make it home in time to whip up something quick for supper and...
One of the best parts about summer is deliciously grilled meals straight from the barbecue.
The last thing we want to do after a busy day is to spend hours in the kitchen prepping, cooking, and cleaning up dinner.
Encouraging your kids to eat more than noodles and sauce can be difficult.
Dealing with picky eaters is never easy. It can be a never-ending battle trying to get them to eat dinner but we're here to put a...