Cooking and eating with loved ones is one of life's greatest pleasures, but choosing what to cook isn't always easy. Having an arsenal of go-to recipes in your toolkit takes the stress out of dinner preparations, especially when it comes to last-minute or impromptu meals.
Continue reading to discover 12 easy meals anyone can whip up on a moment's notice that are sure to delight.
1. Chicken Caesar Pita Wraps
Caesar salad was invented in California by an Italian chef in 1924, and it's as popular as ever today. You can make this stress-free recipe from SweetPhi with romaine lettuce, store-bought dressing, pita, chicken and parmesan cheese in 10 minutes, and the outcome is impressive.
Simply toast the pita breads, slice the chicken and lettuce into bite size pieces and assemble the wraps according to your taste. You can use as much or little sauce as you like and add extra parmesan to make them saltier and cheesier. Less dressing and cheese makes for a lower fat option, while adding more gives the wraps a restaurant-like flavor.
2. Fettuccine Alfredo
This creamy, indulgent pasta recipe from Erren's Kitchen is ideal for days when you're in need of comfort food. It takes just 20 minutes to make and will have everyone asking for seconds, from fussy kids to foodie adults. The secret ingredients are a pinch of nutmeg, fresh garlic and freshly chopped parsley.
For the best results, only cook the pasta until it's al dente, then finish it off in the sauce. Hold back a little pasta water in case it's too thick, and use a tiny amount to loosen the pasta. Always use high-fat cream so you don't need to use a thickener or make a roux.
3. Triple Layer Nachos
As one of America's favorite fast food outlets, there are plenty of people looking to replicate the flavorsome recipes of Taco Bell. These nachos are based on its triple layer nacho recipe from Mashed, and despite only having five ingredients, taste pretty similar to the fast food original.
All you need is a large bag of tortilla chips, a can of refried beans, some nacho cheese sauce or queso dip, milk and taco sauce. Cook time is 10 minutes or less, so you can easily make them after a long day at work or school. Experiment with different brands of cheese sauce until you find the one that you like the most.
4. Sloppy Joes
Rumor has it that sloppy joes were conceived in Iowa by a man named Joe as an evolution of the loose meat sandwiches that were popular in the early 20th century. This easy recipe from Graceful Little Honey Bee is a classic, and it couldn't be any more simple to make. What's more, it's wonderfully tasty and you can make it in under 15 minutes.
There's a good chance you'll have most of the ingredients in your cupboard, but if not you'll be able to get them in the store without spending much at all. Just brown the beef, combine with ketchup, mustard, a little brown sugar and Worcestershire sauce, then place the mix in burger buns and finish with sliced cheese.
5. Chicken Stir Fry
A stir fry is one of the most straightforward healthy meals to make, so if you're looking for a weeknight staple that has all the food groups in one, look no further than this recipe from Mighty Mrs. You have a choice between rice or noodles, depending on what you like best, and the option to pick any mix of stir fry vegetables. If you prefer fresh veg and have a little extra time on your hands, you could also chop your own.
If you use frozen veg, preparation time is only five minutes, and using pre-cooked chicken means you can heat the dish in 10 minutes. The recipe calls for a wok, but you can use any large saucepan if you don't have one. Heat the oil, cook the vegetables for around seven minutes, throw in the chicken and stir for two more minutes, add the sauce and finish by tossing in the noodles.
6. Beef Stew
A warm bowl of beef stew is perfect for fall or winter, and having this five-ingredient recipe from Food.com in your memory bank can make the idea of coming home on a colder evening much more enjoyable. The secret to this easy recipe is a can of mushroom soup, so you don't need to worry about making a stock or toiling over the stove to make a sauce.
7. Sweet Chilli Dogs
As one of the United States' most popular street foods, it only makes sense that you should have a go-to hot dog recipe in your toolkit. This sweet chilli dog recipe from BBC's Good Food has a spicy kick, which can be as mild or hot as you like based on your preferences and the sauce you choose. Roast the sausages, fry the onions and then stir in the sauce and tomato puree for a mouthwatering dish that's ready in less than 10 minutes.
8. Homemade Chicken Soup
Chicken soup is great for when you or your loved ones are feeling a little ill, but it's also a wonderful all-season dish to enjoy any day of the week. This hearty Forkly original recipe tastes great but contains a very manageable number of ingredients, with store-bought broth and four vegetables that only require chopping roughly.
Prep time is around five minutes and the rest of the recipe is as simple as throwing the ingredients together and waiting. Delicious, healthy and warming – perfect for the colder months.
9. Traditional Pork Souvlaki
Pork souvlaki is a Greek staple, and like most street food, its heritage and enduring nature in its native country are testimony to its deliciousness. The word souvlaki means skewer, but those are optional in this traditional recipe from Mashed.
Honey gives the pork a crispy, caramelized crust, and garlic and oregano lift the entire dish. With just six core ingredients, you'll be shocked at how delicious and aromatic the end result is.
10. Chili
Chili is easy to make and so full of flavor that you'll want to make it again and again. This uncomplicated recipe from Gimme Some Oven won't be taxing on your brain, so you can pull it together at a moment's notice no matter how busy your day has been.
With a cooking time of less than half an hour, the dish contains four to six servings, so you can feed a whole family or get it ready on a Sunday as part of your weekly meal prep. Tomatoes, chiles, chili powder and beans form the base, and you can bring extra flavor with toppings like sour cream, cheese, cilantro and scallions.
11. Vegan Chili
Chili is a staple of Mexico and south Texas, but has become a beloved weekday dish around the world. This undemanding vegan recipe from Simple Sweet Vegan tastes amazing and contains five simple ingredients. An onion, bell pepper, fire roasted tomatoes, tri-blend beans and chili powder are all that's required for this hearty, healthy dish. Although if you fancy adding some zing, you can try adding vegan sour cream or cilantro.
12. Baked Mac and Cheese
Finally, it's the all-American staple, mac and cheese. Everyone is bound to have their own version of such a classic, but you'll have friends and family queuing up to ask for this indulgent recipe from Jo Cooks after they try it. It takes only 45 minutes to prepare and cook and includes the additions of smoked paprika and Worcestershire sauce to maximize the flavor from the sharp cheddar and provolone cheese.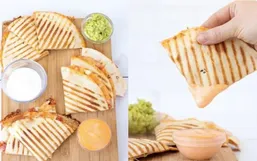 There are countless reasons why chicken is a go-to food for every meal.
Worried you're spending too much money on takeout? You're not alone!
Are you tired of making the same meals over and over again? Perhaps you're feeling uninspired in the kitchen.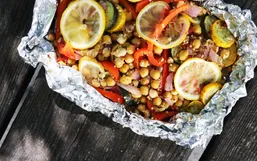 As someone who now eats a mostly plant-based diet, I've found myself stumped on how to enjoy BBQ meals this summer.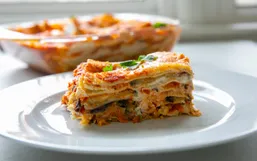 Many people today don't want the fuss of preparing meals with numerous ingredients and processes.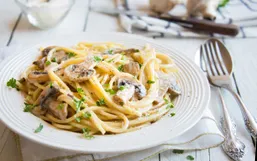 Eating nutritious meals, especially during the week, is a common goal for many people.
Easter is less than a week away and men and women everywhere are eagerly searching for the best Easter dinner ideas online.
Those of us who are celebrating Halloween are getting ready to carve the pumpkins!
Whether you're throwing a party or just hanging out at home, appetizers are an easy way to add variety to your meals and make them...
I love cooking with chicken. It's a go-to grocery store item that I absolutely must have in my shopping cart.
Who loves food? US! And who loves coming home and working in the kitchen after a long day at work? Not us!
These past few months, life has been flying by faster than usual. I make it home in time to whip up something quick for supper and...