A simple chicken parm recipe for even the most inexperienced of chefs. Easily baked all on one sheet pan, this takes minimal effort and energy. It's kind of the best when you serve a hella impressive dinner and it was actually ridiculously easy, right? With chicken breasts simply dredged and breaded in panko and cheese, smothered in savory marinara and topped with more cheese, it only gets better as it's served along with roasted broccoli. When you try broccoli made like this, you'll be mind-blown at how you'll want to devour them like chips (I'm actually really bad for this, roasting broccoli intended for a meal, and then just standing in the kitchen eating them all and they never make the plate, oops!). Whether you serve it along with a salad, garlic bread, pasta, rice (or the healthier, low-carb cauliflower rice option) you'll be serving up a dish that will forever keep you from buying frozen pre-made chicken parm ever again!
Ingredients
4 chicken breasts, boneless & skinless
1 egg
1/2 cup panko breadcrumbs (we used a gluten-free variety)
1/2 cup parmesan cheese, grated
1 tsp salt
1 tsp pepper
1 tsp garlic powder
1 cup marinara sauce
1 cup shredded mozzarella cheese
1/4 cup chopped fresh basil
1 head of broccoli, chopped into florets
1 tbsp olive oil
Additional salt & pepper, to taste
Equipment
2 medium mixing bowls
Sheet pan
Method
Preheat your oven to 400 degrees Fahrenheit.
In a medium sized mixing bowl, whisk one egg. In a separate mixing bowl, mix together your panko crumbs, parmesan cheese, salt & pepper.
One chicken breast at a time, start in the egg bowl, and dredge it to coat. Immediately take it out into the bread crumb mixture and coat evenly. Place it immediately on your sheet pan. Repeat for each chicken breast.
Next take all your broccoli florets and place around the chicken breast on the pan. Drizzle with olive oil, and sprinkle with salt & pepper. Use your hands to toss the broccoli to coat completely.
Bake for 30-40 minutes, or until the chicken breast are fully cooked.
Remove from oven, and top with a spoonful of marinara sauce on each breast, followed by mozzarella cheese and fresh basil. Return to the oven for an additional 5 minutes to melt and brown the cheese.
Serve!
Remember when you first discovered garlic bread, and it felt like there could be no better way to enjoy bread than to have it be...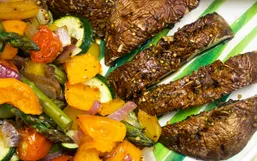 Whether you're the one cooking or the one consuming, there is nothing that can top a one pan tray dinner.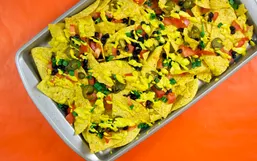 When I first went vegan, there were a few foods I really struggled to let go of. Cheese-covered nachos were one of them.
Spring has finally sprung and we are all about it. While winter had us craving hearty, comfort food-esque dinners, springtime...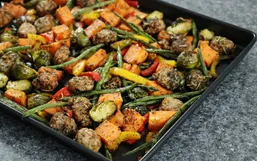 Living a healthy lifestyle doesn't always come easy. There's roadblocks and temptations and meals that are just too convenient to...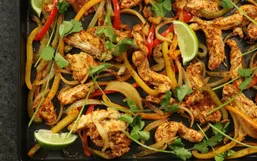 Pretty much the easiest way to make chicken fajitas at home while optimizing on flavor and saving you time, dishes and energy!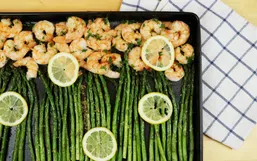 Oh. My. Gosh. This dinner. Let. Me. Tell. You. Shrimp is such a delicious lean protein (meaning you can eat lots of them for...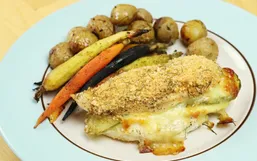 If a deep fried dill pickle and chicken had a baby, this would be it!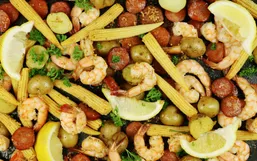 Shrimp boils are traditionally a one-pot prepared dinner with the corn, potatoes, sausage and shrimp all boiled together to make a...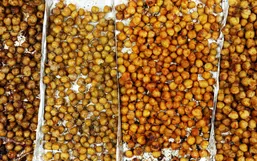 Chickpeas are an amazing plant-based protein that is easily seasoned and roasted to create an on-the-go healthy snack!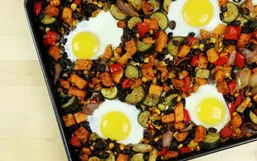 To be honest, I'm not a big breakfast eater. It's too early for me to have an appetite.
Who is starving after a long day at work and just wants to eat RIGHT NOW?! That would be me.