Oh. My. Gosh. This dinner. Let. Me. Tell. You.
Shrimp is such a delicious lean protein (meaning you can eat lots of them for little calories!) and paired with asparagus, it's a lemon garlic infusion that is soooo amazing. To top it all off, it's made completely in a sheet pan. No mixing bowls or extra dishes required. With shrimp being such a quick bake, this recipe is made in only 15 minutes. How's that for time managing your busy weeknights?
Ingredients
1 1/2lbs raw shelled shrimp
1 bundle asparagus, ends trimmed
2 tbsp olive oil
2 tbsp minced garlic, divided
1/2 tsp chili flakes
1/4 tsp paprika
1/2 tsp salt
1/2 tsp pepper
1/4 cup freshly chopped parsley
1/2 lemon, thinly sliced
1/2 lemon, squeezed for juice
Cooked basmati rice (for serving over)
Method
Preheat your oven to 400 degrees Fahrenheit.
On your sheet pan, lay out your trimmed asparagus and drizzle and toss with a tablespoon of olive oil, sprinkle with salt & pepper, and 1 tablespoon of minced garlic.
Bake the asparagus for about 5-6 minutes. Remove from oven.
Lay out your raw shrimp on the top area of the pan, above the asparagus. Drizzle with a tablespoon of olive oil, then season with salt & pepper, paprika, red pepper flakes and parsley, then toss with your hands to coat everything evenly.
Place sliced lemon wheels over the shrimp and asparagus, then squeeze half a lemon over it as well.
Place back in the oven and bake for about 5-6 minutes again, or until the shrimp has turned pink and opaque.
Serve over basmati rice (or alternatively, quinoa, cauliflower rice, or pasta).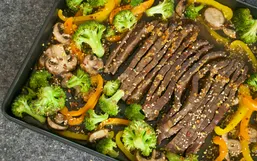 Grilling season is upon us! Unfortunately, not everybody has a barbeque.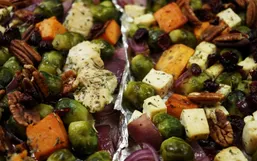 After trying the plant-based diet, my biggest struggle was being able to feed those in my home that are still meat loving humans.
Spring has finally sprung and we are all about it. While winter had us craving hearty, comfort food-esque dinners, springtime...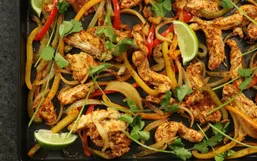 Pretty much the easiest way to make chicken fajitas at home while optimizing on flavor and saving you time, dishes and energy!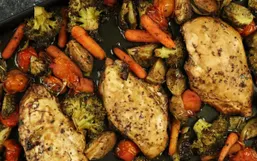 Listen, I get it. I'm a working mother of 3 with a love for good, healthy food that I can easily feed my family without having to...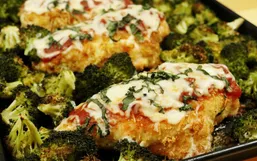 A simple chicken parm recipe for even the most inexperienced of chefs.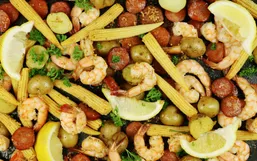 Shrimp boils are traditionally a one-pot prepared dinner with the corn, potatoes, sausage and shrimp all boiled together to make a...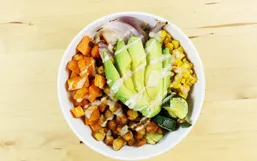 Buddha bowls are all the rage right now, and not just because they're so instagram-worthy.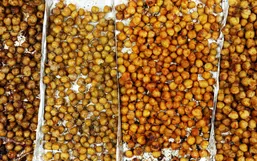 Chickpeas are an amazing plant-based protein that is easily seasoned and roasted to create an on-the-go healthy snack!
Who is starving after a long day at work and just wants to eat RIGHT NOW?! That would be me.
Summer is here, and with summer comes fun family road trips! If you're anything like me, I start getting tired of having to pick...
The days are getting shorter, and the leaves are changing color and we are slowly settling into fall weather.