Most of us love to cook a whole well-rounded meal for our friends and family, but the reality is – we often just lack time and energy to pull it all off, repeatedly. Making a dinner for the whole family can be quite the draining task, especially when it's something you must accomplish daily. Finding new recipes and ways to prepare them that cuts down on the need to "babysit" the food you're preparing, is key. This gives you more time to do homework with the kids, run a load of laundry, or my personal favorite: sit down with a glass of wine and relax while the food cooks.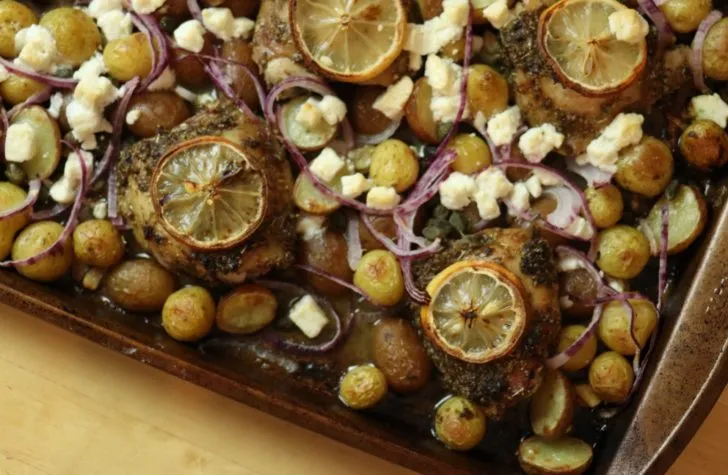 Sheet pan dinners are a common thing in our home. Being able to prepare the main and the sides all on one pan works out to minimal dishes, and maximum flavor! This dish brings all the amazing flavors of Greek food onto one pan, melding the flavors together in a way that will make this recipe one to remember (and pin of course, for next time!).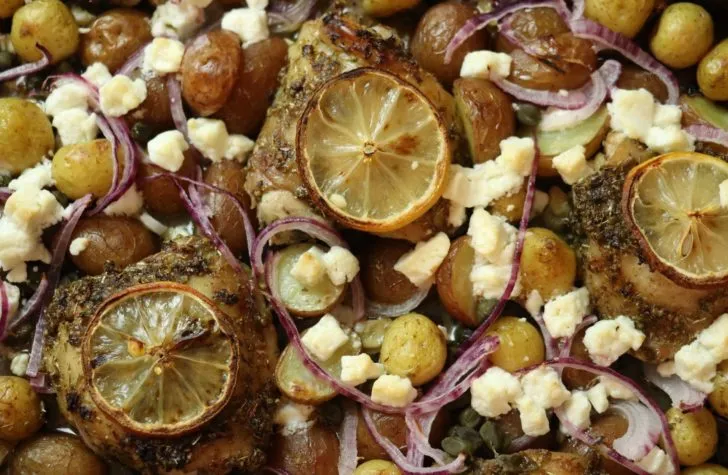 This recipe takes the inexpensive chicken thighs, combined with more inexpensive ingredients for a meal that rounds up to around $10 and serves at least 4! Beat that, take-out.
So stop stressing over what to make for dinner tonite, and try this recipe out for yourself!
Ingredients
6 chicken thighs (bone-in, skin-on)
1/2 cup olive oil
4 tbsp dried oregano
1/4 cup red wine vinegar
1 tbsp garlic powder
1 lemon, halved (1/2 for juice, 1/2 sliced)
Salt & pepper, to taste
3 tbsp olive oil, for pan drizzle
4 cups mini potatoes
6 garlic cloves, sliced
3oz feta cheese, crumbled
1/2 red onion, sliced thin
2 tbsp capers
Method
Preheat oven to 400 degrees Fahrenheit.
In a mixing bowl, place your chicken and begin adding marinade ingredients (1/2 cup olive oil, oregano, red wine vinegar, garlic powder, 1/2 lemon juice, salt & pepper). Toss to coat. Set aside.
Drizzle a few tablespoons of olive oil onto your sheet pan and add your potatoes, sliced garlic and toss gently to coat.
Space out the potatoes and garlic to make room for the chicken, then add the chicken skin side up onto the pan, topping each with a slice of lemon.
Bake for 30 minutes turning the potatoes once, halfway through.
Remove from oven, and top with sliced red onions, capers and feta. Continue baking for 5 minutes.
Check to see if the chicken is cooked through (no pink, juices run clear) and then return to the oven, and broil for an additional 5 minutes or until everything is browned to your liking.
Let cool slightly before serving, then enjoy!
Remember when you first discovered garlic bread, and it felt like there could be no better way to enjoy bread than to have it be...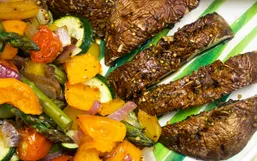 Whether you're the one cooking or the one consuming, there is nothing that can top a one pan tray dinner.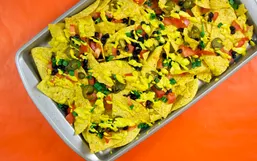 When I first went vegan, there were a few foods I really struggled to let go of. Cheese-covered nachos were one of them.
Spring has finally sprung and we are all about it. While winter had us craving hearty, comfort food-esque dinners, springtime...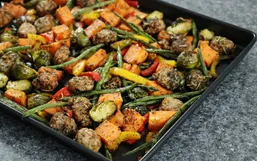 Living a healthy lifestyle doesn't always come easy. There's roadblocks and temptations and meals that are just too convenient to...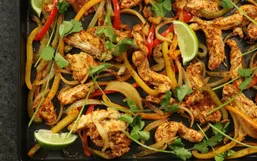 Pretty much the easiest way to make chicken fajitas at home while optimizing on flavor and saving you time, dishes and energy!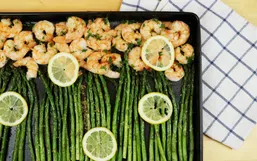 Oh. My. Gosh. This dinner. Let. Me. Tell. You. Shrimp is such a delicious lean protein (meaning you can eat lots of them for...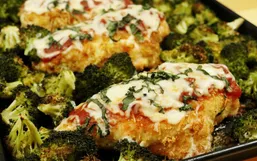 A simple chicken parm recipe for even the most inexperienced of chefs.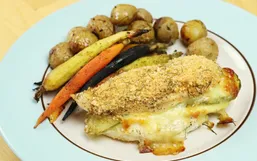 If a deep fried dill pickle and chicken had a baby, this would be it!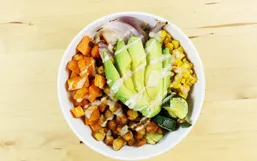 Buddha bowls are all the rage right now, and not just because they're so instagram-worthy.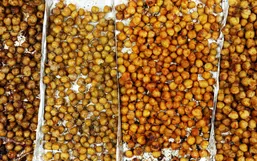 Chickpeas are an amazing plant-based protein that is easily seasoned and roasted to create an on-the-go healthy snack!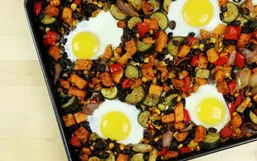 To be honest, I'm not a big breakfast eater. It's too early for me to have an appetite.