If a deep fried dill pickle and chicken had a baby, this would be it! A healthier version than fried, we stuffed those dill pickles right into the center of a chicken breast, added some provolone cheese, and topped it with panko breadcrumbs and more dill. Sided with mini potatoes, carrots and again more dill, it's then baked and topped with a creamy dill sauce. So we made sure your dill-loving needs were met on all angles, in the absolutely most perfect way. We want to make one thing really clear – this recipe is kind of a big dill, err… big deal. With every bite having just the perfect amount of dill pickle, that melted cheese and crunchy coating, along with vegetables roasted in a lemon garlic dill marinade, it's a home frickin run. Added bonus, this is a one-pan dinner complete with sides to get you out of your weeknight dinner "what the heck do I make tonight?" pickle of a problem (sorry not sorry for the puns). If you're a pickle fanatic, you simply must try this easy-to-make recipe tonight. Yes, tonight. This is not something you waste time over. Lets do this.
Ingredients
4 boneless skinless chicken breasts
4 slices of provolone cheese, halved
8 dill pickle slices
1 egg, beaten
1 cup panko breadcrumbs (we used gluten free)
1/2 cup fresh dill, chopped
3 cups mini potatoes
2 cups rainbow carrots (or mini carrots)
1 tbsp olive oil
1 tbsp garlic
1/2 lemon, juiced
Salt & Pepper, to taste
1/4 cup light mayo
1/4 cup light sour cream
tbsp lemon juice
tbsp fresh dill
Equipment
Sharp Knife
Sheet Pan
Pastry Brush
Small mixing bowl
Method
Preheat your own to 400 degrees Fahrenheit.
Using a sharp knife, slice your chicken breasts in half, lengthwise, but not all the way through. This creates a pocket that you can now add 2 pickle slices and 2 halves of provolone cheese to the center of each chicken breast.
On your sheet pan, place your mini potatoes and carrots, and drizzle with olive oil, minced garlic, some of your of freshly chopped dill and lemon juice. Mix well with your hands so all the veggies are well coated. Push the veggies to the edges of the pan, place your 4 stuffed chicken breasts onto the pan. Fill in any gaps with the carrots and potatoes so the pan is nice and full, and can cook evenly.
Next, brush the tops of each chicken breast with your egg wash. Top with a mixture of panko breadcrumbs and some more freshly chopped dill. Sprinkle salt and pepper over the entire pan.
Bake for 30-40 minutes, depending on the size of your chicken breasts, or until everything is fully cooked through.
While everything is baking, in a small bowl, mix together your mayo, sour cream, lemon juice and fresh dill to make a dill serving sauce (this is optional, of course!).
Remove your chicken and veggies from the oven, and serve, topped with your dill sauce.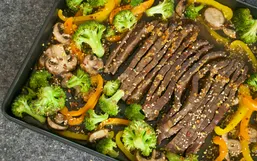 Grilling season is upon us! Unfortunately, not everybody has a barbeque.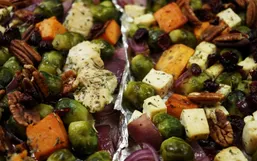 After trying the plant-based diet, my biggest struggle was being able to feed those in my home that are still meat loving humans.
Spring has finally sprung and we are all about it. While winter had us craving hearty, comfort food-esque dinners, springtime...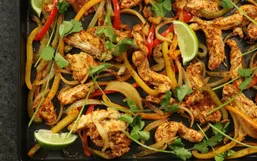 Pretty much the easiest way to make chicken fajitas at home while optimizing on flavor and saving you time, dishes and energy!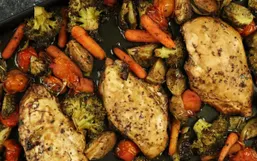 Listen, I get it. I'm a working mother of 3 with a love for good, healthy food that I can easily feed my family without having to...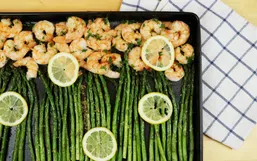 Oh. My. Gosh. This dinner. Let. Me. Tell. You. Shrimp is such a delicious lean protein (meaning you can eat lots of them for...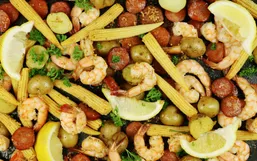 Shrimp boils are traditionally a one-pot prepared dinner with the corn, potatoes, sausage and shrimp all boiled together to make a...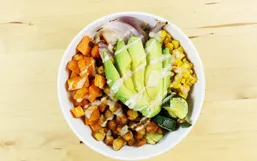 Buddha bowls are all the rage right now, and not just because they're so instagram-worthy.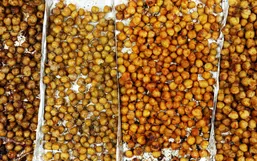 Chickpeas are an amazing plant-based protein that is easily seasoned and roasted to create an on-the-go healthy snack!
Who is starving after a long day at work and just wants to eat RIGHT NOW?! That would be me.
Summer is here, and with summer comes fun family road trips! If you're anything like me, I start getting tired of having to pick...
The days are getting shorter, and the leaves are changing color and we are slowly settling into fall weather.