Shrimp boils are traditionally a one-pot prepared dinner with the corn, potatoes, sausage and shrimp all boiled together to make a great meal for a small crowd. While insanely delicious, they can also get pretty messy. We've simplified the process by making a no-mess shrimp boil inspired sheet pan dinner, which mixes all the flavors you know and love, prepared all on one-pan and baked together for a rendition of a classic you can enjoy anytime. By substituting baby corn for corn on the cob, it also makes for a fork-friendly dinner (no cob handling required)! It's a quick recipe that takes only 20 minutes beginning to end, and minimal prep involved. So break out the sheet pan, and lets bake up a shrimp boil!
Ingredients
1 lb baby potatoes, halved
1 can baby corn
1/4 cup butter, melted
1 tbsp garlic, minced
1 tbsp Old Bay Seasoning
1 lb medium shrimp, uncooked & peeled with tails left on
2 smoked chorizo sausages, sliced
1 lemon, cut into wedges
1/4 cup chopped fresh parsley
Equipment
Sheet pan
Ramekin / Small mixing bowl
Method
Preheat the oven to 400 degrees Fahrenheit.
Cook your mini potatoes in the microwave for 2 minutes on HIGH. Remove and let sit until cool to handle, before slicing in half.
In a small mixing bowl, add the minced garlic, and Old Bay seasoning to the butter and set aside.
On your sheet pan, add your shrimp, potatoes, sliced chorizo sausage, corn. Pour over your butter/garlic/seasoning sauce and toss everything to coat well.
Bake for 12-15 minutes or until the shrimp is pink and no longer opaque - fully cooked through.
Sprinkle chopped parsley over the top of the sheet pan, then squeeze a wedge of lemon over the entire dish.
Serve!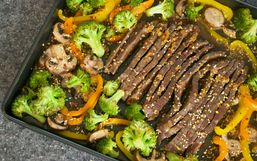 Grilling season is upon us! Unfortunately, not everybody has a barbeque.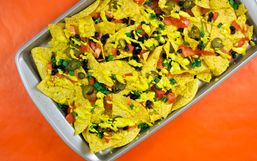 When I first went vegan, there were a few foods I really struggled to let go of. Cheese-covered nachos were one of them.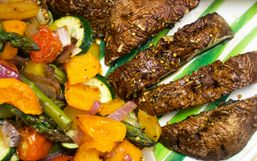 Whether you're the one cooking or the one consuming, there is nothing that can top a one pan tray dinner.
Remember when you first discovered garlic bread, and it felt like there could be no better way to enjoy bread than to have it be...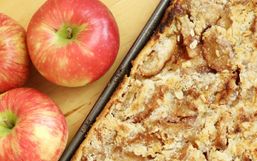 It's apple picking season, which means many of us are scrambling to use up all those apples that we may have over-bought while in...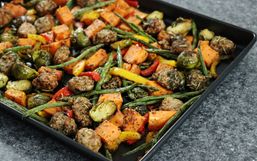 Living a healthy lifestyle doesn't always come easy. There's roadblocks and temptations and meals that are just too convenient to...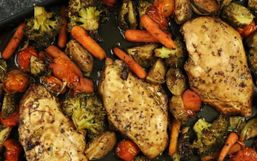 Listen, I get it. I'm a working mother of 3 with a love for good, healthy food that I can easily feed my family without having to...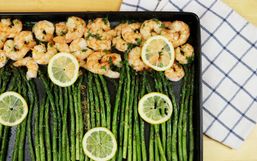 Oh. My. Gosh. This dinner. Let. Me. Tell. You. Shrimp is such a delicious lean protein (meaning you can eat lots of them for...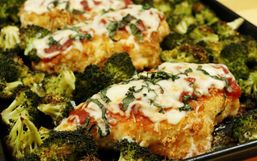 A simple chicken parm recipe for even the most inexperienced of chefs.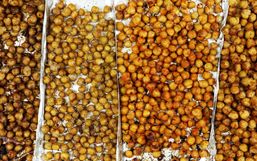 Chickpeas are an amazing plant-based protein that is easily seasoned and roasted to create an on-the-go healthy snack!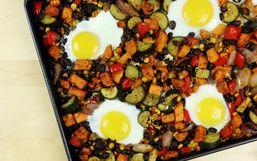 To be honest, I'm not a big breakfast eater. It's too early for me to have an appetite.
Who is starving after a long day at work and just wants to eat RIGHT NOW?! That would be me.