If you love savory snacks, odds are you have a bag of chips in your pantry. Chip-fans get excited because Lay's is changing the chip game with the launch of their five new flavors that are all inspired by famous dishes from American restaurants across the country. The new Lay's flavors are hitting the shelves in major retailers nationwide starting July 13, 2020. That said, they're only here for a limited time so be sure to try them while you can! From pizza and tacos to spicy chicken here are the all-new Lay's chip flavors you do not want to miss!
Lay's New York Style Pizza Chips
Good news pizza lovers, you don't have to travel to New York City to try their iconic pizza because Lay's has reimagined the flavors in chip form! Better yet, it's inspired by Grimaldi's famous pizza and served up in a crunchy kettle cooked variety.
Source: Lay's
Lay's Philly Cheesesteak Chips
Philly Cheesesteak sandwiches are juicy, savory and so darn delicious but now you can enjoy those same flavors in a crunchy chip!
Source: Lay's
Lay's Nashville Hot Chicken Chips
Why travel south when you can enjoy Nashville's iconic hot chicken in chip form!
Source: Lay's
Lay's Carnitas Street Taco Chips
Lay's new Carnitas Street Taco flavor is inspired by tacos from El Toritos in Los Angeles! Everything you love about street tacos now served in a wavy crunchy chip.
Source: Lay's
Lay's Chile Relleno Chips
Last but surely not least is Lay's new Chile Relleno chips which are inspired by iconic Southwestern flavors. It's also worth noting, Lay's new Chile Relleno flavor will be exclusively available at Walmart and 7-Eleven.
Source: Lay's
ICYMI: Earlier this year Lay's released three new flavors including Lay's Kettle Cooked Flamin' Hot, Lay's Cheddar Jalapeño, and Lay's Poppables Sea Salt & Vinegar!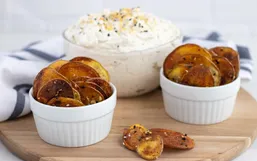 When I dip, you dip, we dip! Chips that is. I'm a sucker for a good chip and dip combo whether it's a Friday night movie in or I'm...
Are you ready to "bend and snap"? Because that's exactly what you'll be doing after you order this Legally Blonde drink off the...
Summer is officially here and what better way to treat yourself and stay cool than with a refreshing beverage in hand!
Starbucks is not only renowned for their delicious coffee but they have a drink for everyone whether you're a chocolate fan or...
Disney theme parks and Disney Cruise Lines may be temporarily closed and suspended but that isn't stopping Disney from finding...
Hard seltzers have become the trendiest drink as of late and for good reason!
Your 4th of July celebrations may look a little different this year but that doesn't mean you still can't enjoy delicious food and...
Disney's theme parks are renowned for many things from the exciting rides to friendly characters, and of course its delicious...
Dunkin' is renowned for its coffee, tea, and delicious donuts but now the chain is entering a new drink category by offering new...
Starbucks' menu offers something for everyone from delicious coffee drinks to fruity beverages and even tasty food.
Summer is officially in full swing and now you can make the most of it with Shake Shack's new beverages!
Taco Bell is no stranger to innovative and exciting menu items.