Lay's chips have been stocking the pantries of many homes for over 75 years. This year, Lay's is rolling into the new year with 3 new delicious flavors so you can keep on snacking in fun new ways! Have your choice of Lay's Kettle Cooked Flamin' Hot, Lay's Cheddar Jalapeño, or Lay's Poppables Sea Salt & Vinegar. Here's what you can expect from each flavor:
Lay's Kettle Cooked Flamin' Hot
Classic Lay's kettled chips are seasoned with fiery chili peppers. They're flamin' hot and darn delicious! People love their spicy food and the Flamin' hot trend doesn't show any signs of stopping! You can try Flamin' Hot Mac and Cheese, Flamin' Hot Cheetos, and even Flamin' Hot Doritos!
Lay's Cheddar Jalapeño
These cheesy chips are flavored with sharp cheddar and have a generous kick of spicy jalapeño — it's basically a party in your mouth!
Lay's Poppables Sea Salt & Vinegar
Lay's Poppables are crispy potato puffs that are light and airy. This new flavor is perfectly salted and features the perfect amount of bold vinegar flavor.
https://www.lays.com/ Source: Lay's
Lay's also announced some more exciting news for the new year! They're bringing back their Smile With Lay's campaign for another year. For those that don't know, those smiles you saw on Lay's chip bags served a purpose! The campaign was designed to spread more smiles across the country by allowing you to nominate a person who makes you and your community smile. Last year, Lay's set out to design 65 chips bags to feature the smiles of 31 everyday people who showed exceptional acts, from training injured veterans to throwing birthday parties for children in need. To see some of the famous smiles that sparked joy across the country last year read HERE.
The new smile bags are said to hit the shelves in the fall of 2020. To nominate someone you know (or yourself) visit Smile With Lay's.
https://www.smilewithlays.com/ Source: Smile With Lay's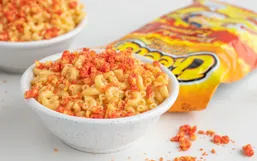 There is no comfort food like mac and cheese - the carbs and cheese are oh so delicious!
Summer is officially here and what better way to treat yourself and stay cool than with a refreshing beverage in hand!
The microwave is an amazing kitchen appliance. It can heat up leftovers quickly, help make delicious snacks like popcorn, and so...
Disney theme parks and Disney Cruise Lines may be temporarily closed and suspended but that isn't stopping Disney from finding...
Hard seltzers have become the trendiest drink as of late and for good reason!
It's time to check your freezers because over 59-thousand pounds of fully cooked frozen chicken nuggets are being recalled due to...
Disney's theme parks are renowned for many things from the exciting rides to friendly characters, and of course its delicious...
Dunkin' is renowned for its coffee, tea, and delicious donuts but now the chain is entering a new drink category by offering new...
Over the last few months, Disney has shared some of their most coveted recipes with their fans so you can at least feel like...
Summer is officially in full swing and now you can make the most of it with Shake Shack's new beverages!
Taco Bell is no stranger to innovative and exciting menu items.
National Lasagna Day is quickly approaching (July 29, 2020), and North Italia wants to help you celebrate!